I crave a routine. 
This is shocking news, even to me..
It's not that I mind change.  I'm actually quite flexible!  #TWSS
What I like is some calm after a storm, however that rockin' boat may have been.  I'm back in the office this week after more travels, back in my "home" gym, and back on a *gasp* meal plan.  It feels good.
Other things that feel good include a really nice vendor.  My boss has been working with these people for a while, but they sent me a little gift for joining the team.  How sweet is this?!
Other awesome things: boss-man told me yesterday "I'm glad you're here."  *grin*
---
This WIAW is back to normal.  For real this time.  No more travels 'til this girl's show mid-July!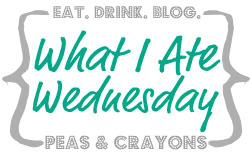 Read on for my normal (for me) eats, and then check out Jenn's blog for everyone else's delicious creations!
---
Breakfast:
My morning cocktail never left.  I actually flew to NYC with a bottle of ACV… that I'd purchased and drank half of in Utah.  The addiction is real. 😉
Then I enjoyed steaming bowl of green.  I really know how to make a dish sound appealing!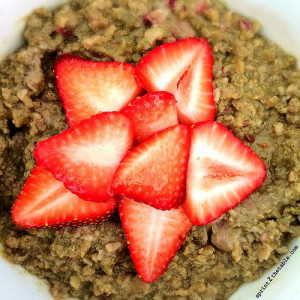 What I made was similar to the #strangebutgood Cherry TVP Oats on Friday's blog, but I used matcha from my Blend swag instead of spirulina, lemon NuNaturals liquid Stevia, and fresh strawberries. 
Full disclosure: after taking a picture, I transferred it to tupperware and ate it one my walk to work.
Mid-Morning Snack:
Turkey burger with red pepper hummus, mustard, and red peppers.
Lunch:
Cod seasoned with a homemade mish-mash of spices that features smoked paprika.  Eaten with roasted veggies and a purple sweet potato (doused in cinnamon post-pic).
Afternoon Snack:
Unpictured Blend swag in the form of Quest bar(s), and liberal helping of the office nuts.  Yes, I giggled as I typed that.
Dinner:
This was the best thing of the day!  I gave a kale salad a good rub-down on Monday night with a mix of lemon, nutritional yeast, red pepper hummus, cayenne, and cumin.  After the massage, I tossed the salad with tomato and shredded chicken.  By the time dinner rolled around, it was the perfect texture and layered with flavors!
Dessert:
The goat milk yogurt obsession goes one.  I mixed it with coconut flour, Growing Naturals Chocolate Rice Protein, cocoa powder, and cinnamon.  Topped with peanut flour sauce, roasted kabocha, and popcorn.
The peanut flour is another lasting obsession.  I order mine from iHerb (use discount code USO924 for $5-10 off your order!).
***
Happy Birthday to my little rockstar sister!!!  I can't believe she's… 27?!
Do you crave routine?
Are these nuts in your office? 😉