I am participating in a sponsored campaign hosted by Emergen-C® I received compensation for this post. While all opinions stated are my own, I make no claims about Emergen-C as a product or its effectiveness.
I drink a LOT of water.
While I love it, there is a bit of flavor exhaustion.  Or lack thereof.
The problem is there aren't a lot of flavored alternatives that aren't filled with bad stuff.  When I had the opportunity to try out Emergen-C, I jumped at it.  Who couldn't use more vitamins?
They have new Cranberry-Pomegranate flavor that I thought would be an excellent add to my water to break up the monotony.  Even better is that they are fizzy!  I got addicted to sparkling water in Europe and have craved the effervescence ever since.  Emergen-C has over 20 varieties of vitamin drink mixes.  No monotony here!  Plus, all of those B vitamins made for the perfect natural energy enhancement at work.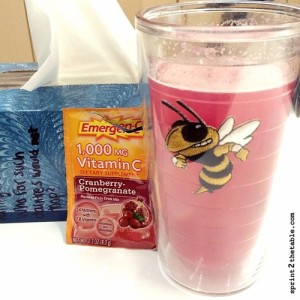 What is Emergen-C?
Emergen-C is a vitamin supplement drink mix that comes in a range of offerings from original Emergen-C, to Emergen-C Immune+®, to Emergen-C Kidz® and more.  Emergen-C:
Helps provide immune support year-round
Enhances energy naturally and helps replenish electrolytes post-workout.*
Has more vitamin C than 10 oranges in every packet for immune support.**
Features essential nutrients, including 1,000 mg of vitamin C and other immune-supporting antioxidants zinc and manganese, 7 B vitamins (great for naturally enhancing energy!)
It's easy to have on hand, too.  Emergen-C is good with just 4-6 ounces of water, but if you have a few simple things on hand you can try one of the delicious recipes on their website.  Of course, I couldn't help but to make my own Emergen-C mock-tail.
This orange-y creation was the perfect way to end the evening after a day at the pool.  I added some apple cider vinegar and lemon for the additional health and digestive benefits.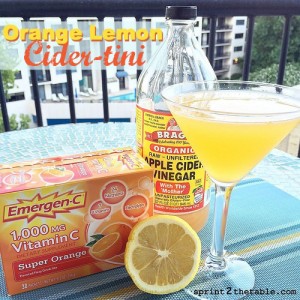 Orange Lemon Cider-tini
1 packet Super Orange Emergen-C
1 T apple cider vinegar
Juice of ½ small lemon
6 oz sparkling water
Another thing I really love about this company is their commitment to giving back  I like knowing that the money I spend on products is being used in part for good!  For instance:
Through Emergen-C Pink®, 25¢ of every 30ct box is donated to fund breast cancer awareness, research, and prevention efforts (up to $100,000 annual donation).
For every box of Emergen-C Blue® sold, 25¢ directly supports the efforts of Surfrider Foundation®, whose goal is to provide protection to our oceans.
Through Emergen-C Kidz, 25¢ is donated the Vitamin Angels, who provide essential nutrients to one child for one year every time a box a sold (up to $100,000 annual donation).
Partnering with Operation Gratitude, Emergen-C sends packets overseas to help keep morale high and support our troops' energy and immune systems.*
Interesting in trying it out for yourself?  Emergen-C is offering a three-month supply AND a water bottle to one winner!
Get a free sample of Emergen-C vitamin drink mix at EmergenC.com or on Facebook.  Follow Emergen-C on Twitter for exciting updates!
*These statements have not been evaluated by the Food and Drug Administration. These products are not intended to diagnose, treat, cure, or prevent any illness.
**Based on using the USDA.gov nutrient database value for a large, raw orange.
***
I'm really loving ending my day with a mocktail.  There's something so relaxing about the ritual.
Do you ever tire of plain water?
What's your favorite mock-tail?