In honor of my crazy work week(s)…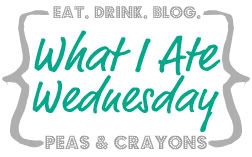 I'm copying the growing wordless WIAW* trend.  Does good food really need words?  I think not.
*As usual (except for last week), Wednesday = Tuesday eats.
But first, a run.  I don't know why I stopped posting these breakdowns… I like to look back at them.  Nevermind the fact that you have to suffer through them. 😉
Stats:
Distance – 4 miles
Time – 32:37 mins
Pace – 8:09 mins
___________________________________________________________________________________
Breakfast
I did say it is almost worldess WIAW, right?
The delicious Chocolate Breakfast Pudding.  So.  Good.
Lunch
Salad topped with carrots, celery, Purple Haze goat cheese, a Lightlife Chick'n Cutlet.  A bit chewy, but it wasn't bad!
Snack
Cottage cheese tastes really, really good with peanut butter.  Someone call Intervention.
Not pictured: celery and hummus, Think Thin bar, and random handfuls of cereal.
Dinner
Big.  Win.
Mom recently told me about Shirataki Noodles – apparently it is just tofu pressed into noodles.  It's gluten-free, vegan, low-cal, and – most importantly – a QUICK-FIX.
The only downside is the smell when you first remove them from the package, but that does go away once you rinse them (thoroughly) and pop them in the microwave for a minute.
To go with my noodles, I roasted some eggplant, red onion, and garlic in a quick vinaigrette.  Then tossed it all with an heirloom tomato (because I didn't get enough at the tomato festival) and more Purple Haze goat cheese.
Perfect light dinner for a summer day!!!
…followed by a little something I like to call…
Dessert
____________________________________________________________________________________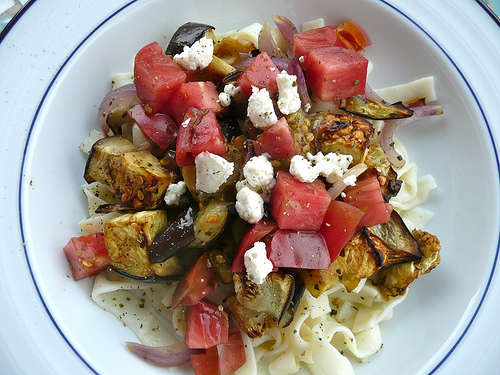 Roasted Eggplant with Tofu Noodles
1 medium eggplant, sliced
1/2 red onion, sliced
5 cloves garlic
1T EVOO
1T marsala wine
1/2 tsp white wine vinegar
1 tsp herbes de provence
1 tsp red pepper flakes (reduce to 1/2 if you are sensitive to spicy foods)
1 package Shirataki noodles (or 2 servings of pasta)
S+P, to taste
Optional toppings: fresh tomato, cheese (I used goat)
Preheat oven to 425.  
Cut eggplants into 1/2 inch slices.  Generously salt the slices, allowing them to sit for 15-20 mins.  Wiping away the beads of water that form (this process removes excess moisture – which makes ggplant "slimey" – and bitterness).
Meanwhile, whisk together the oil, marsala, vineger, herbs, and pepper flakes.
Cut the eggplant slices into 1/2 inch cubes and toss in a large bowl with the garlic, red onion, and vinaigrette.  Spread eggplant onto foil-lined baking sheet and roast for ~3o minutes, tossing once halfway through.
Prepare noodles as instructed on package.
Divide among two plates, adding extra toppings as desired (I loved how the goat cheese melted and clung to mine!).
Makes 2 servings (or 4 sides).
***
I've taken to working from Starbucks lately.  They have a the bar where I can stand and a constant supply of caffine… perfection.
Do you find you get more work done from a "third-party" location?
What's the best thing you've eaten today?