Life gets busy.
I know this isn't news to any of you, but it's hitting me hard this week.
I'm 10 days out from my next figure competition.  The asparagus (click here for the reason behind that) begins this weekend.  I'm thinking next Friday's #strangebutgood link up will take a twist as my diet gets to the most strict point… not-so-strange but good, anyone?
Balancing work with the competition preparation is not easy.  In addition to my 7 meals and regular workouts, I'm running sprints every day.  It's a lot of fit in, especially since I dislike working out at night.  I'm TIRED.  Cutting a good amount of carbs and basically all sodium and fat leaves my energy level a bit low.
But I'm focusing on May 4th (competition day) and staying motivated.  I don't want to get on stage and have any regrets!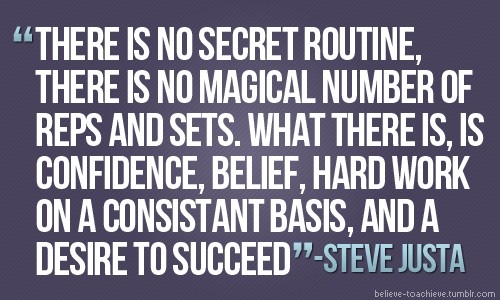 I've been taking a couple of products I received from GNC through a FitFluentiual campaign that have helped me maintain my level of activity: Ultra 25 Probiotic Complex and TriFlex.
The probiotics (said to replenish good bacteria needed for digestion) made a BIG difference.  Those 25 billion active cultures kept my gut healthy (translation: I have no problem going #2).  This make me happy and had prevented bloating!  This particular pill also has "enzymes and ginger for additional digestion support."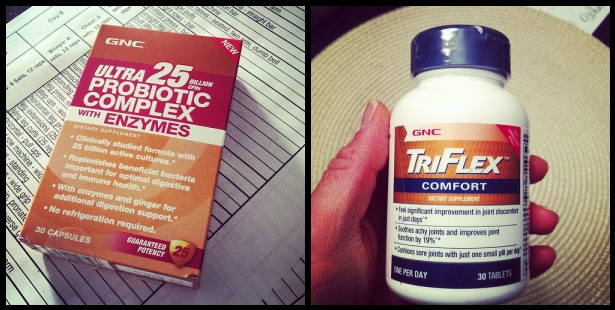 The TriFlex I think I need to take longer to say 100% whether it's made a difference.  It is supposed to "promote joint mobility & flexibility" and contains Glucosamine, Chondroitin, and MSM – all of which are great for joint health.  I have been taking it regularly.  That, in addition to seeing a new chiropractor, I *believe* have kept my joints are feeling good despite some crazy workouts!
---
My WIAW meals were still pretty good, despite and lack of yummy, yummy fat.  Mmmmm… peanut butter… I digress.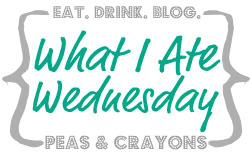 Check out my 7 low-fat, low-sodium, protein-laced meals below, and then click here to head over to Jenn @ Peas and Crayons to get to see how more normal people are eating!
---
Meal 1:
My day began with my morning cocktail (apple cider vinegar, water, and Aminos), as always.
I was going to go ahead and run sprints before breakfast, but my metabolism is out of control lately… I am STARVING all the time.  Breakfast had to happen before I entertained the idea of working out.  I wanted everything at once… so I had it!  It was PB&J-ish… with a coffee flair!  After adding baking powder to my Mango-Coconut TVP Oats, I'm hooked.  I used it again here for an especially voluminious bowl.
PB & Raspberry TVP Oatmeal
1 T oatmeal
1 tsp coffee
3/4 C water
2 T peanut flour
1 tsp ground flax
1/2 tsp cinnamon
1/2 tsp ginger
1/4 tsp baking soda
1/4 tsp nutmeg
1/4 tsp butter extract
1/4 tsp maple extract
5-6 drops liquid stevia
Raspberries
Bring TVP, oats, coffee, and water to a boil.  Cook until liquid is mostly absorbed.  Add in remaining ingredients, adding additional water if needed.  
Allow to simmer until water is absorbed and your TVP oats reach your desired level of thickness.
Note:  I add 1/2 the berries at the end of cooking and use the other half to top because I can never decide if I like them better cooked or as a topping.
Meal 2:
First, I ran my sprints like a good kid.  Then I put a Mexican Sweet Potato Pie in the oven to bake.  It only made me wish I made a second one for myself.  This was to take to a good friend who is a new mom!
Finally, it was food time.  And my continued bison obsession.  As part of my Sunday food prep, I made up several burgers to be able to grab quickly.
I ate this one atop a spinach, heirloom tomato and cilantro salad.  With red pepper flakes, obv.
Meal 3:
Lunch was my current favorite – sea bass.  This is even better than swordfish right now… and that's a big thing for me to say since I consider swordfish the "steak of the sea."
Eaten  post-workout with a giant mound of lightly sautéed kale and a super-fast sweet potato and shiitakes with rosemary and garlic.
Meal 4:
Clean chicken salad made from the "naked" (nothing added) Whole Foods rotisserie chicken, a little Greek yogurt, vinegar, cumin, and diced cucumber.
Meal 5:
I couldn't totally cheat on my favorite fish.  Steak of the Sea for dinner (swordfish)!  Served with my BBQ Roasted Cauliflower and eggplant chips.
Evey time I post eggplant chips on Instagram, I always get a billion questions about how to make them.  It's the easiest thing ever, so I felt silly blogging it… but even simple meals can count a recipes, right?  The "secret" is at the bottom of this post. 🙂
Meal 6:
This was a hodge-podge.  I had a little chicken left and a little Monchong (fish) from last night.  So I made a combo to get my protein in.  I had celery sticks and sugar peas on the side.  I adore sugar peas – the dessert of vegetables!
Meal 7:
My favorite meal of the day is desert.  I took some non-fat Greek yogurt and mixed it with cocoa powder, cinnamon, vanilla, and a little stevia.  Then I melted some frozen cherries in the microwave with some ginger so my "sauce."  Then I topped all that with homemade popcorn and more cinnamon.  Paradise.
---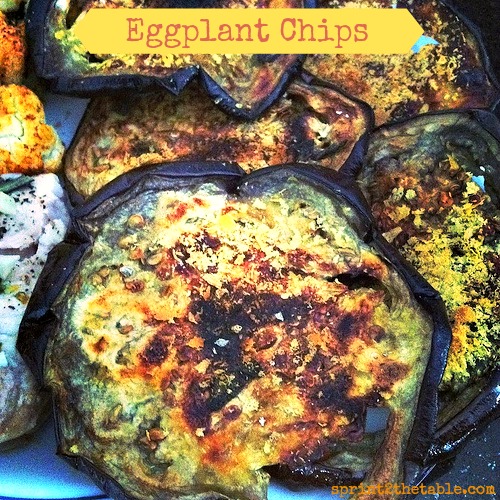 Eggplant Chips
1 eggplant

Optional toppings: onion, garlic, nutritional yeast, herbs
Preheat oven to 400 degrees.
Cut eggplant into thin slices (~1/8 in thick).  Spray with olive oil and spread evenly across a foil-lined baking sheet.
Place in over and bake ~10 mins.  Remove from oven, flip slices, and top as desired.  Return to over for another 5 mins, or until crisp.
Note: These can be stored in the fridge – simply place them in the oven under broil for 2-3 mins to crisp back up.
---
I'm linking these up to Heather's MMAZ – check out all the eggplant love!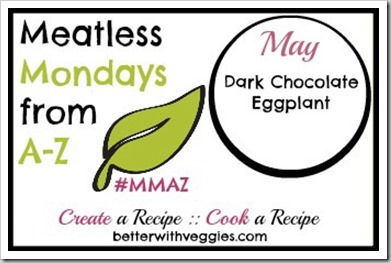 ***
Protein count for the day: 163g
What was the best thing you ate yesterday?
What keeps you motived when you're tired/busy/etc?