It's a seasonal landmark.
I had to bust out the socks.  I woke up and it was only 60 degrees.  This may sound perfect to many of you, but I love the summer.  I'll miss you, ballet flats.
Don't get me wrong.  There are many thing about fall that I do love: football, boots with the fur, apples… and tomato sauce.
You can tell what season it is by looking at how I'm eating tomatoes.  In the spring, I'm eating salsa like a deranged Mexican.  In the summer I load up on Heirlooms – no recipe needed, just slice 'em fresh.  When cooler weather strikes, I want marinara sauce and red wine.
When Uncle Dude's posted to twitter asking for people to try out their sauce, I jumped at the opportunity.  I am guilty of being a lazy sauce-maker.  It's not hard to make from scratch, but more often than not I use something from a jar and add my own twist to it.
This particular sauce is called "Uncle Dude's Ridiculous Marinara."  With a name like that I had to try it!
Dude's sauce is indeed good.  I especially love that they left nice chunks of tomato and onion in it.  It gave it a feeling of being homemade.  My only complaint is that it was a bit salty.  If you don't have a low-sodium diet, you probably won't notice.
Being homemade with fresh veggie pieces didn't save it from my modifications.  This bake received as herbed twist with fresh rosemary , basil, and thyme.  I also topped it with a little nutritional yeast (it would also be good with freshly grated parmesean).  Finished with a thick, velvet-y aged balsamic that I scored on my trip to Italy last October.
This rich, herb-laced bake was served with a glass of my current favorite el cheapo wine: Apothic Red.  This wine runs about $10 a bottle and has a deep cherry flavor with hints of mocha on the nose.  It has a smooth finish with just a hint of spice.
_______________________________________________________________________________________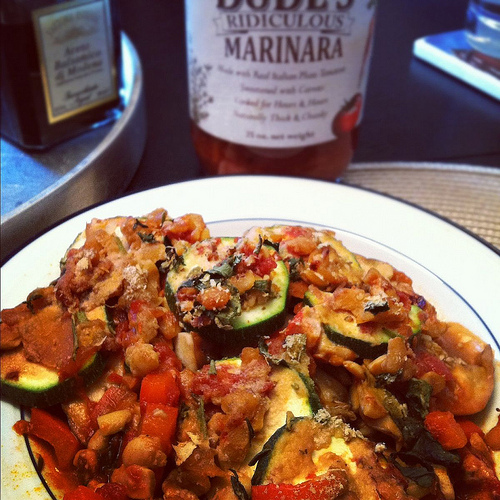 Herbed Eggplant and Tempeh Marinara Bake
1 C marinara sauce
1 small eggplant, cut into 1/2 in rounds
2 portobello mushrooms, sliced
1 zucchini, sliced
1/2 small red pepper, diced
2 servings (~150g) tempeh, crumbled
2 T fresh rosemary, chopped
1 T fresh thyme
2 T nutritional yeast
Red pepper flakes, to taste
Pre-heat oven to 400 degrees.
Spread 1/4 C of the marinara sauce along the bottom of a 9×9 baking dish.
Arrange the veggies, tempeh, and herbs in layers in the dish.  Top with remaining sauce, red pepper flakes, and nutritional yeast.
Cover with foil and bake for 30 mins.  Remove foil and bake 15 mins more, or until veggies are tender and sauce is bubbling.
Make 2 large or 4 side portions.
***
Today I need full-body support socks.  Leg day with my evil trainer nearly killed me last night.  450 lb leg press?!  Really?!
What is your favorite fall meal?
Have you had to bust out the socks yet?