Today I am going to complain about an improving economy.
Yes, I'm finding a dark cloud despite the fact that my condo value may actually one day recover.
As the economy got worse and worse, I noticed a positive.  The service at restaurants was improving!  Servers were more polished and professional, and they were able to speak intelligently about the menu.
Recently this pleasant restaurant experience has come to a halt.  Read more for an (extreme) example and my theory.
An Example:
Kat (my good friend and frequent guest post-er here) and I went to dinner for her birthday at the nicest restaurant in Atlanta, Bacchanalia.  If my meal is going to be over $100, it damn well better be flawless.
The bartender was clueless about the wine program.  To his credit, he sent another – presumably more knowledgable – employee over to speak with us.  That would have been fine is the second guy had been knowledgable.
Server #2 didn't know several of the bottles I inquired about, and then I had to correct their menu.  They had listed an Amarone as being from Barolo.  It's from Valpolicella.  I've been there.  Amarones are my favorite.  At first he tried to tell me I was wrong, but he did come back over to admit the mistake.  Don't challenge me on that one.
We ordered cheese; however, it took at least half an hour (and 2 inquiries) for the cart to be brought out.  We were waiting to order after our cheese course, but apparently almost missed dinner service… which the bartender acted like it was OUR fault when we would have been ordering much sooner had our cheese come out in a timely manner (we told him when we first sat down we would be having dinner).
When our food began to came out, we were rushed AND I had to send a dish back (over cooked Halibut).  They did replace it with a phenomenal snapper dish, and I was already done.
I realize this is a silly rant where there are starving children in Africa.  But really.  If I'm at a special occasion dinner and paying that much money… I expect the performance to be superior.  I've had (much cheaper) meals at chain restaurants with better service.
My Theory:
When the downturn occurred, many educated individuals were not able to find jobs in corporate America, and turned to the service industry for employment.  Their advanced capacity/skill levels resulted in a higher level of service.  Now that companies are beginning to hire again, the service industry is losing that talent.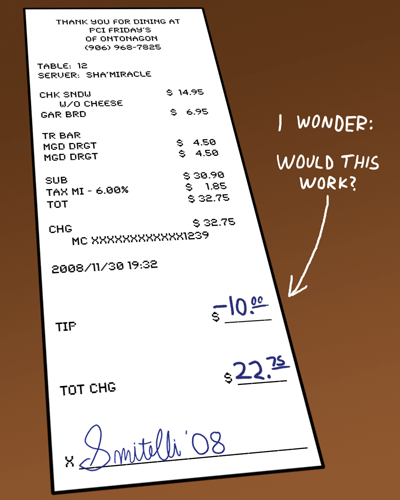 My Plea:
Restaurants, know the value of having educated, capable staff!  Customers appreciate them, and will likely spend more money as a result of having a server with the knowledge and skills to sell.  Consider the ROI when you talk salary and benefits with potential hires!
---
It's WIAW time!  I'm still trying to keep it green with my protein-filled meals.

Check out my 7 green-ish, protein-filled meals below, and then click here to head over to Jenn @ Peas and Crayons to get to see how everyone else is green-ing up their food this month!
---
Meal 1:
I – as always – enjoyed my morning cocktail (apple cider vinegar, water, Glutamine, and Fitmixer Aminos).  I headed to the treadmill for a quick incline walk.  It's a rest day, but I knew I'd be glued to a conference room chair all day so I wanted to get some movement in… and I like to watch GMA.
Post-walk I was starving and VERY glad to have made overnight oats.  And coffee.  There's something about drinking out of a "Be the Change" mug first thing in the morning that's motivating (thank you to The Universe Knows and FitFluential for sending this!).
My "oats" were a bit #strangebutgood.  They were TVP overnight oats!  The cinnamon and extracts in these make you feel like you're eating cookie dough!  I know some people dislike cold oats – overnight oats are also fantastic warmed in the microwave too.  I heated these for 45 seconds before eating.
Greek TVP Overnight Oats
1/2 C Greek yogurt

1/4 C

TVP

2 T raw oatmeal
1/2 tsp cinnamon
1/2 tsp vanilla extract
1/4 tsp almond extract
1/4 tsp butter extract
1/4 tsp ginger
1/8 tsp freshly grate nutmeg
Stevia (or other sweetener), to taste
~1/2 C Liquid of choice (you may need to adjust amount depending to the yogurt thickness)
Mix it all together and allow to soak overnight in the fridge.
In the morning, stir, adjust liquid as needed.  Add fruit if desired (I added fresh blood orange and blackberry juice).
Meal 2:
Despite being #strangebutgood, I'm also a creature of habit.  I ate salmon and fruit again.  It was lemon-dill salmon mixed with blueberries and pepitas… but I forgot to take a pic so you're getting a recycled one made with grapes… but grapes kind of look like blueberries… 😉
Meal 3:
I have a new favorite veggie creation.  BBQ Cauliflower Bites.  It was awesome tossed with purple sweet potato!  I used my healthy (no sodium or sugar) BBQ sauce and added some nooch to cheese it up.
Tangy and creamy, this sauce was meant to be used for roasted things (in the original I roasted with tempeh)!  Recipe is at the end of this post.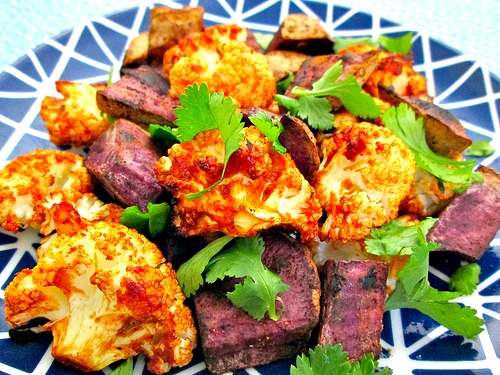 For my protein, I enjoyed the Turbot fish I made last night – for that prep check out this FB post.  Lauren introduced me to this delicious fish – it's incredibly light and buttery.
This is also a recycled pic from last night… It's much prettier than the Tupperware I ate out of today at work.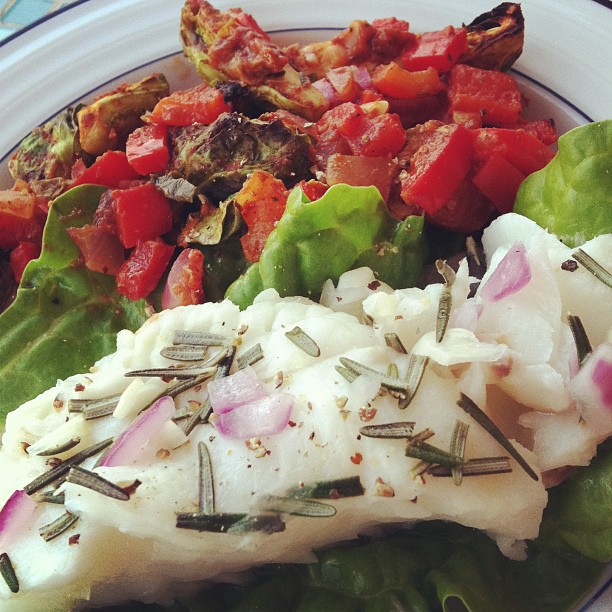 Meal 4:
I am back on the salt-free deli turkey this week.  I love the Plainville brand from Whole Foods.  Today I mixed it with red pepper, broccoli, red onion, and a quick nutritional yeast dressing (nooch + apple cider vinegar + cayenne)
Meal 5:
One of my favorite local spots is a order-at-the-counter spot called Metro Fresh.  They change their menu daily based on the ingredients they have.  Everything is fresh and healthy.  Perfect for a non-cheat meal out with a friend!  And it's walkable from my house!
Tonight I ordered the seared salmon and a mixed greens with peaches, blackberries and goat cheese with a whole grain roll.
Unpictured was wine and a cinnamon roll.  It was housemade and they gave it to us for free (I should add that the service here was fabulous)… we split it and it was divine.  After that extravaganza… there was no room for meals 6 and 7.
---

BBQ Cauliflower Bites
2 T

BBQ sauce

1 T nutritional yeast
1/2 tsp Herbs de Provence
1 C cauliflower
Pre-heat oven 400 degrees.
Mix together BBQ sauce, nutritional yeast, and herbs.  Toss with cauliflower to coat.
Place on foil-lined pan and bake for 15 mins, tossing once half way through.
Enjoy!
***
The protein count for the day: not sure with the meal out, but I'd say I probably hit 140g of fuel. 🙂

Have you noticed a decline in service at restaurants?  Other services?
What is the best thing you've eaten this week?