OK, maybe not with…
I did eat AT Richard Blais' new Atlanta restaurant, The Spence.  God bless cheat day.  Chef Blais was the runner-up in season 4 of Top Chef, and then went on to win Top Chef All-Star season 8.  He's famous for his use of molecular gastronomy and ambitious flavor combinations.
His fearless approach to food was evident throughout The Spence's menu:
Even the Parker rolls were presented with pizzaz (good thing, because I've always found their taste to be blah).
For my appetizer, I couldn't resist the gazpacho.  It was listed on the menu as "Canned Soup of Heirloom Tomato Gazpacho."  I'd take this over Campbell's any day.  It was served atop radishes, smoky-toasted croutons, and what I think was a horseradish granita.
The presentation alone was worth the choice:
My friend and dining mate, Kathleen, chose the beet salad.  It was a mix of roasted and raw beets, blue cheese, soft-boiled egg, and wasabi.  The textures were perfection, though I could have gone for more heat… but you guys know how I am about fire.
On the to main event.  I need to preface this by saying there are dishes the menu that were much more ambitious that what we ordered.  The menu needs some explanation and – oddly enough – our server wasn't recommending the more unusual items, even when asked.  Did she not trust our pedestrian palates?
If I go back, I'm throwing caution to the wind and ordering the pork belly.  It is brought to the table under a glass dome of rich smoke and unleashed for your viewing (and smelling) pleasure.  The people next to us were over-the-moon about this dish.  It smelled so good I almost jumped into the guy's lap when they removed his lid.
I selected the Cobia (a mild white fish).  It was cooked to perfection – done sous-vide and finished on the grill to give it a nice crust. It was topped with a salsa of kaffir lime, pineapple, capers, and crisp green beans.  Even better was the pine nut cream – it was like dinner-appropriate nutty whipped cream.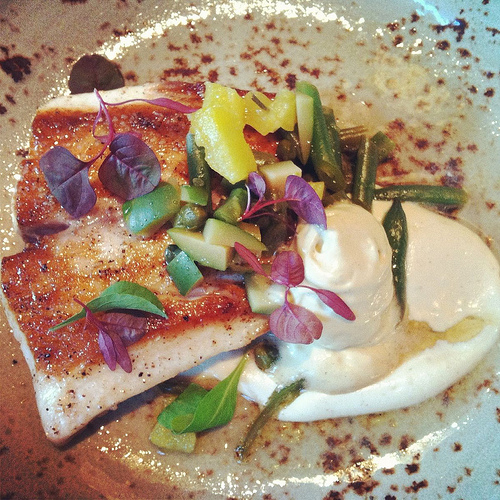 Kathleen ordered the Spatchcock chicken with asparagus and sea beans.  The chicken itself was ho-hum (again, we should have ordered better), but the sea beans and a peanut dust served alongside the chicken were fantastic.
Last but not least: dessert.  I had been looking forward to the carrot cake and peas, but it wasn't available that evening (they change the menu weekly).
No matter, one bite into my selection and I forget the cake. I chose the Burnt Banana Ice Cream served with chocolate mousse mixed with lightly candied peanuts and drizzled with caramel.  I could have licked the plate.  The ice cream was just as good as it sounds, and the mousse was thick yet not too sweet.  The well-balanced dessert that left me feeling satisfied rather than gluttonous.
Kathleen was craving cheesecake.  She ordered what was listed on the menu as "Ricotta Cheesecake, Blackberry, and Graham."  This looked NOTHING like a cheesecake, but was impressive, nonetheless. It was incredibly light and was easily the most creative cheesecake interpretation I've seen.
The bill was presented with an old-fashioned key resembling the restaurant's logo.  I wonder how long before all of those are stolen?
It was quite pricey, but you will leave with a smile on your face once you eat the gift from the kitchen – a tiny creme-filled spiced cookie sandwich.
You'll leave with an even bigger smile if you man-up boldly interrupt Chef in the middle of dinner service for a quick photo-op.  In all seriousness he was very gracious, stopping to chat with several tables and patiently posing for photographs.
He asked if I was a "good blogger or a bad blogger."
I think I'm good… I'm certainly not mean.  Most of the time.
________________________________________________________________________________________
I almost forgot the workout recap time!   Figure competition training is still ON and I am loving it.  It is taking a massive amount of discipline, but I know the reward will be well-worth it.  Ever try doing barbell squats with a heinous sunburn on your shoulders?  I don't recommend it.
I think there are a few noticeable changes in muscle-size.  Or at lease that what my mom and my BFF tell me.
Workout Recap (7/2- 7/8):
Monday – Back/Triceps, 2 mile walk
Tuesday – Shoulders/Glutes (w/ trainer), 3 mile walk
Wednesday – Chest/Biceps, 3 mile walk, jet-skiing
Thursday – Legs, 2 mile walk
Friday – Back/Triceps
Saturday – Shoulders/Glutes, 2 mi walk
Sunday – 15 min bike ride, 2 softball games
***
Thanks to everyone for their positive thoughts, comments, messages, and tweets after Friday's post.  It was a tough day, but you all put a smile on my face. 🙂
Have you ever eaten at a "celebrity" chef's restaurant?  Did it live up to expectations?
What was the best thing you ate this weekend?