Some people vacation to see historical sites.  Some people go for the beach.  Me?  I travel for food and wine!  That's exactly how I spent last week – eating my way through Paris, France.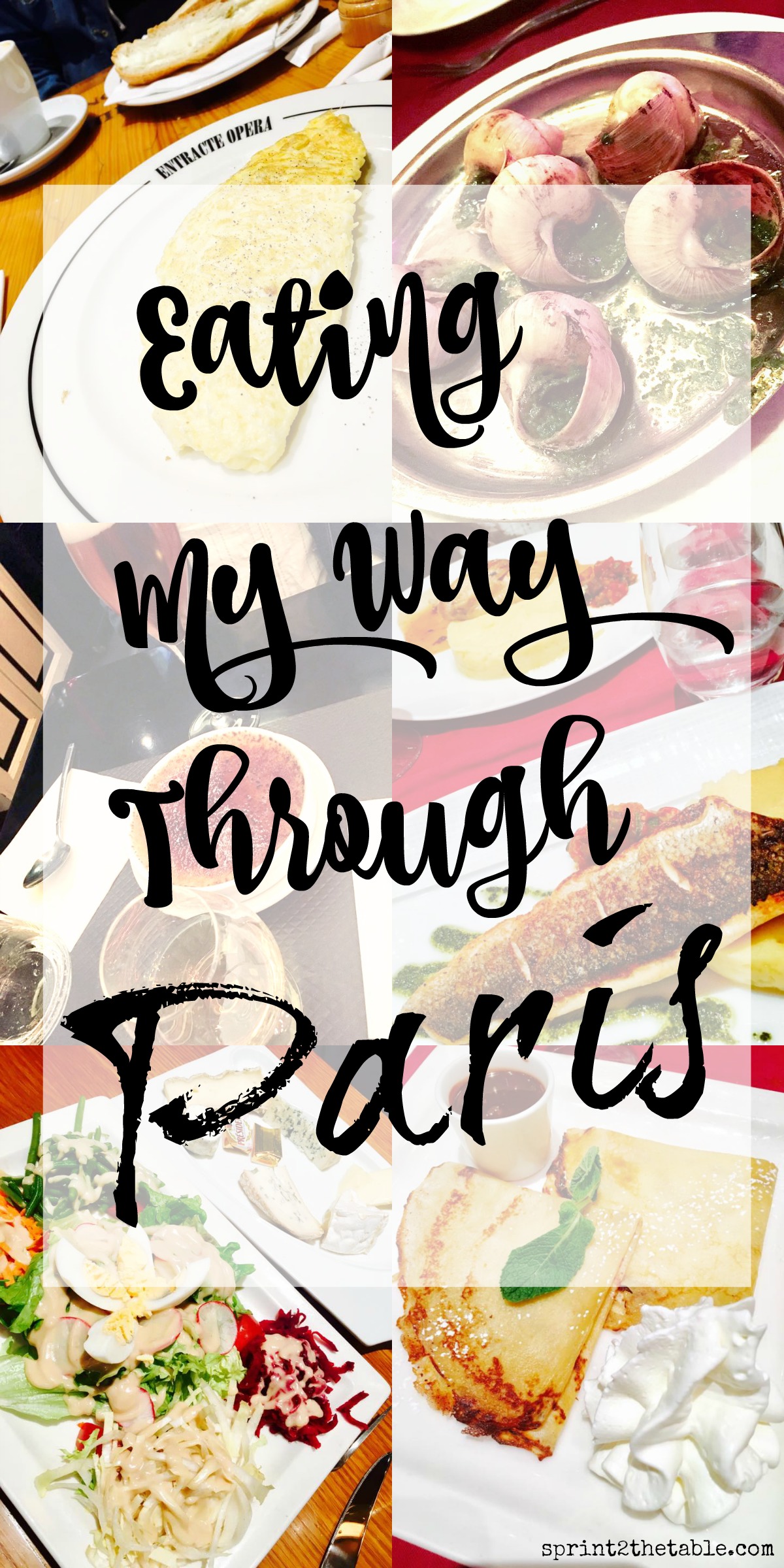 Eating my way through Paris, France
My favorite breakfasts involve eggs.  I'm not sure what their secret is, but Parisian cafés seem to have unlocked the key to omelette perfection.  This from L'entracte Opera was the softest, most fluffy omelette I've ever had the pleasure of eating.  And it was nothing but eggs and butter!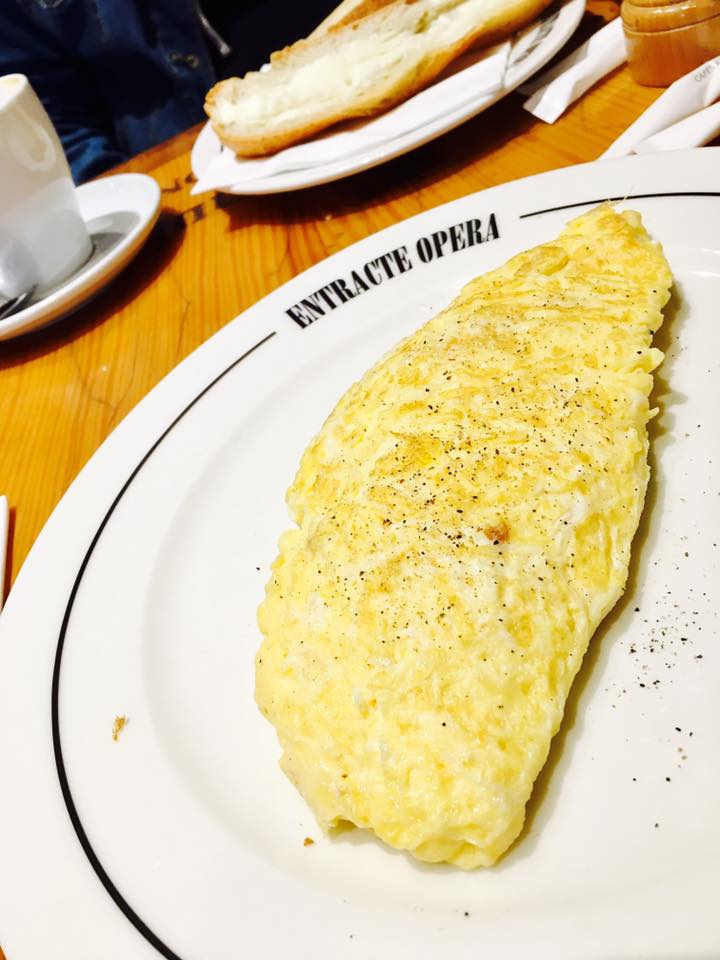 Without intent, we usually ended up with a lighter lunch.  We walked just about everywhere we went, often stopping in the cutest place we passed.  The best was to explore Paris is to truly explore.  Make your own guidebook!  It's actually difficult to get bad food here.
I have no idea what the name of this place was, only that it was on the way to the Eiffel Tower.  We have an (unpictured charcuterie), followed by an amazing salad and a delicious array of fromages.  Plus a glass of rosé and baguettes, of course.
While the cheeses were noteworthy (especially that blue in the back), the salad was truly impressive.  We were at the teeny little spot, yet they came out with this huge, delicious salad.  I loved how it was sectioned – beans, shredded carrots, chopped endive, and shredded beets with a center piece of crisp lettuce, radishes, and a hardboiled egg.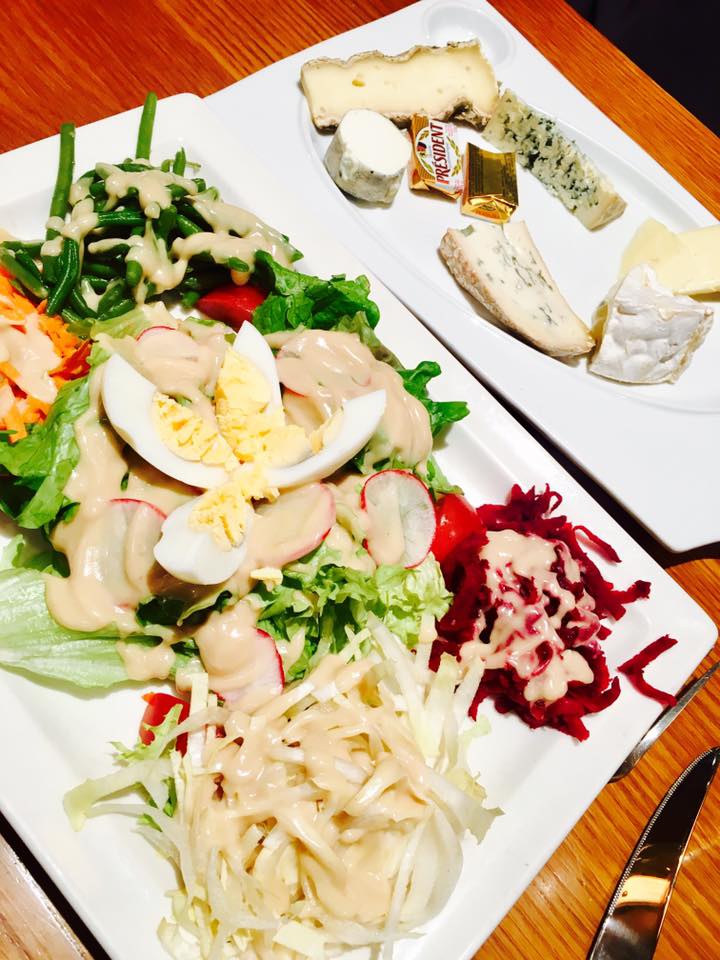 At least once a day we had some sort of meat and/or cheese spread.  It's basically a requirement in Europe.  This would be dinner if we had a heavy lunch.
We also had to stop for some sort of sweet.  I ate dessert at least twice a day!  This day I had a mid-afternoon chocolate macaroon at the top of the Eiffel Tower.  With the obligatory glass of champagne.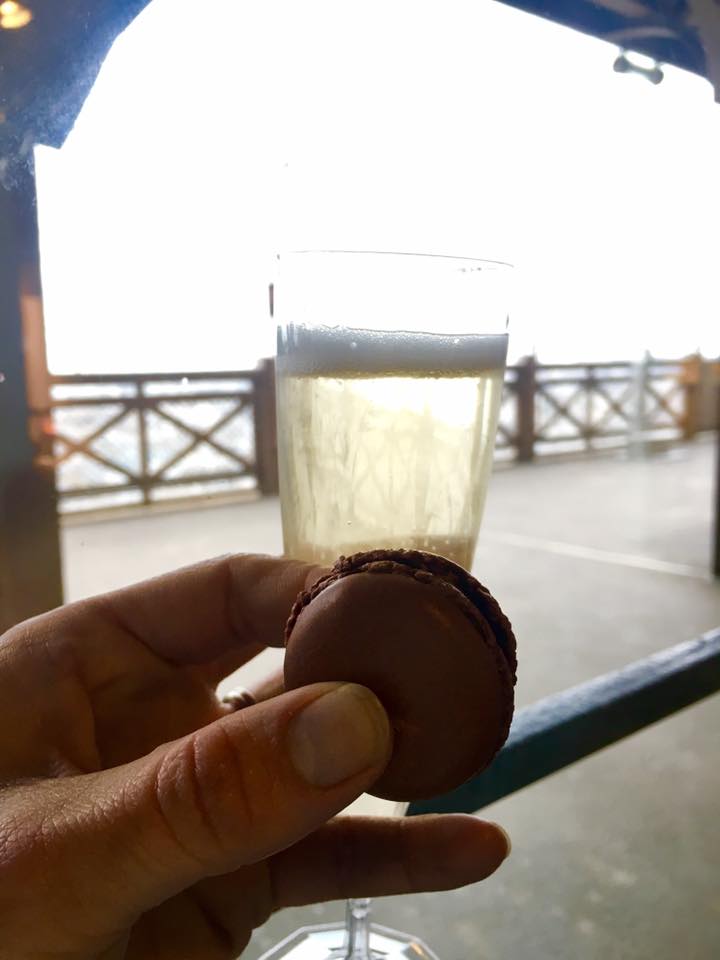 (I also drank at least a bottle of wine every day… because heart health. 😉 )  
In case you're here for more than just food, below are a few of the sights we saw this day.  I'll do a Paris guide post with more details next week!
We found another spot near our hotel, Capucine Café, that turned out to be one of our favorites.  It's the only place we ate at twice!  Capucine Café also had the honor of being "the" spot we tried escargot (translation: snails).  They're actually quite good!  It reminded me of a meaty shellfish.
Funny story about my terrible French… the server didn't understand my terrible accent when I asked for escargot. She finally got it when we said snails.  #Merica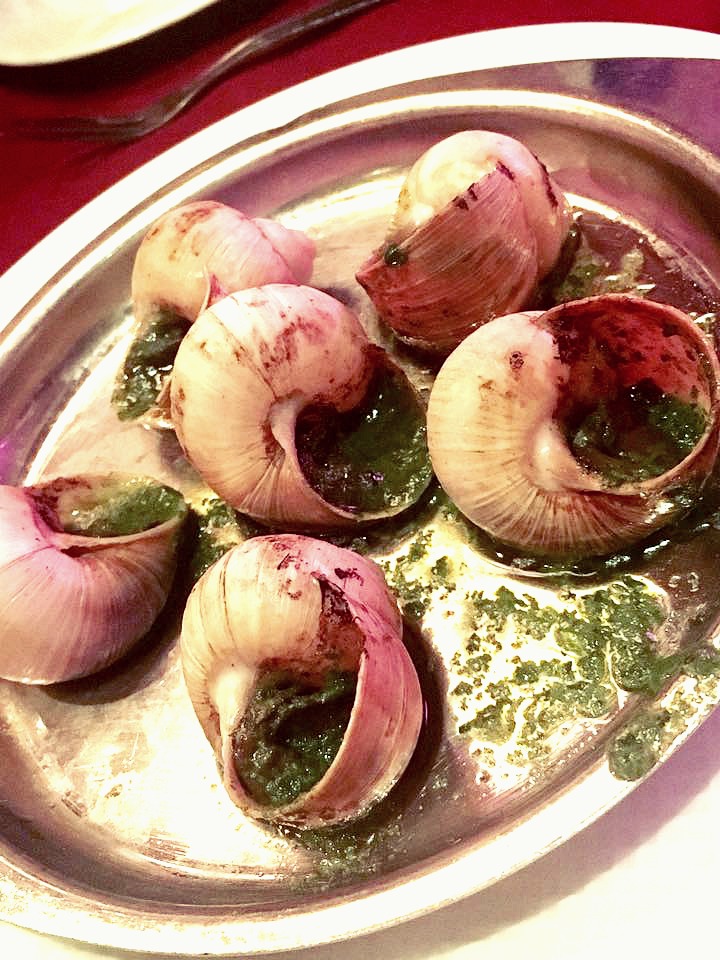 The main courses were just as good.  I ordered the sea bass, Vegas ordered the roasted chicken.  Both skins were perfectly crisped.  There wasn't a drop of protein left on our plates!
As talented as their chef is, he couldn't get me to like mashed potatoes.  I'm a hopeless case.  Vegas, however, practically licked her plate.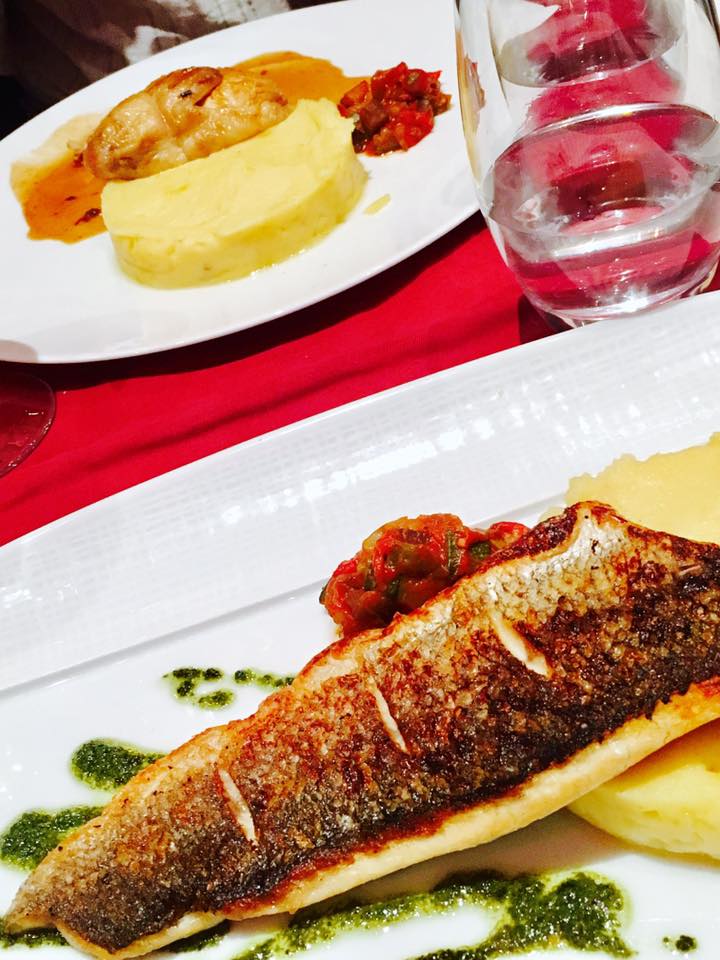 I won't bore you with bottle pics, but we loved the Sancerre Rosé here too.
On to dessert!  We did our best to try every typical French dessert there is.  These chocolate crepes were in our top 3.  I swear they melt crack into the chocolate.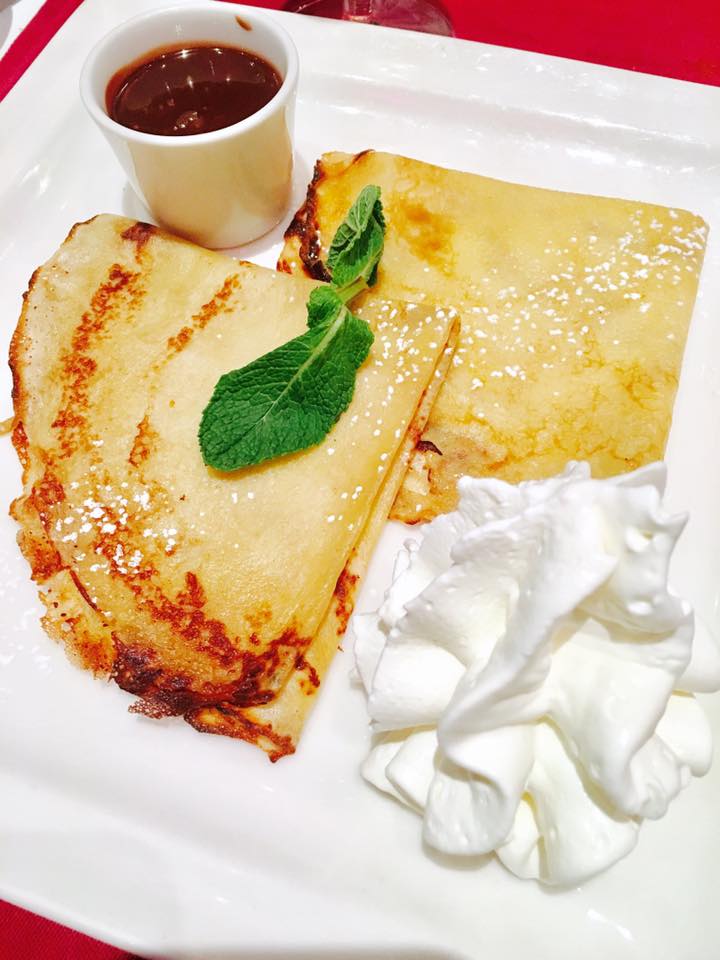 From there, we decided to see Paris at night.  The Louvre was stunning, but one of the most magical sights I've ever seen was the Eiffel Tower all lit up.
The lights sparkle for 5 minutes at the top of every hour.  It's something everyone should see in their lifetime!
What you don't see is how COLD it was.  After standing outside taking in the sights, we were in need of some warmth.  So we stopped for a drink… which led to a second dessert.  When in Rome!  #sorrynotsorry
This was our Creme Brûlée portion of our French dessert tour.  I'm normally not a fan of pudding-like things, but even I had to admit this was fabulous.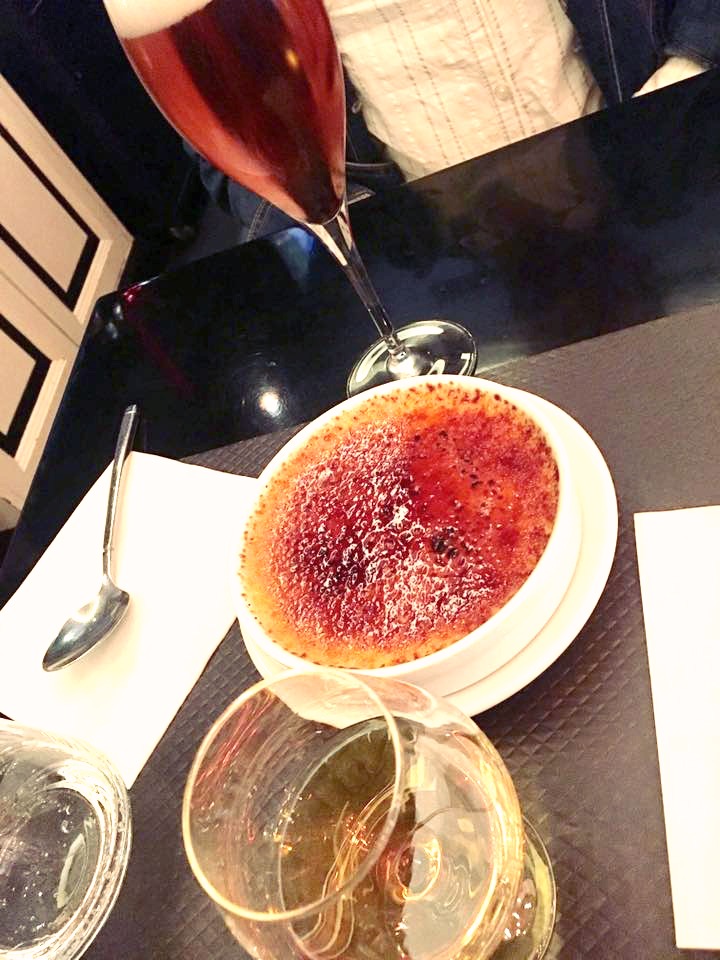 I enjoyed mine with a small armagnac (brandy).  Vegas had a rosé champagne.
This was basically how we spent every day – eating and drinking wine with some sightseeing sprinkled in.  The perfect way to vacation!
Oddly enough, I didn't gain a single pound.  I mention this because so many people worry about gaining on vacation, feeling like they need to keep up workouts each day.  I used to the hotel gym one time on the first day when I couldn't sleep.  Other than that, we walked about 15,000 steps a day.  This is more or less the amount of steps I get at home though.  Funny how the body works, isn't it?
---
Make sure to check out everyone else's eats and link up to Jenn's WIAW baby below!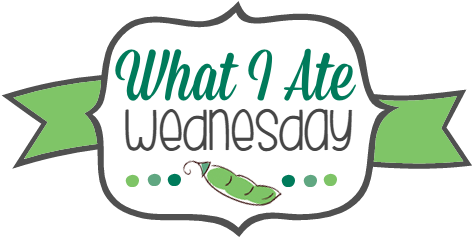 ***
The next trip is already in the works… it's looking like Barcelona!
Would you eat escargot?
What's your favorite French food?