This is the point where food gets really fun.
And by "fun" I mean weird.
I'm 3 days out from my figure competition.  The asparagus started, (click here for the reason behind that), but I have a bit more variety this time.  Broccoli and green beans have never seemed so exciting!
People comment a lot about my diet.  They are surprised that I'm still eating carbs, that I waited so long to cut hard. What you have to remember, my little snowflakes, is that every body is different.  I didn't start out with a lot of body fat, so my cutting is different.  If I did eat like this for weeks on end… I'd be tired and skinny!
There's not one right or wrong way to do it.  (Ok, there is a wrong way… people go nuts but you know what I mean.)
________________________________________________________________________________________
My WIAW meals were strange… but (mostly) good.  After yesterday's ab post, I got a few questions about what exactly I've been eating.  Here it is!  Eating for Abs: 101.
Note: I was still eating Greek yogurt up until Sunday.  Water depletion hasn't started as of this post (that beings today – the real Wednesday).  Sodium is super-low.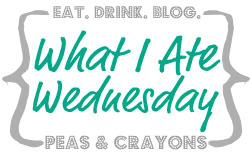 Check out my 7 low-fat, low-sodium, protein-laced meals below, and then click here to head over to Jenn @ Peas and Crayons to get to see how more normal people are eating!
_______________________________________________________________________________________
Meal 1:
My day still begins with my morning cocktail (apple cider vinegar, water, Glutamine, and Fitmixer Aminos).  This morning I drank half, ran my sprints, and then drank the second half.  If I had a full glass before running I'd cramp up!
Then breakfast.  If you follow me on Instagram, you know I found some a curious new coffee flavor this weekend at TJ Maxx:
Which lead to one awesome #strangebutgood creation!  Chocolate-Peanut Butter Coffee Oats with an Elvis twist – I added banana extract and Smoked TVP Bacon Bits.  The King would have been proud.
I took the Southern further with chicken.  Cinnamon-Flax Baked Chicken and oats is really just a healthier version of the classic chicken and waffles.  Sort of.
Anyway, this sweet and smokey banana creation was legit good.  (The chicken is certainly optional.)  Topped with mashed strawberry "jam."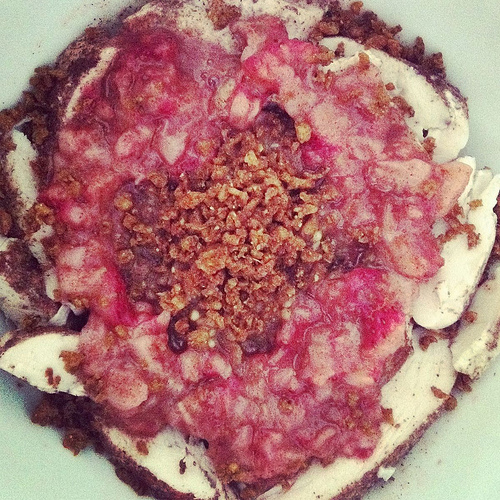 Peanut Butter-Banana (Elvis) Mocha Oatmeal
1/4 C oatmeal
1/4 C water
1/4 C coffee
1/2 tsp cinnamon
1/2 tsp ginger
1/4 tsp baking powder
1/4 tsp banana extract
1/4 tsp butter extract
5-6 drops liquid stevia
Strawberries

Cinnamon-Flax Baked Chicken

(optional)
Bring oats, coffee, and water to a boil.  Cook until liquid is mostly absorbed.  Add in spices, powder, extract, and sweetener (can adding additional water/coffee if needed).
Allow to simmer until water is absorbed and your oats reach your desired level of thickness.
Place in a bowl and top was desired.  I used my bacon bits, mashed strawberries (warmed in microwave), and chicken.  Mmmmm… protein. 😉
Meal 2:
Turkey.  It's not just for dinner.  This breakfast-y version will be this Friday's #strangebutgood!  Eaten with strawberries and a sprinkle of smoked paprika (I'm obsessed)
Meal 3:
Lunch was pretty normal… or so I thought.  My coworkers seems to think my colorful plate was strange.  Either way, it was good!  Swordfish (a.k.a. the "steak of the sea") with broccoli, red pepper, and the dreaded asparagus.
The eggplant chips may be a little weird.  I used this method, but made them dessert by seasoning with stevia and cinnamon.  They are better when I crisp them back up in the oven, but the microwave was my only option at work.
Meal 4:
Rainbow Trout, baked with dill, lemon juice, and red onion.  With a crunchy side of sugar peas and broccoli.  I really like trout, but their teeny little bones are annoying.
Of course I had a little dessert.  Gum.  I bought this because it was on sale – I love the Apple Pie flavor, but Sorbet never appealed to me.  I was pleasantly surprised!  The flavor seemed to have lasted a little longer.
Meal 5:
This meal was scarfed down at the gym after working out back and triceps and an hour of posing.  Swordfish with chopped broccoli and red pepper.  I would have eaten my hand, but this was decidedly better.
"Dessert" was my carb – sweet potato cubes sprinkled with cinnamon and cocoa.
Meal 6:
I was desperate for dessert.  So I made cinnamon and ginger roasted asparagus.  And chicken.  It was strange… not so sure it was good.  4 more days.
Meal 7:
After that last meal, I'd had enough.  Bed time.
***
Protein count for the day: 145.9g; Sodium: 457.4mg
Is there a food you burnt yourself out eating too much of?
What would be the first thing you'd at post-competition?  I'm still deciding…