Life gets hectic in the fall.  I love to cook, but there's no shame in having help.  My newest discovery is Clean & Colorful Kitchen.  You can't go wrong with a made-from-scratch meal, created from fresh and local ingredients!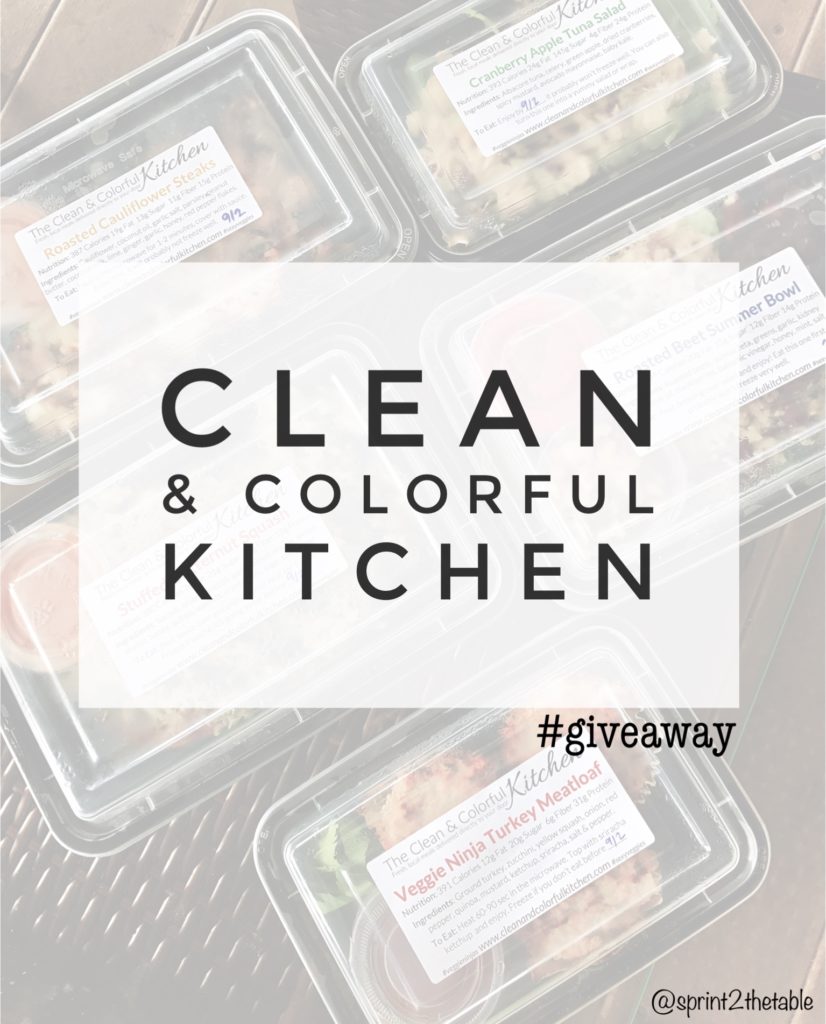 I don't have a big ACL surgery update this week.  It's basically the same.  Progress will be slower now, I suppose.  I'm looking forward to my one month post-op appointment with my surgeon tomorrow!
Now that I'm mobile (← I use the term loosely), I have been cooking more.  However, we've been crazy busy too.  I'm planning for holiday promos, doing tons of prep for my social media clients, and I finally started a newsletter for this blog (shameless plug to sign up)!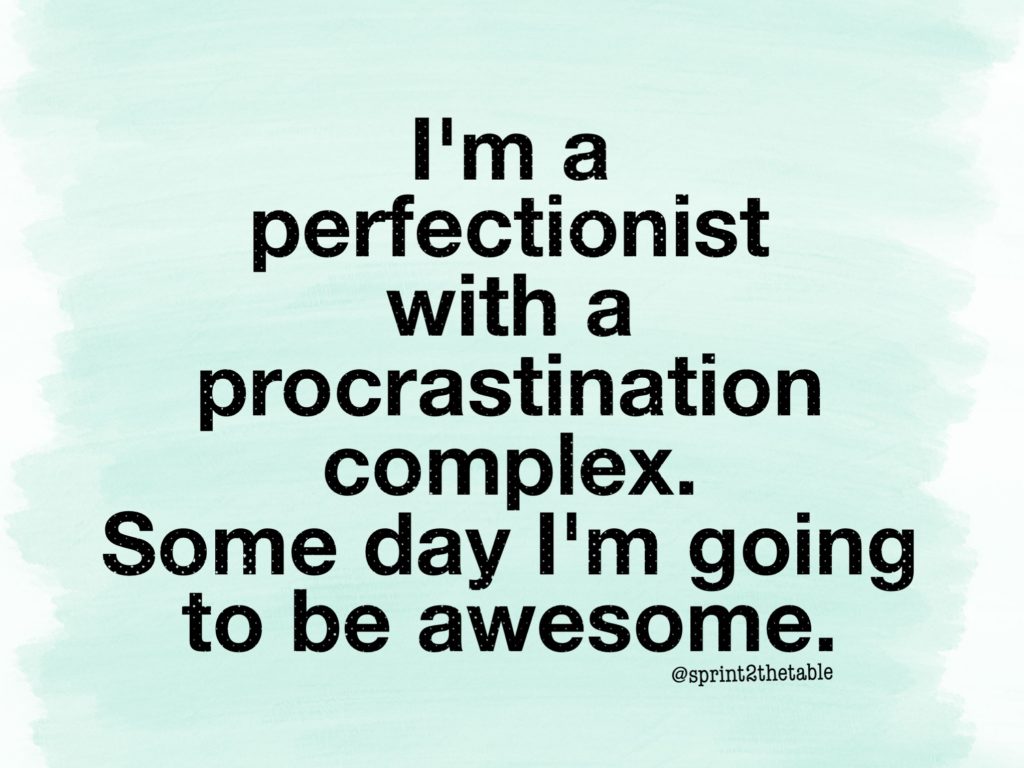 The day of eats I'm sharing is from my friend Teresa's meal service: Clean & Colorful Kitchen.  I'll tell you upfront that this service and the giveaway at the end is only available in San Diego, BUT I think everyone can benefit from the meal ideas.  Many of her offerings are high-protein vegetarian meals (you can request all veg) and they're all gluten-free.
When I used to meal prep religiously my food would have looked a lot like this, which is why I LOVE picking up these meals from Teresa.  I can trust her to incorporate nutrients into food in a fun, flavorful way.  Even left to my own devices I couldn't have come up with a better ingredient list than what's in this beet bowl: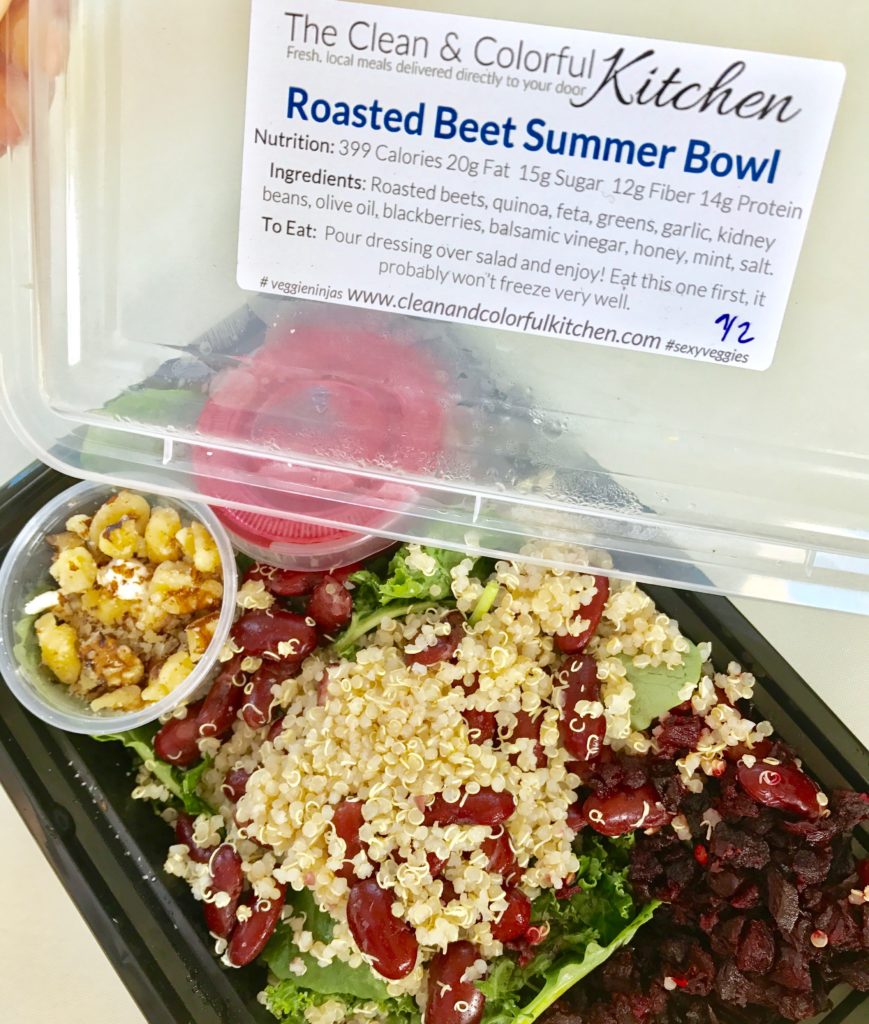 Everything comes pre-portioned with the macros listed right on the lid.  Teresa and I talked a bit about how people struggle with portions control.  We look at a plate and have an irrational need to fill it up.
It was because of that conversation that I almost snorted at Vegas' comments on the portion size.  After it was devoured, I heard no complaints!  I had to text Teresa.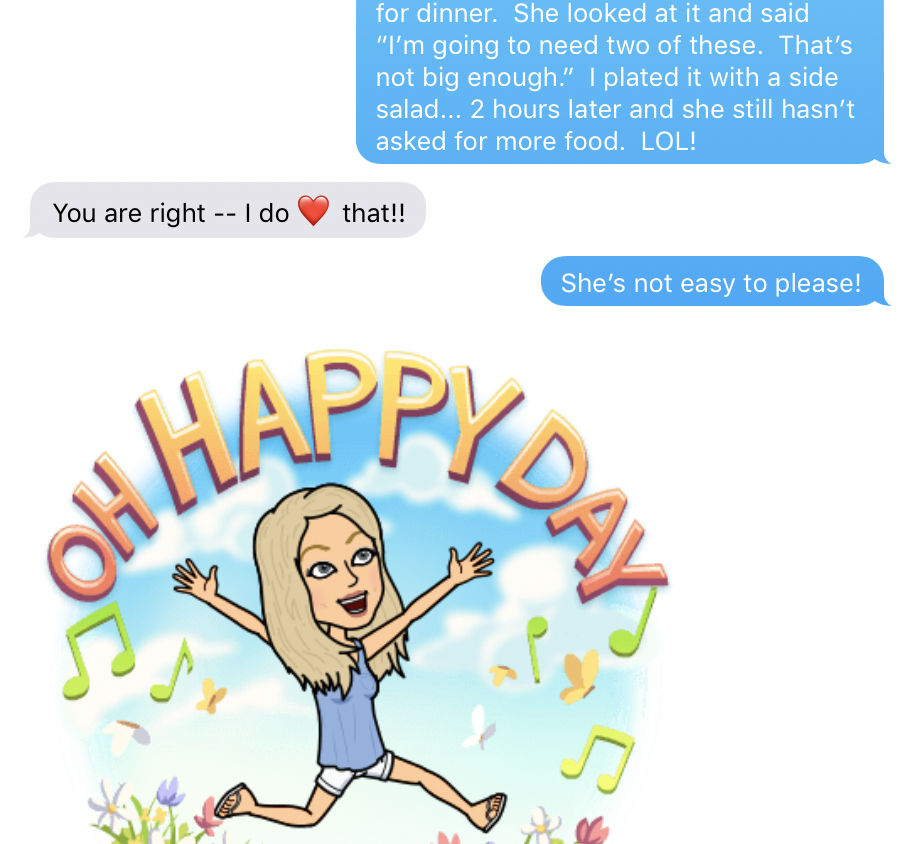 Breakfast
Vegas always brings me coffee to bed.  Then I ease my way down the stairs to make our morning cocktail.
I spent most of yesterday morning working and lost track of time.  Breakfast didn't happen until 11 am… which means it's totally normal to eat turkey muffins for breakfast.  Right?
This was my first Clean & Colorful meal.  I loved the turkey muffins, but the secret is in the sauce.  That cup on the side?  It's filled with sriracha ketchup.  I may or may not have licked the container.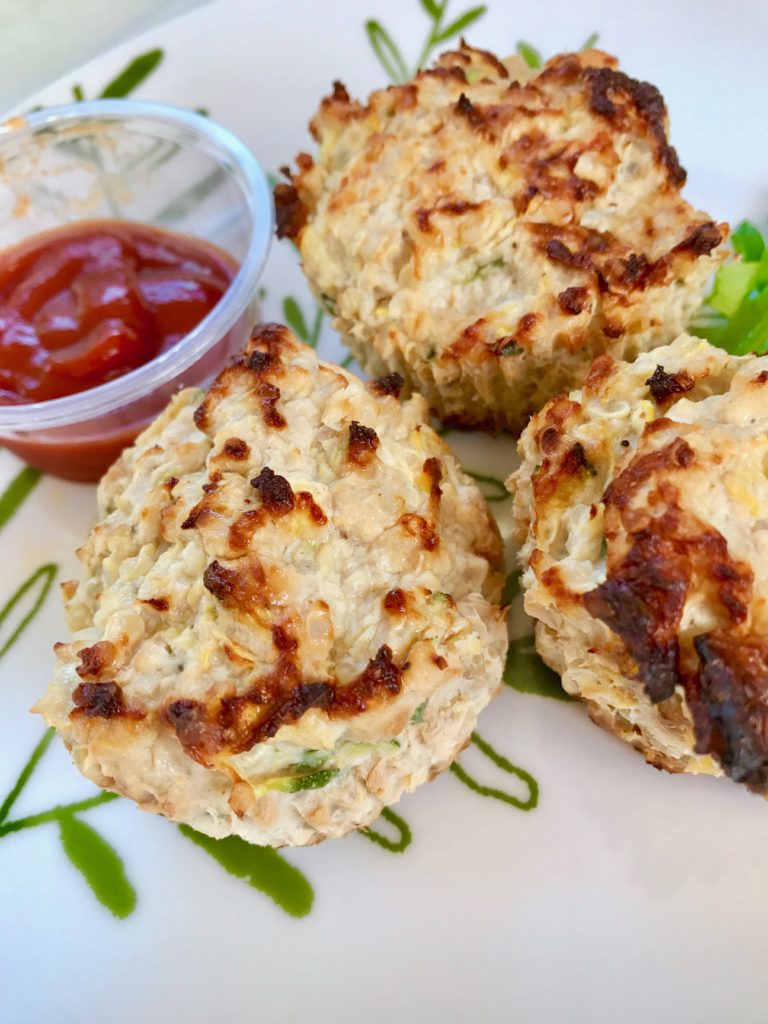 Lunch
I was between the gym and an appointment, so I brought my lunch to eat on the go.  This is Clean & Colorful's Cranberry Apple Tuna Salad.  People turn their noses up at tuna, but I swear to you this isn't your cafeteria stinky, mayonnaise-soaked scoop 'o slop.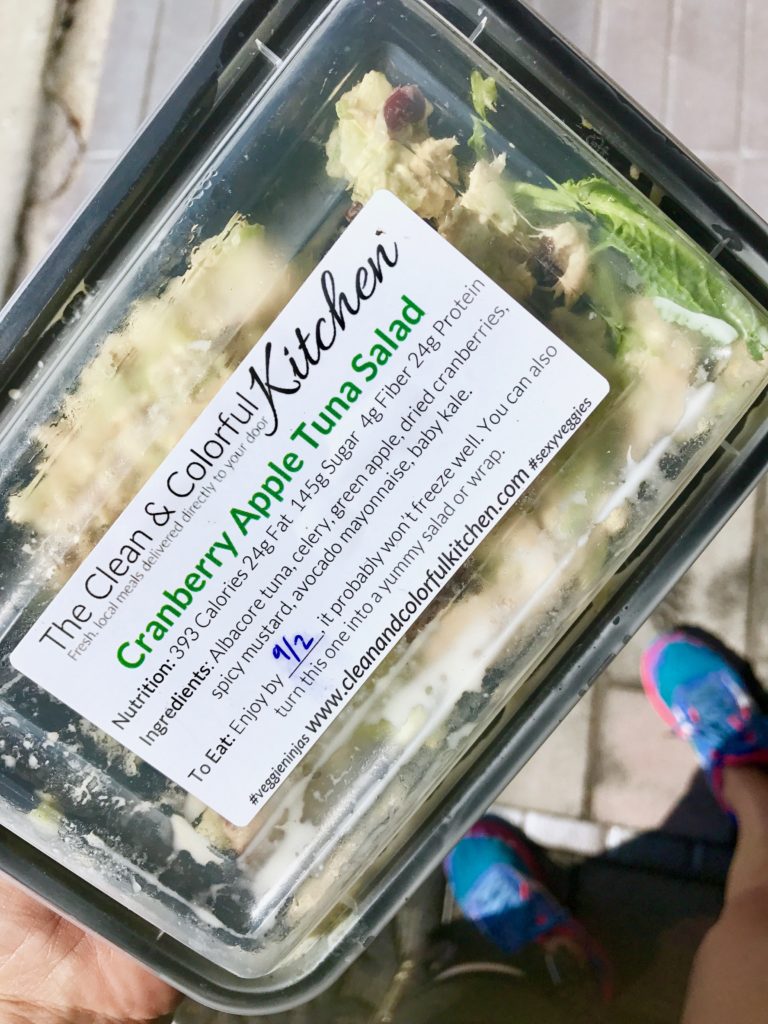 While I was eating this between appointments, Vegas was at home eating the same thing.  I know this because I received the following text from her:

Dinner
Dinner was another to-go meal.  In addition to hooking me up with a free trial, Teresa connected us with a friend who had extra Padres baseball tickets!  Rather than eating ballpark food, I took her Roasted Cauliflower Steaks with Spicy Peanut Sauce.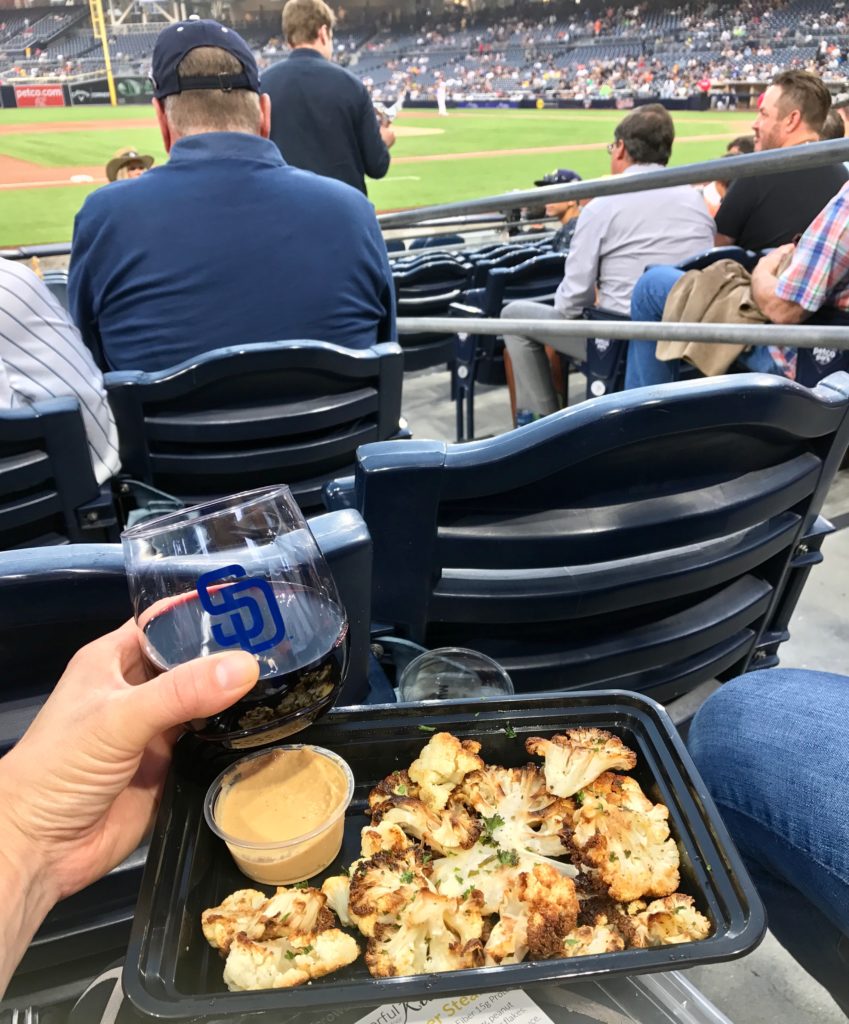 Have you ever ordered a cauliflower steak in a restaurant?  They somehow get off charging $16 for a slice of cauliflower.  It irks me.  This "steak" was fabulous, and included yet another crack-like sauce.  I didn't even need to heat it up!
She even managed to get 15g of protein this plant-based dish.  Did you know that cauliflower is actually pretty high in protein?  The peanut-crack sauce helped amp up the protein power too.
Did I mention there's a wine shop at the park?  I rocked my favorite jersey. 😉
Giveaway
I promised a Clean & Colorful Kitchen giveaway!  This is only open to San Diego residents.  Also for SD locals, I have a $15 discount code for you – just enter the code "laura" at checkout.  Definitely worth an order for these busy fall days.
Sorry to the non-locals…. I'll have something fun for you soon though!
---
I hope you enjoyed my day of self-sufficient post-surgery eats.  Be sure to link up to Jenn's WIAW baby below.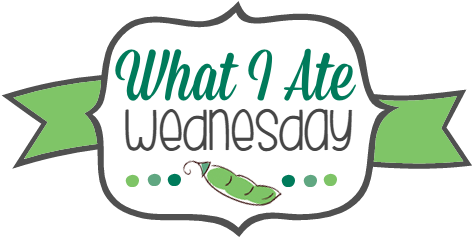 ***
Check out Teresa's personal blog too; I love her approach to eating.  It's how we originally met!
Do you make an effort to eat clean and colorfully?
What is your go-to meal prep dish?