My fridge is (almost) empty.
I'm in panic mode.
This was my fridge after dinner last night:
Why so void of food?  Well, it's now filled with juices.  I'm doing a cleanse.  The awesome people at Skinny Limits reached out to me to try their 3 day cleanse… normally I'd balk at the idea, but after an indulgent holiday season and a year (or more) of packing in protein, I decided to give my body a rest.
For the next 3 days, 6 times a day, these are my meals:
There will be a full review coming, but if you'd like to follow along in real-time check out my Instagram.
________________________________________________________________________________________
This WIAW I made sure to thoroughly enjoy my last day of solids til Saturday.  I relished every last morsel.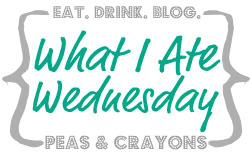 Read on for my eats, and then check out Jenn's blog for everyone else's delicious creations!
________________________________________________________________________________________
Breakfast:
The usual apple cider morning cocktail, was followed by a roasted grapefruit.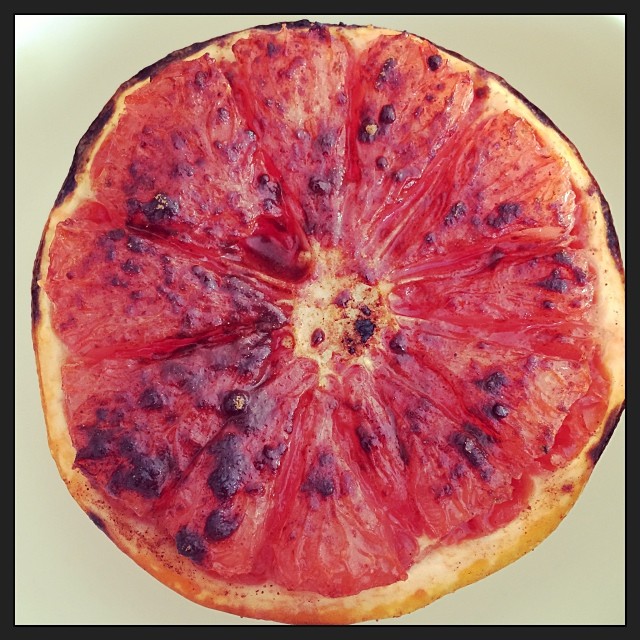 Then that was followed by a very white-ish-brown meal of a puffed corn cracker, turkey, and #yolkporn sprinkled with red pepper flakes.
Greek yogurt mixed with a little stevia and a lot of cinnamon for "dessert."
Mid-Morning Snack:
More turkey, mixed with my wasabi-blue cheese dressing and zucchini with a slice of Ezekial toast.
Lunch:
Turbot, carrots, hummus, and a Sriracha Veggie Muffin.  Those muffins are great from the freezer, by  the way.
Mid-Afternoon Snack:
Maple-Bourbon Roasted Chicken left over from a Monday lunch at Metro Fresh with a side of asparagus and more (unpictured) hummus.  I'm loving Whole Foods' omega hummus with flax and walnuts!
Dinner:
There was a TON of traffic and by the time I finally got home (an hour late) I was hangry.  I nibbled on veggies while I cooked.  I sautéed asparagus, mushrooms, and spinach while making a mix of hummus, cayenne, and tuna.  I wrapped all that up, pressed it in my George Foreman grill, and finished it with a drizzle of fig-balsamic reduction.
My pre-dessert dessert was my favorite cocoa-roasted kabocha topped with peanut flour sauce (I get my peanut flour on iHerb – use discount code USO924 for $5-10 off your order) and cacao nibs.
Dessert:
They say to ease into a cleanse… I did not.  I admit it – I panicked and ate the last of everything that I thought would be tempting.  Fully aware this isn't how it's meant to be done.  #sorryimnotsorry
I made my 150 Calorie Chocolate Protein Cake, but topped with a lot of Greek yogurt-cinnamon "icing," sprinkles, and cacao nibs.
Then I finished off a pint of Arctic Zero ice cream, almond butter, whipped cream, homemade magic shell, and hemp seeds.
My "magic shell" is just equal parts melted coconut butter and cocoa with a little stevia.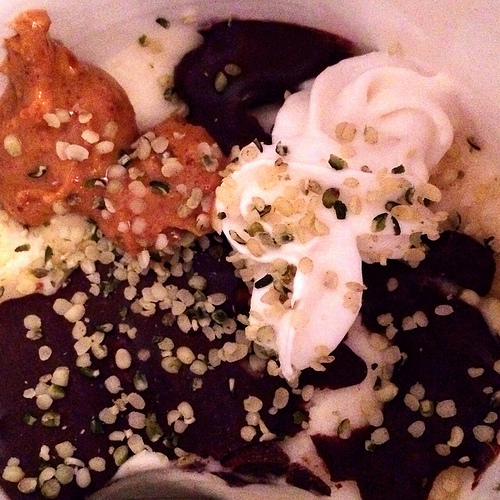 And then I had a Red Velvet Protein Bar. I needed a night-cap.  Bam,
***
I hope my trainer continues to be too busy to read my blog.  He's going to hate this cleanse.  LOL!
Have you ever done a juice cleanse?
Do you ever go through a day and realize 75%of your food was color-less?  So weird for me!