Drinking is a training no-no.
Let's be honest… I indulge on cheat day and sometimes at night I sacrifice a carb for a wine.
Booze isn't just for drinking though!  It makes for a wonderful marinade.  So wonderful that I have made this Tequila-Lime Tilapia dish 4 times in as many weeks (that NEVER happens).  It is a great dish to make in bulk to take for lunch throughout the week!
My trainer insists that booze doesn't completely cook out.  We should be so lucky.  I don't believe it.  I've eaten a lot of this tilapia and didn't feel the least bit buzzed.
A study by the U.S. Department of Agriculture's Nutrient Data Laboratory  DID show that alcohol content diminishes with cooking time.  When food is baked or simmered for 15 minutes, 40% of the alcohol will be retained.  After an hour, 25% remains. I don't think it's that big of a deal here, as this is just a marinade and the amount of alcohol in an individual serving will be minimal.
Adding liquor and/or citrus to recipes has always made me a little nervous.  It seems all too easy to add too much.  The recipe has taught me to let go of that fear.  More is more (to an extent… that time my aunt challenged me to a margarita contest wasn't my finest moment).
Like chicken or tofu, tilapia is a blank canvas; it will take on whatever flavor you soak it in.  The bright tang from the lime and smooth silver tequila really shine here.  I love the garlic and the warm, almost peppery quality of the cumin.
This is one place you don't want to go overboard with the chili powder.  Remember, you can always add more but you can't take it back.  Just a hint of heat on the end is all you need with the delicate fish.
Ever the Mexican fan, I served mine tostada style (read: I over-stuff what was originally going to be a taco) over a corn tortilla with salsa, spinach, red pepper, cucumber, and cilantro.  I guarantee you this is more fresh, healthier, and just as tasty as what you find at your local El Whatchamacalit.
I think this would also be good with tofu for my plant-based friends.  Please let me know if you try it!
*Important note* Don't use this as an excuse to rid yourself of crappy alcohol.  Just like drinking bad booze, cooking with bad booze won't have good results.  If you wouldn't drink it, don't eat it (this applies to cooking with wine, too).
---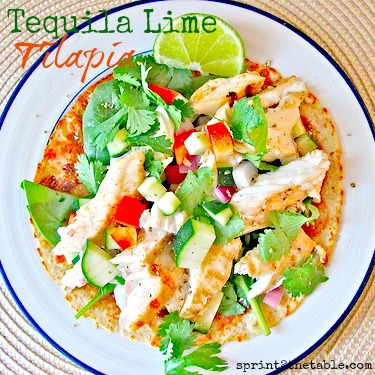 Tequila-Lime Tilapia
3 T fresh lime juice (1 medium lime)
3 T tequila (I used Patron Silver)
3 T fresh cilantro, chopped
2 T red onion, chopped
1 clove garlic, minced
1 tsp ground cumin
1/4-1/2 tsp cayenne pepper
1 lb tilapia (or other white fish)
Combine all ingredients except the fish in a resealable plastic bag.
Add fish, seal bag and turn to coat.  Refrigerate for 30 min – 1 hour, turning once.
Heat grill pan (or grill) to med-high, and spray with oil or PAM.  Remove fish from marinade and place in pan to grill for ~3-4 mins each side, or until the fish is no longer translucent in the center (it will vary depending on the thickness of the fillets).
Remove from heat and allow to rest a moment before serving.  
Optional: garnish with lime wedges and fresh cilantro.
Serves 4.
***
I would say something insightful about the nutritional content of seafood… but I'm feeling a little loopy after my fish tacos…. *hiccup*
What is your favorite Mexican dish?
Have you ever cooked with booze?  Any recipes to share?