There's not much I'd rather do than see live music.
The weekend began Friday at 6pm when my friend picked me for the Brandi Carlile concert.  I adore Brandi, but I was especially excited to get to see her play at on of my favorite venues – Chastain Park.  Chastain is an outdoor amphitheater in Atlanta.  You can buy a table for 6 and bring dinner to enjoy during the show.  People get really in to it – they have tablecloths, candles, and flowers to decorate their tables.  We were a little more low-key, but I did bring my special protein-filled dinner.
It was a great show.  Brandi played a good mix of new and old.  she did a cover of Johnny Cash's Sunday Morning Coming Down, introducing it by saying that she felt is was an appropriate song because she no long drinks tequila and she no longer eats Chick-fli-a (the song references a hangover and fried chicken).   My favorite part was her cover of Queen's Bohemian Rhapsody.
Saturday was another concert!  This time I trekked to Tennessee to see the Indigo Girls play with the Chattanooga Symphony Orchestra.  I have a friend that lives in Chattanooga, so she got the tickets for us and chose an excellent place for dinner – Easy Bistro and Bar.
I was really impressed with the restaurant!  We decided to spit a couple of appetizers and a main dish.
We began with the Heirloom Tomato and Watermelon Salad.  After a hot walk to the restaurant, the light salad hit the spot.  It included a few types of heirlooms and cucumelon. I'd never heard of cucmelon before, but t was fantastic!  It was topped with shaved pecorino cheese and basil live oil.
We also enjoyed a rich Crawfish and Artichoke Dip with toasted flatbread.  It's been years since I've had a cheesy artichoke dip.  The cream cheese-based dish was very, very rich… and it was just as good as I'd remembered.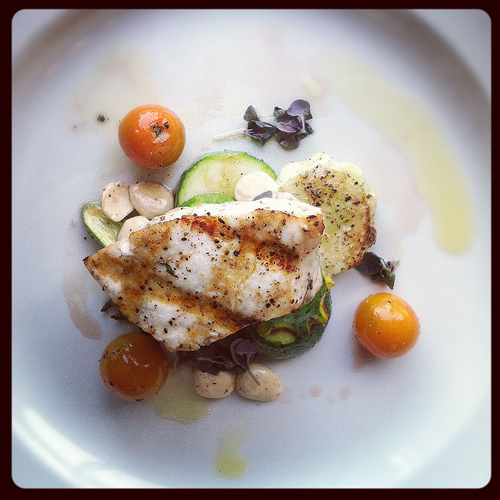 The entrée was the highlight of the meal – swordfish.  It had just been added to the menu that morning, so it was incredibly fresh.  The meaty fish was grilled, which gave it a great char taste.  It was plated atop a summer squash salad and simply garnished with olive oil, cherry tomatoes, and Marcona almonds.
We walked to the Tivoli Theatre where the Indigo Girls were performing with the Chattanooga Symphony Orchestra.  It was such a neat show!  The theatre itself was beautiful; it reminded me a lot of The Fox Theatre in Atlanta.  The Indigo Girls are known for their acoustic, singer-songwriter tunes, and to hear those redone with the string and horns behind them… it gave me chills more than once.
Did you think it was strange we didn't have dessert with dinner?  I mean, it WAS cheat day.
Don't worry.  I didn't get possessed by aliens; we were just in a hurry to get to the show.  Post-show we hit local for-yo shop, Top It Off.  The Red Velvet, Double Chocolate, and Peanut Butter flavors were all just as good as they sound… but the show-stopper was the Salted Caramel Pretzel.  I'll be dreaming of that stuff for weeks.
This is my friend's yogurt.  We have a friendly wager that her bowl would get more likes on Instagram than mine would.  She won… and since I'm a good sport I'm posting the pic of her pretty cup 'o yogurt.
______________________________________________________________________________________
Last week was a good week for workouts.  I felt especially focused at the gym.  We all know that you need to concentrate on the body part you are working out… but sometimes my mind wanders.  My goal last week was to be more focused, and I think it paid off.  Especially on back day… I was SORE after that one.
Leg day on Tuesday was fantastic with my trainer.  I was able to squat more than ever!  Leg day by myself on Saturday left something to be desired… I find it much harder to max out on legs alone.  I know it's mental…
Workout Recap (7/24 – 7/29):
Monday – Chest/Biceps, Calf raises, 2 mile walk
Tuesday – Legs (with trainer), 2.5 mile walk
Wednesday – Back/Triceps, Calf raises, 2 mile walk
Thursday – Shoulders/Glutes, 1 mile walk
Friday – Chest/Biceps, Calf raises, 2 mile walk
Saturday – Legs, 150 push-ups
Sunday – *rest day* … easy 4 mile walk
***
The icing on the cake of the weekend was not having to wake up to an alarm Sunday.  I stayed in bed until 10, and it was glorious. 
What was the last concert you went to?
Do you find certain body parts harder to work out on your own?