Easy has been the name of the game lately.
Don't worry, I have something more complex coming.
After a month of holiday party baking and creating, I'm appreciating the simple more and more.  I was particularly glad when Heather brought back her Meatless Monday link up with the simplest of ingredients: oats.  Simple doesn't have to mean typical though!
My oats became flatbread!  It's so easy you'll be amazed – just grind oats into flour, add egg and water, and cook it like a pancake.  You could even use a flax egg to make this vegan!
It comes together quickly, and you can customize it to your heart's content with spices.  I added cumin, oregano, pepper, and cayenne.
There are a million topping options.  I made one big pancake and used it as a base for kale chips, roasted sunchokes, salmon, and hummus.
Finished with a drizzle of fig-balsamic reduction and I was a happy girl!
It would also be good as a sweeter bread.  Maybe a nice vehicle for some #yolkporn?
Linking this marvelousness up to two of my favorites: Heather and Katie.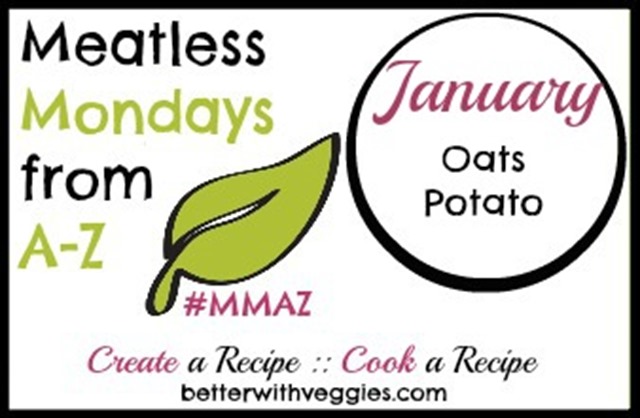 ---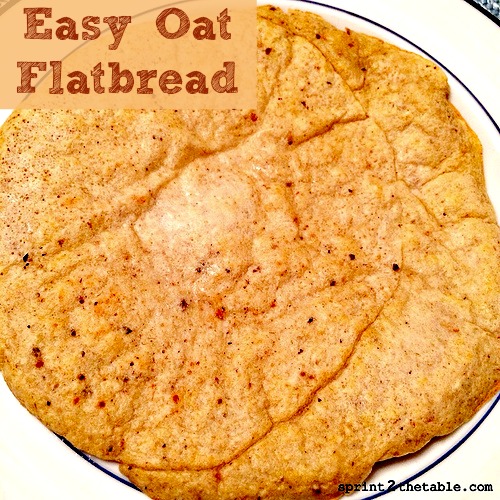 Easy Oat Flatbread
1/4 C rolled oats
2 T egg whites (or flax egg)
2 T water
Optional: flavor with your favorite spices or herbs
In a small blender, grind oats into a flour.
Combine oat flour, egg, and water in a small bowl and stir to combine.  Add spices, if using.  Cook in a small pan as you would a pancake.
***
I'm already excited about Friday's #strangebutgood link up.  Yesterday was a good food prep day. 🙂
Do you use oats in any non-standard ways?
What was marvelous about your weekend?