You may have noticed that simple is hard for me.
But the things I make really aren't hard!
I like ingredients, and I find its easy to toss together a bunch of spices quickly.  But I get it.  Long ingredient lists are intimidating.  So here's a recipe that couldn't be any easier.
Dijon Baked Chicken only calls for 3 necessary things: chicken, Dijon, and red wine vinegar (you could use *almost* any acid you have on hand).  I have made it as part of my food prep 2 weeks in a row!  Click here for a full post on that.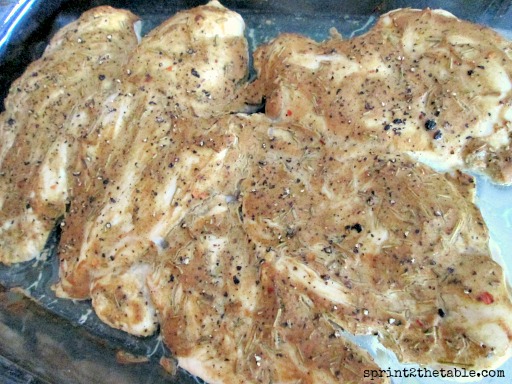 The simplicity of this dish doesn't make it any less delicious.  In fact, this is one of the best baked chickens I've made yet (and I make a lot of chicken).
Two things will make this better than your average chicken: use a GOOD mustard (I used a beer dijon) and tenderize your chicken.  Tenderizing is a pain in the arse, but it makes such a huge difference that I always, always do it.  I hate touching raw chicken, so I put mine between 2 sheets of wax paper before beating it.
Easy clean up and it's not a bad stress reliever. 😉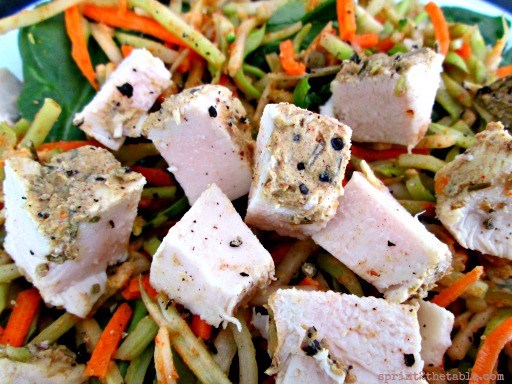 You know me.  I couldn't leave it at just the 3 ingredients.  I added rosemary, black pepper, and a touch of lemon stevia (honey mustard!).  And red pepper flakes.  Add your favorite flavors or keep it super simple.  It won't disappoint either way.
I used this chicken many ways, but the simplest meal was for lunch over a bed of spinach and broccoli slaw.  Tossed with a little hummus dressing (hummus mixed with apple cider vinegar and a little cumin), it was the perfect midday meal!
---

Easy Dijon Baked Chicken
4 boneless, skinless chicken breasts
1/4 C Dijon mustard
1 T red wine vinegar
Optional adds: lemon liquid Stevia, rosemary, red pepper flakes, black pepper… etc.
Preheat oven to 425.
Tenderize chicken breasts and place in 9×13 glass baking dish.
In a small bowl, mix together mustard, vinegar, and any additional flavors.
Pour mustard mixture over chicken, taking care to coat each one.
Bake for ~30 mins, until 165 degrees.  
Tip: I only cook mine to 160 degrees to keep it nice a juicy.  I take it out and let it rest, which allows it to cook the rest of the way, and for the juices to soak in.
***
I made so much of this… and then I made it again.  Chicken for days in the freezer when I get home and I couldn't be happier. 🙂
Do you have a go-to way to make chicken?  (Or tofu… the vegan chicken. 😉 )
How about some mustard love – have you tried any of the fun flavors?  Sweet potato and caramelized onion mustard is also delish in this!