I spoke too soon.
I've often said I need a 5 second delay on my mouth.
This Thanksgiving I ate turkey, and I liked it.  My uncle brought the most deliciously moist (yeah, I said it) smoked turkey.  So partially I take back what I said about not liking Thanksgiving food.  I still passed on the green bean casserole and the stuffing.
First let's back up.  I headed to my mom's house on Thanksgiving morning to drive the family to my grandparents house in north GA for the festivities.  They said they were ready to go, but when I got there only the dog, Honey, was ready.
We finally did get on the road and made it the party without incident (I did have to swerve to miss a kitten in the middle of the road).
The good thing about being late everywhere is that everything is ready when you arrive.  We had quite the spread!  The turkey didn't fit on the counter so it's off to the side, along with a table this size filled with desserts.  I'm lucky my whole family likes food as much as I do!
After pre-gaming with cheese crackers, I stacked round 1 with my kale salad, turkey, mac 'n cheese, sweet potato souffle, pumpkin beer bread (recipe coming!), and had a side of my grandmother's turnips and ham and a glass of rosé wine I brought back from Napa.
Round 2 looked about the same, but with a deviled egg someone had forgotten in the fridge. 😉
There was PLENTY of dessert too… I brought 4 different desserts, so I'm going to be sharing some fun sweet recipes just in time for Christmas.  Yes, I use Thanksgiving to test desserts for Christmas parties.

Today's sweet treat is from Gabby's recipe for a gluten-free Apple-Bacon Crisp.  I followed her recipe, but added a twist… where she sautes the apples in the bacon pan, I also added 2 tablespoons of whiskey.
The whiskey I used, Balcones Baby Blue, was a smooth addition.  The blue corn whiskey from Texas  is one of my favorites with its slightly sweet vanilla-caramel taste and notes of candied citrus and baking spices.  My other modification was to use hazelnuts in the topping.  The rich taste played well with the coconut flour.
It.  Was.  Awesome.  I am thankful for Gabby and her #strangebutgood bacon idea.  I scooped it on to my dessert plate with glee.
The leftover whiskey was great to have on hand for the weekend, too.  I went to the Tech–UGA game with my cousin and friends Kathleen and Matt.  We were all smiles at the tailgate and the first half of the game.
Then the second half happened, and we realized Tech is as bad at football as we feared.  It's a good thing they're smart.
Whiskey is a good wound heal-er. 😉
---
If you're like me, you need a very short break from the heavy food, so today I'm also sharing the easiest kale salad you'll ever have.  It's simply dressed, and you can make it the night before.  It's pretty marvelous.
This was my healthy contribution to Thanksgiving, but kale salads are also one of my favorite things to make during my weekly food prep.  Their hearty leaves only get more delicious as they soften in the dressing and the flavor soaks in.
This dressing is light, but doesn't lack in flavor.  It is zesty and garlicky with a little heat on the end.  If you really like it hot, add red pepper flakes to the top.  I did. 
---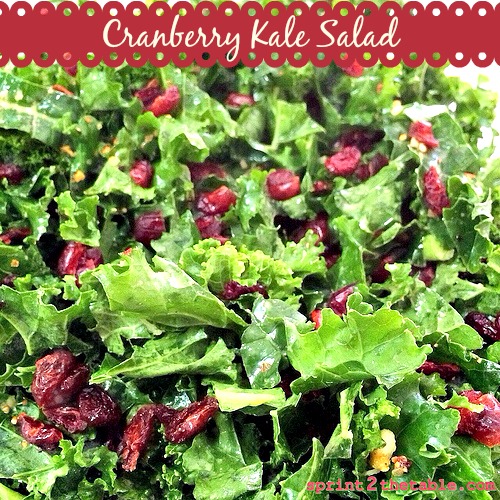 Cranberry Kale Salad
2 medium bunches destemmed kale, finely chopped
3 large garlic cloves
Juice from 1 lemon
2 T extra virgin olive oil
1/2 tsp marjoram
1/4 tsp black pepper
1/4 tsp cayenne
1-2 handfuls dried sweetened cranberries, for garnish
Parmigiano Reggiano, to taste (omit if dairy-free)
In a mini food processor, process the garlic, lemon, oil, marjoram, pepper, and cayenne until smooth.  Taste and adjust flavors, if needed.
Pour the dressing onto the kale and massage it into the kale with your hands.  Allow to soften in fridge at least 30 mins, or overnight.
Just before serving, top with cranberries and cheese.
***
I've been craving greens after the brown fest that is Thanksgiving!
What was the best dish from your weekend?
Are you punctual, or are you the last to arrive?  I'm trying to get better… but it hasn't taken yet.