This Greek-inspired, quick and easy Baked Feta & Chicken Recipe is packed with flavor.  A small amount of rich feta cheese over lean chicken adds a big punch of flavor without adding a ton of calories and fat.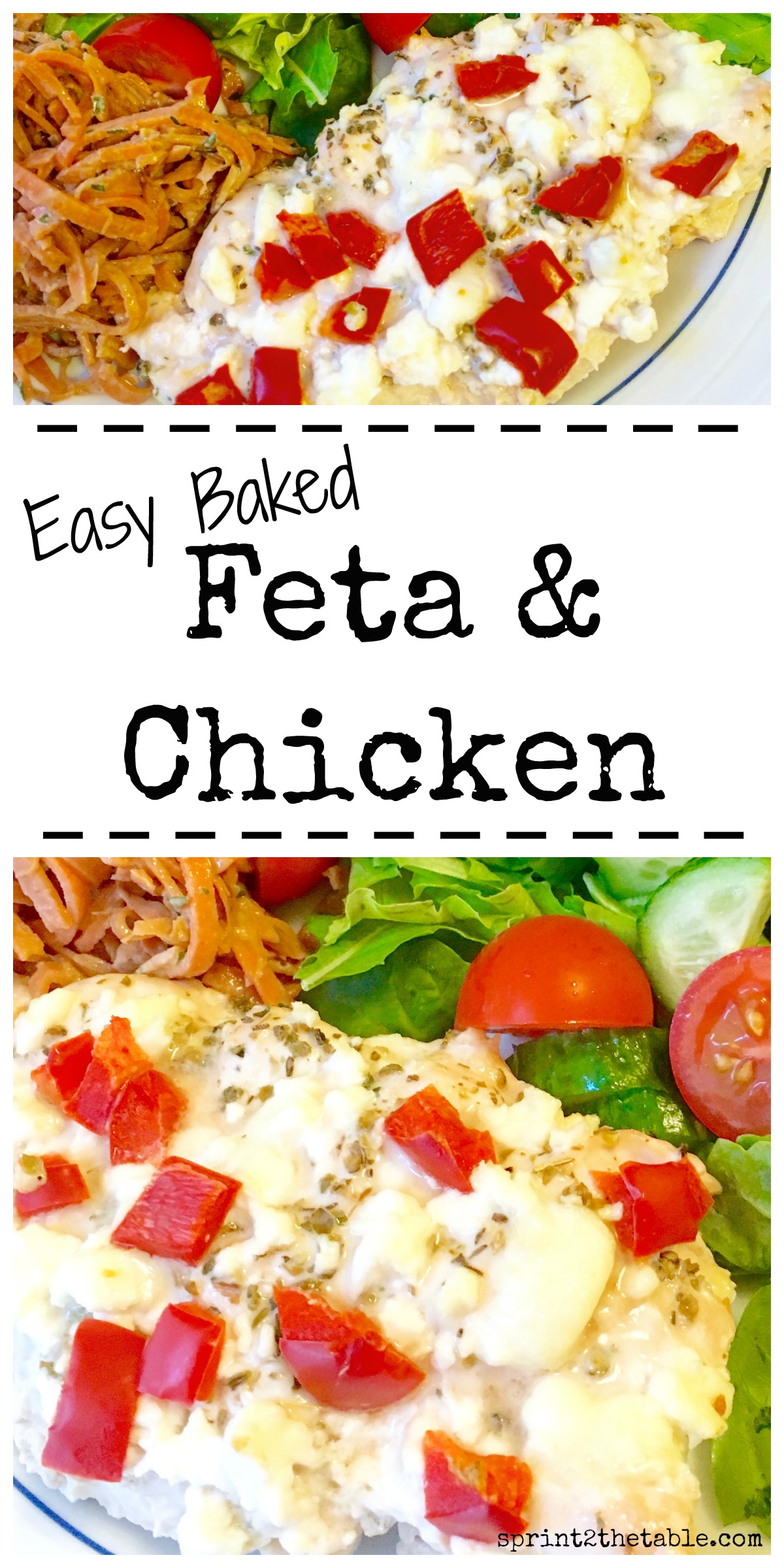 Summertime demands Mediterranean food.  Not that winter diminishes my feta cravings.
Remember this baked feta recipe inspired by our Greek honeymoon?  Our obsession with the glory that is warm feta hasn't lessened.  Today I have a SUPER easy Baked Feta & Chicken recipe for you.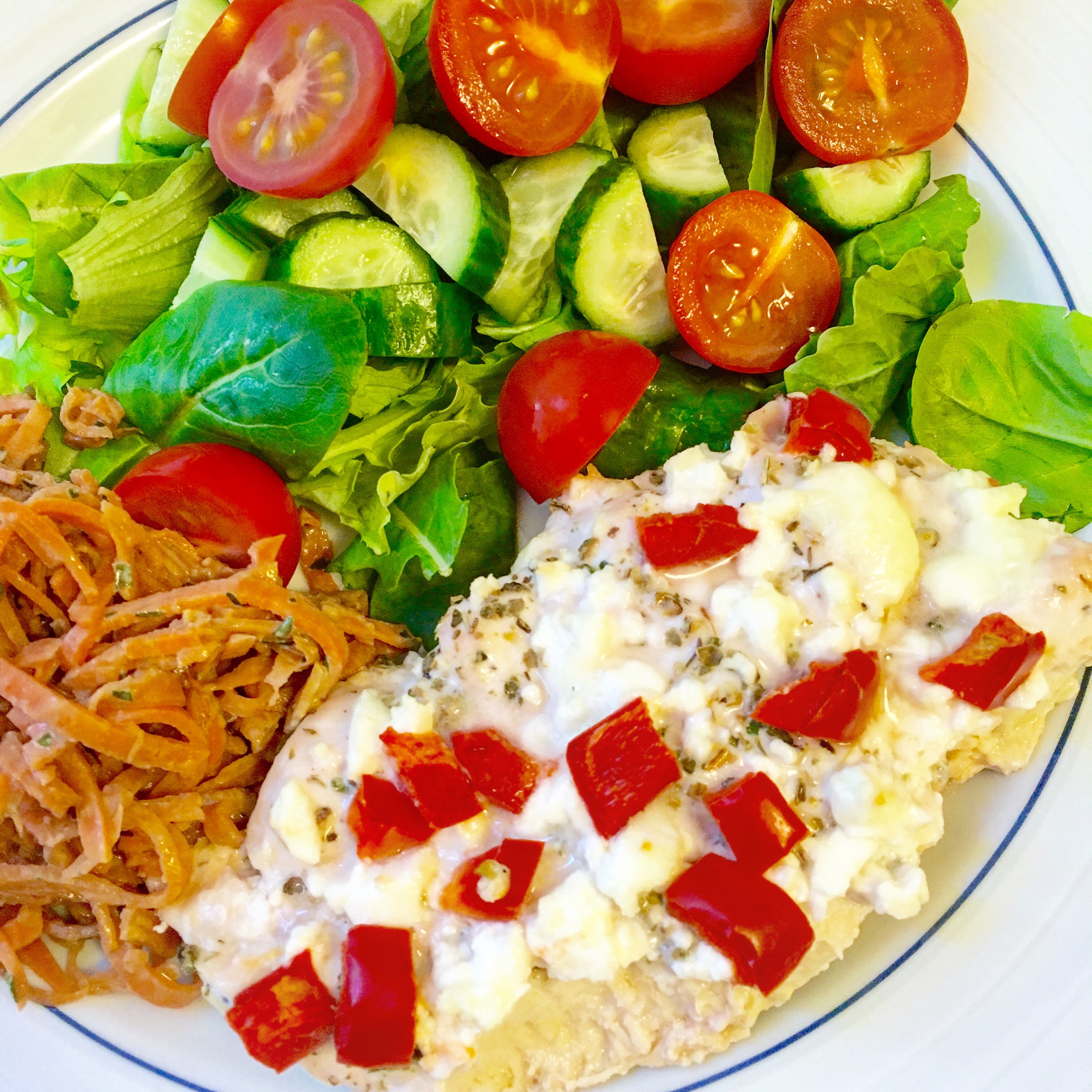 If you have 10 minutes, you have time to make this Greek-inspired dish.  The ingredient list is short (shocking, right?), but it doesn't skimp on flavor.
Because feta is such a rich, salty cheese, you don't have to use a ton of it.  A small amount over lean, low-fat chicken breasts adds a big punch of flavor without adding a ton of calories and fat.

I also love how the oregano and lemon juice compliments the cheese.  It lightens up the flavor and adds to the Mediterranean feel.  Perfect for summer!
---
Easy Baked Feta & Chicken
Prep Time: 10 mins
Cook Time: 30 mins
Keywords: bake entree gluten-free low-carb low-sodium nut-free bell peppers chicken feta cheese Mediterranean
Ingredients (4 servings)
1 lb chicken breasts
1 T lemon juice
2 tsp dried oregano
1/2 tsp black pepper
3 oz feta cheese, crumbled
1/2 C finely chopped red bell pepper
Instructions
Preheat oven to 350°F degrees.
Beat chicken and place in a 13×9-inch baking dish lightly sprayed with cooking spray.
Drizzle with lemon juice and season with oregano and black pepper. Top evenly with cheese and bell peppers.
Bake 30-35 mins, or until chicken has reached 165°F (time will vary depending on thickness of chicken).
Plate and enjoy!
---
Read on for my whole day of eats, and link up to Jenn's WIAW baby over at Arman's today!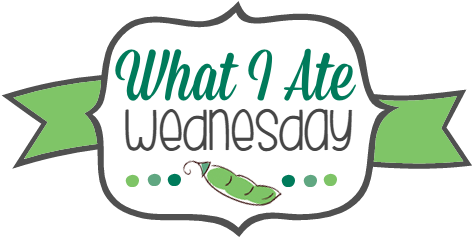 ---
Breakfast:
The usual morning cocktail followed by the matcha sludge.
Breakfast was a delicious creation – kabocha topped with an egg+ 2 egg whites, salsa, avocado, and bacon "sprinkles."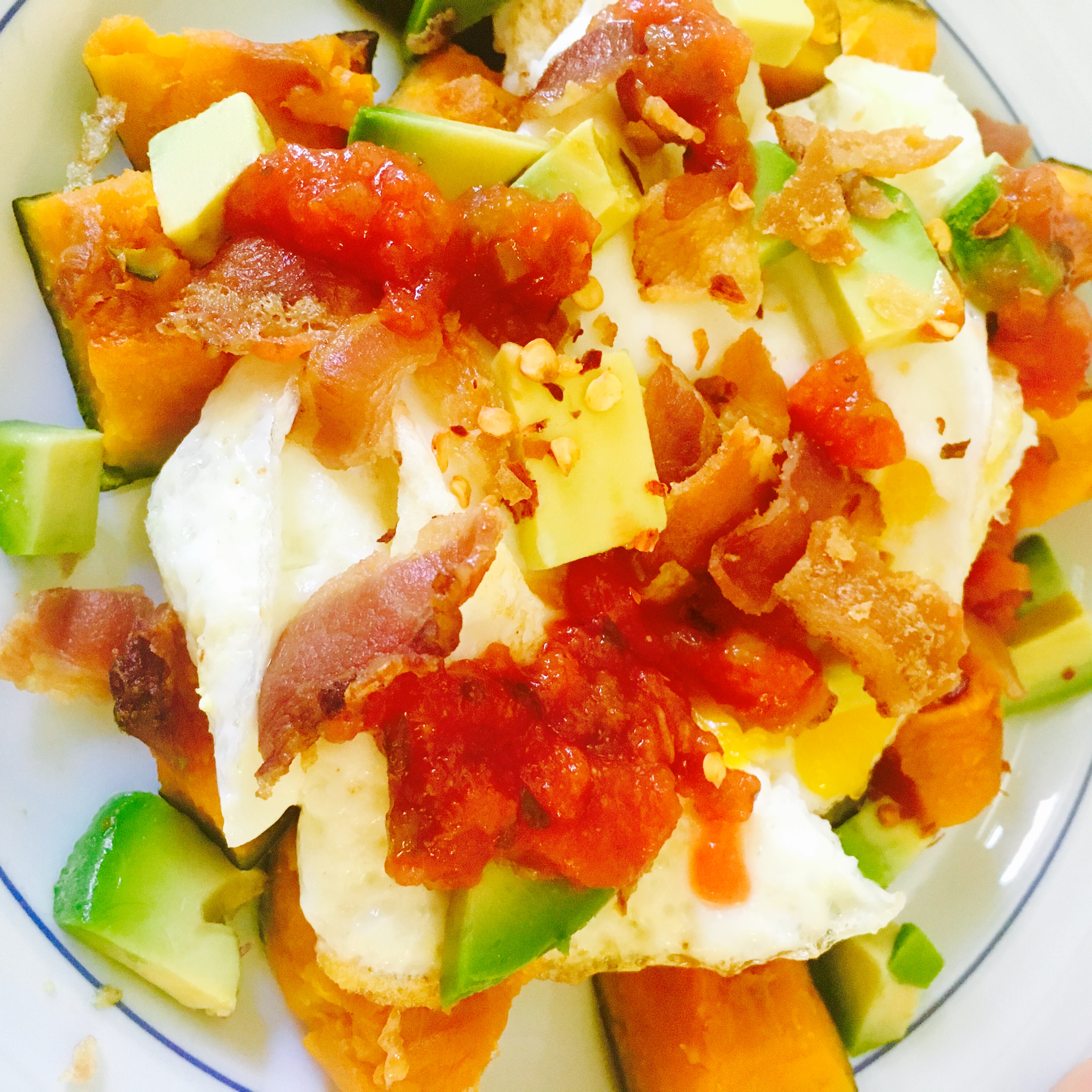 Lunch:
I've been loving my quickie turkey salads lately.  It's just no-salt deli turkey ripped up and tossed with whatever veggies I have on hand.  The dressing is my favorite part – an equal mix of garlic hummus and salsa.
I've been taking it to baseball games too (check out Instagram).  Yes, you can bring food to stadiums!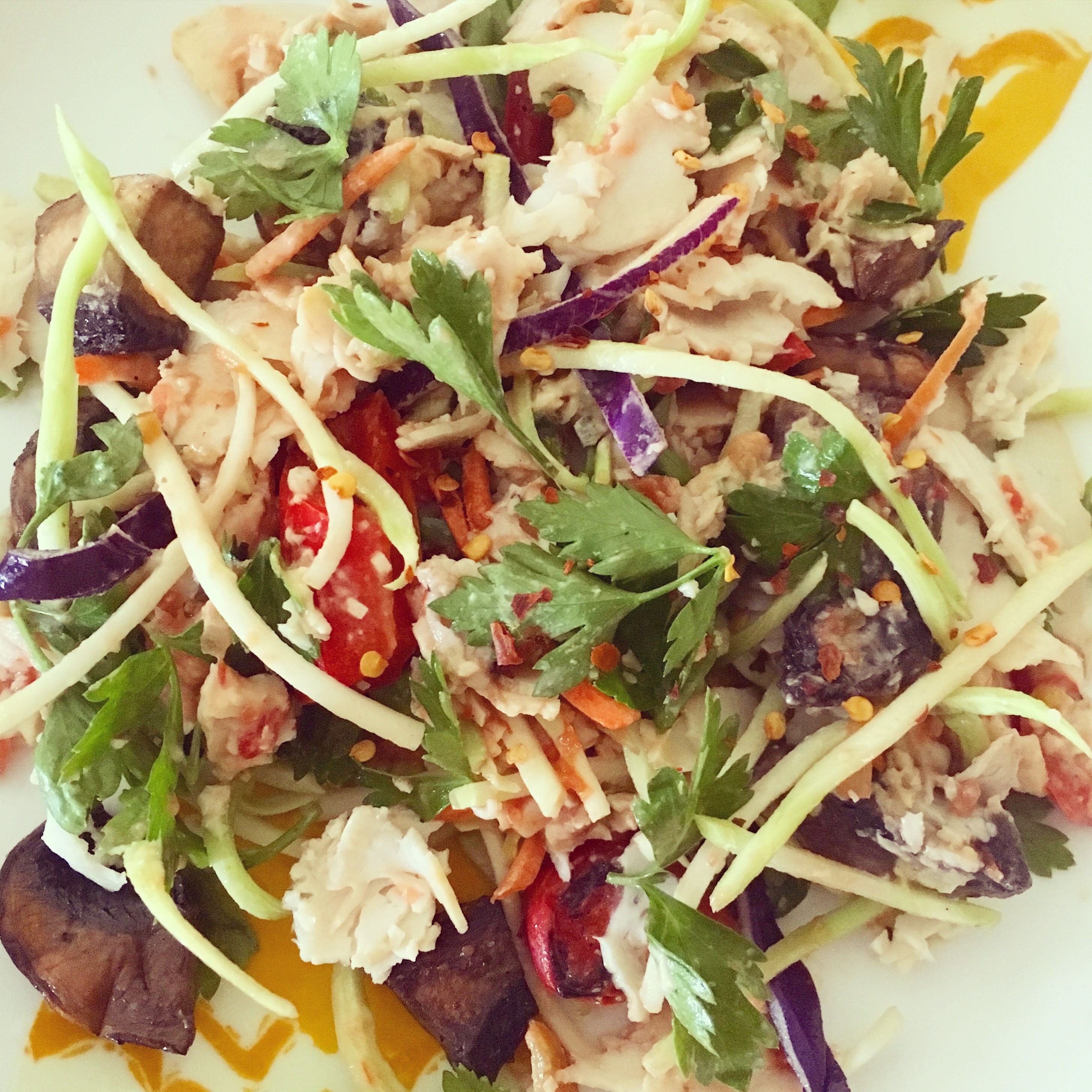 Snack:
Errrrr… I failed at a picture.  But I made the below smoothie bowl again.  It's been our summer staple for a few weeks now!
Dinner:
See above for recipe.  #Vegasapproved
***
This weekend is OTL in San Diego.  We have big plans to win and not need my hangover cures. 🙂 
Have you had baked feta before? It's also one of my favorite pizza toppings. 
What's your favorite smoothie ingredient?