'Tis the season for Eggnog.
And booze in general.
Tradition dictates that Christmas includes eggnog.  After doing a lot of research, I came up with one of the easiest Eggnog recipes I've come across.  Better yet, it can easily be doubled for a crowd!

I must confess that I've never actually made eggnog until this year.  It was something my mom made, but I was always more interested in baking.  Plus all that standing over the stove seemed complicated.
Vegas is a huge fan of Christmas traditions.  We have to listen to the Charlie Brown Christmas album every morning (sometimes two or three times).  The tree must be real.  The house must be lit up like a redneck postcard.  And we must have eggnog.
I'll give her the live tree, but let's be real.  All I really care about is having a glass of bubbly while I open presents.  Who's with me?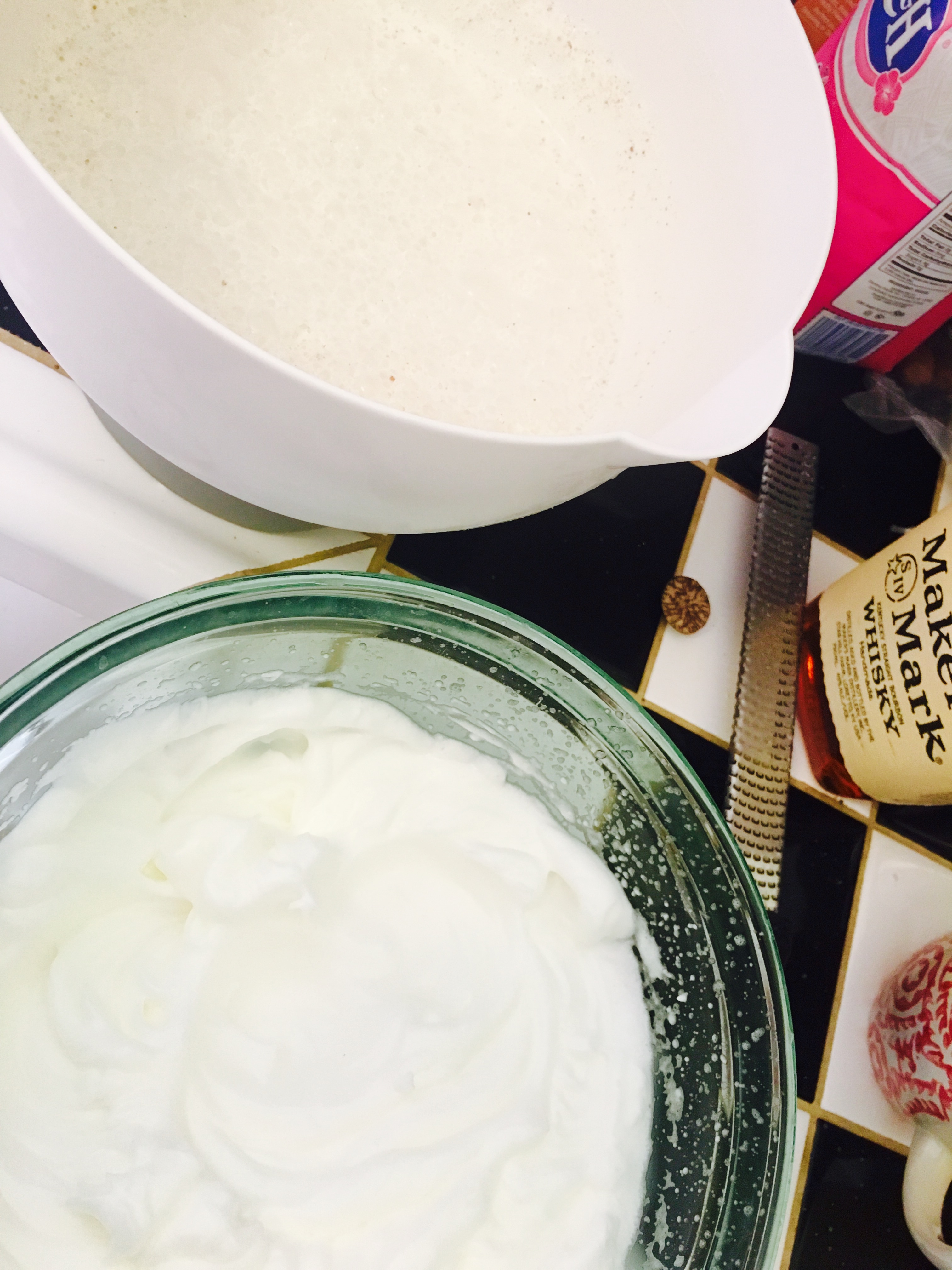 Because I love her so dearly, I bit the bullet and went searching for a recipe I could wrap my brain around.  What I came up with was mish-mash of a few ideas.  This is a raw eggnog recipe (yes, you can eat drink it raw) – no standing over a boil post required!  The best part is that it comes together in less than 10 minutes.
BTW – Did you hear there is actually an eggnog shortage?!  I didn't know that was possible… but at least we'll be able to save ourselves with this recipe!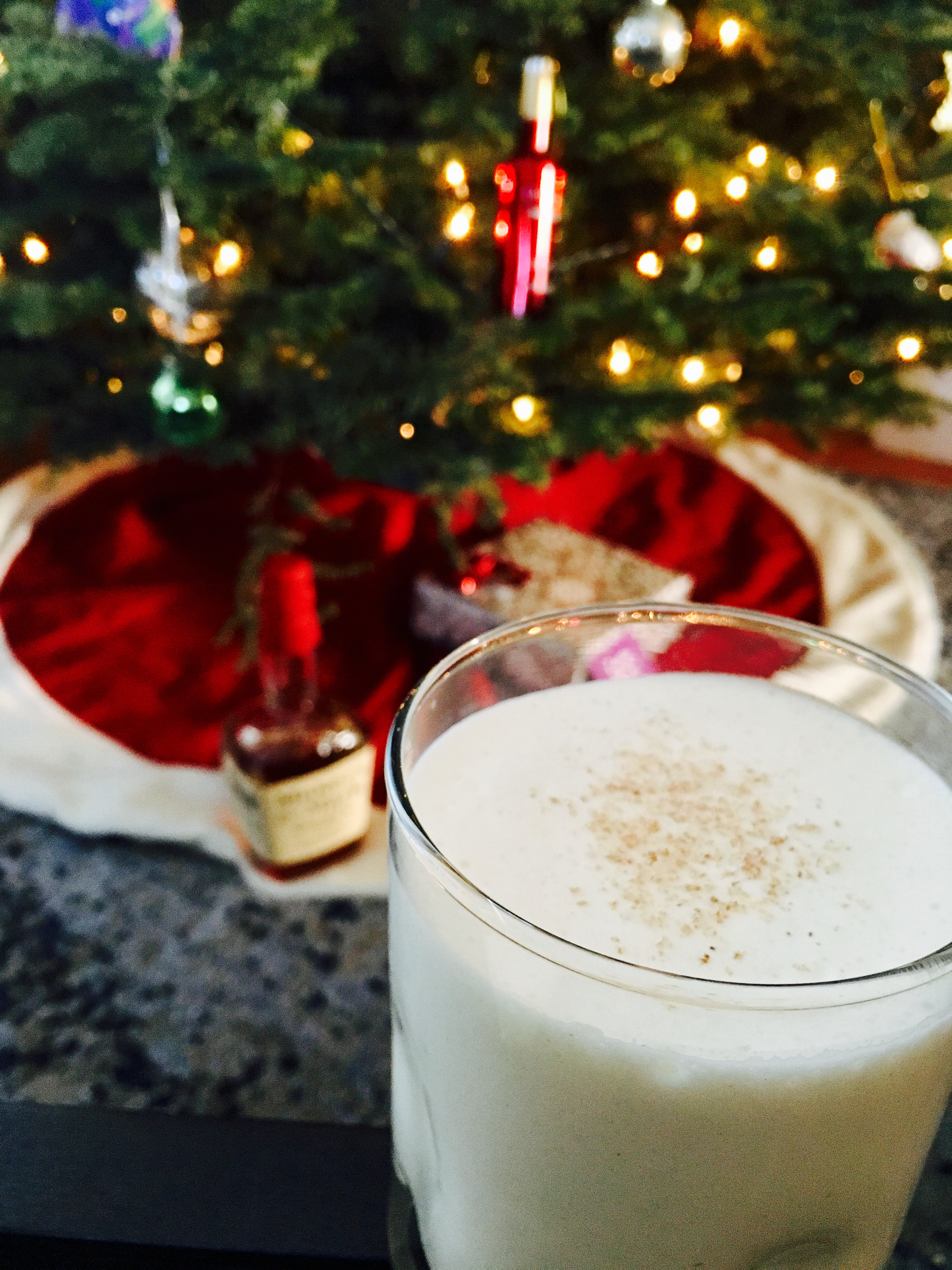 I'm on batch number 3.  If we make more, we'll be on bottle number two of the bourbon!  Granted, the Bourbon Pumpkin Balls and the Blood Orange Manhattans contributed to the disappearance of this bottle.
The proof that it passed the test was when, half way through her first glass, Vegas paused long enough to say: "this is going on the blog, right?"  Like she was worried I'd forget the recipe otherwise.  HA!
---
4-6 servings
adjust servings
This easy eggnog recipe is simple to doubled for a crowd!
Ingredients
4

egg yolks

1/3

C sugar + 1 T

1

pint heavy whipping cream

1

C 1% milk

4-5

ounces bourbon

1

tsp freshly grated nutmeg

1/2

tsp vanilla extract

1/2

tsp cinnamon

4

egg whites
Instructions
In the bowl of a stand mixer, beat the egg yolks until they lighten in color. Gradually add 1/3 C sugar and continue to beat until it is completely dissolved.
Add cream, milk, bourbon, nutmeg, vanilla, and cinnamon. Stir to combine.
Place the egg whites in the bowl of a stand mixer and beat to soft peaks.
With the mixer still running, gradually add the 1 tablespoon of sugar and beat until stiff peaks form.
Whisk the egg whites into the mixture. Chill and serve.
*Note: You can sub Stevia or xylitol for half of the sugar.
**CONTAINS RAW EGGS: Exercise caution in consuming raw eggs due to the slight risk of salmonella or other food-borne illness. To reduce this risk, only fresh, properly refrigerated, clean grade A or AA eggs with intact shells, and avoid contact between the yolks or whites and the shell.
***
Time to move on to boozy cake balls.  Red wine or sparkling… that is the question!
What traditions do you have?
Are you an eggnog fan?