This Dried Bean and Beef Slow Cooker Chili is THE go-to chili recipe in my house.  It's simple and quick to throw together on a busy day!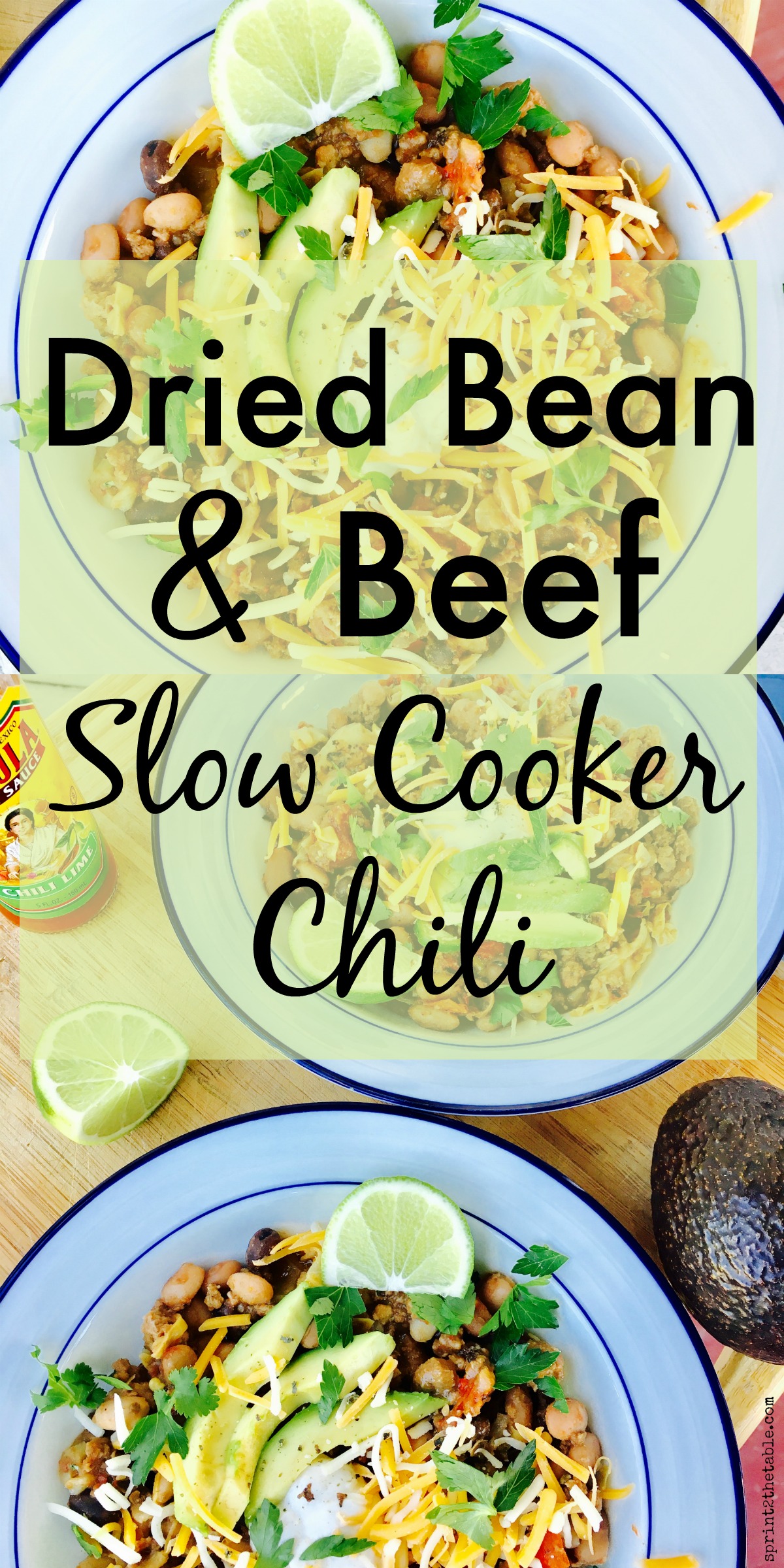 My chili chills out all day in the slow cooker, slowly bubbling it's way to dinnertime perfection.
It's easily made vegan by leaving out the ground beef, or even go halfsies by prepping the ground beef separately last-minute.  Just brown the beef, simmer some of the chili together with the meat for 5 minutes, and you're ready to eat!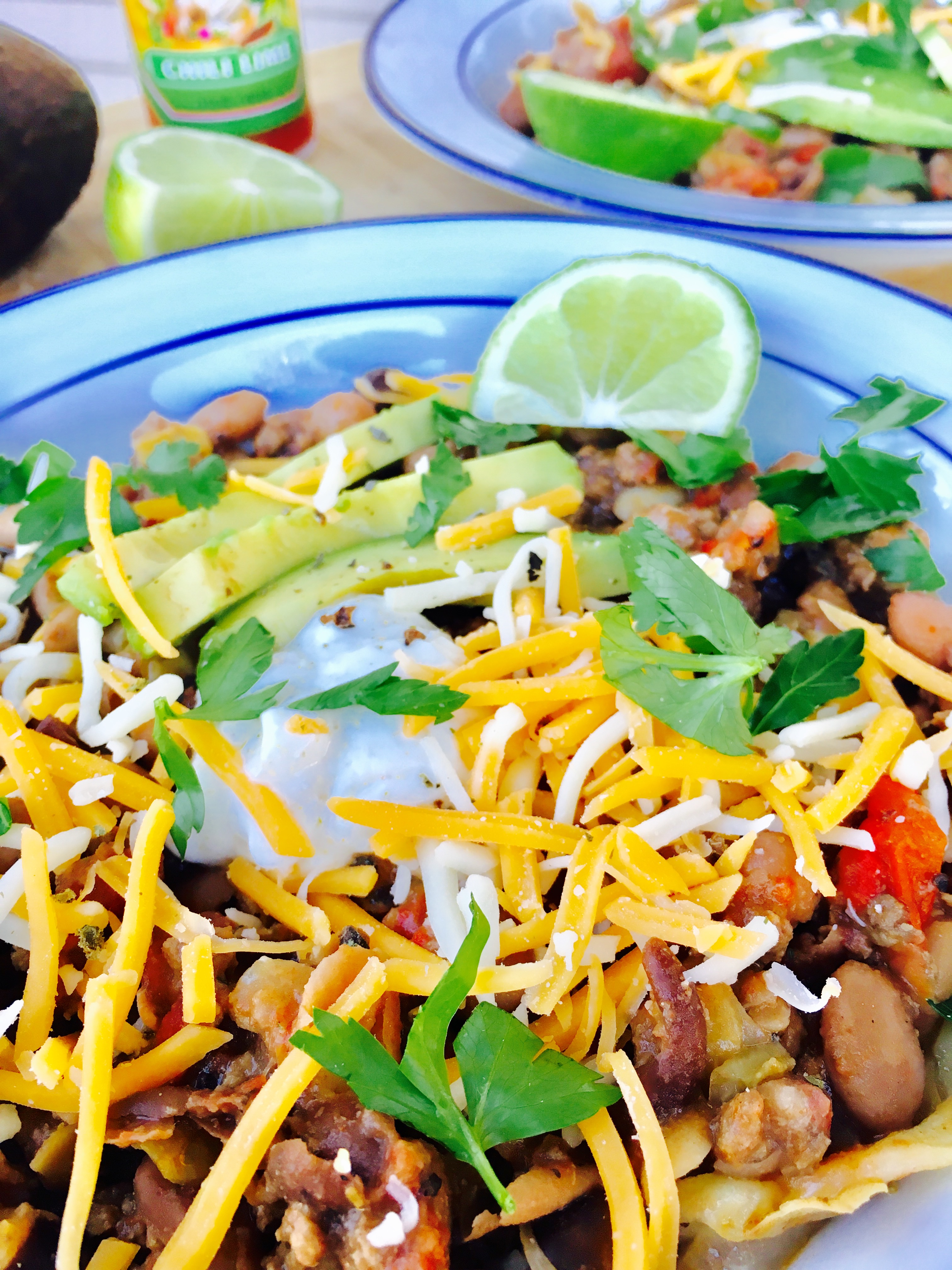 This is a pretty classic chili, which means it was a win with Vegas.  She prefers "traditional" flavors.  So I left out the fancy stuff like coffee or cocoa.  I did mange to sneak in a bit of cinnamon.  There's something about a bit of cinnamon in tomato-based dishes that elevates the flavors.
Two kinds of beans along with onions, bell peppers, and fire-roasted tomatoes simmer with warming chili spices in the crock pot all day – while you're free to do your thang.  Those are the best meals right?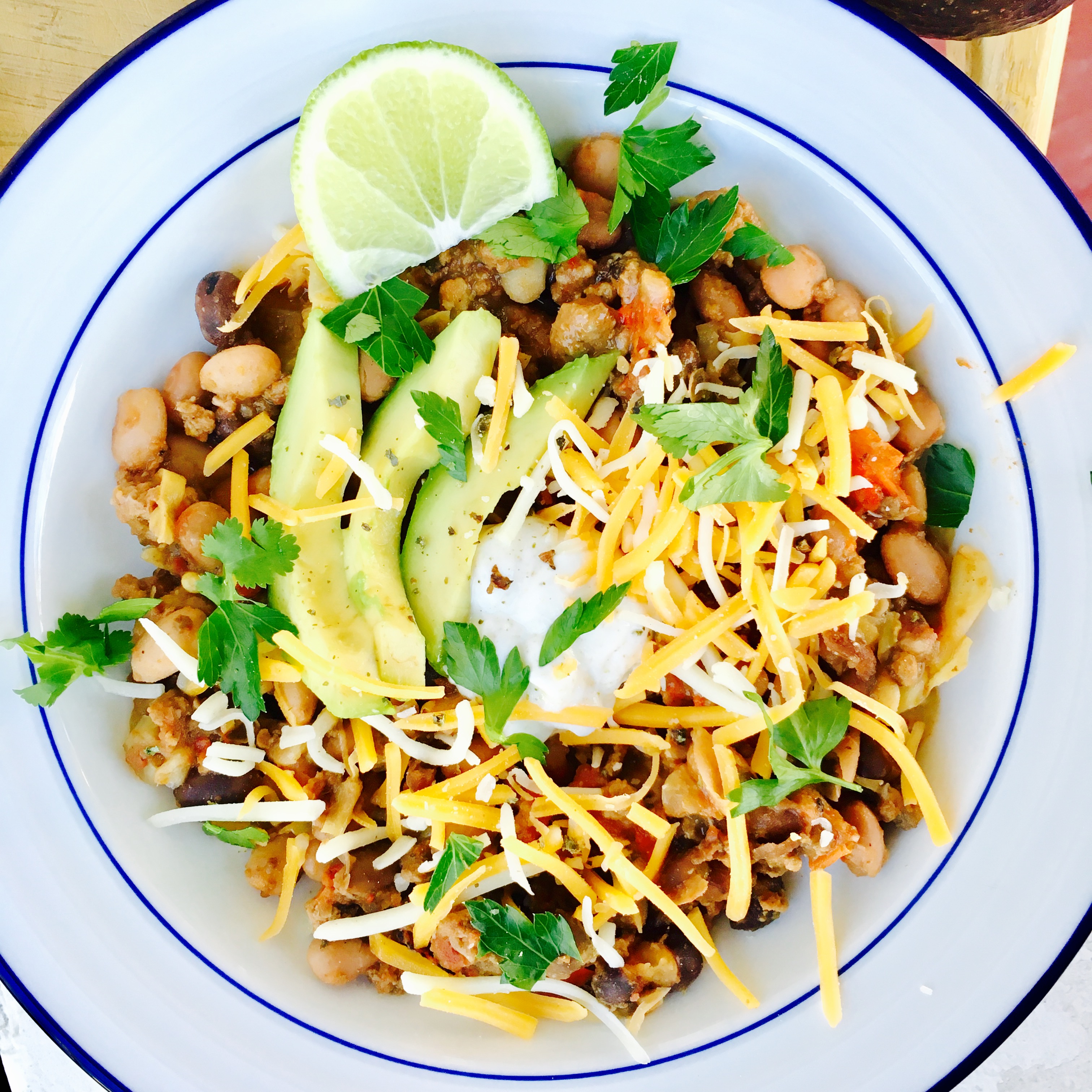 One note on the beans: I purchased mine raw in the bulk bins.  My Whole Foods sells Farmer Direct Co-Op beans (among many other things) in the bins.  I like being able to see what I'm buying, and the prices are the best (yes, even for Whole Foods).
What's more is that while you're lowering your food budget, you also reducing you impact on the environment.  Less packaging = less material waste.  With the EPA in jeopardy I think we could use a little more citizen awareness, eh?
---
Dried Bean and Beef Slow Cooker Chili
5-6 servings
adjust servings
This Dried Bean and Beef Slow Cooker Chili is THE go-to chili recipe in my house. It's simple and quick to throw together on a busy day!
Ingredients
For the Chili
1

C black beans

1

C fava beans

1

lb ground beef

1

(15-ounce) can fire-roasted diced tomatoes

2

medium bell peppers, chopped (I used a red and a yellow)

1

medium yellow onion, chopped (about 2 C chopped)

4

cloves garlic, chopped

2

tsp ground cumin

1

tsp chili powder

1

tsp smoked paprika

1

tsp dried oregano

1/4

tsp cinnamon

1

Bay leaf

14

oz chicken broth

Optional: 20 dashes Tabasco sauce

Topping suggestions: Cumin Greek Yogurt (below), avocado, shredded cheese, cilantro
For the Cumin Greek Yogurt
1/2

C Greek yogurt

1/4

tsp ground cumin
Instructions
In a small bowl, combine the sour cream, cilantro, and cumin. Refrigerate until ready to serve.
Sort and rinse the beans, then cover with water and soak the beans overnight (or at least 8 hours) at room temperature. Drain and rinse the beans.
In a large skillet, heat oil over medium-high heat. Add the onions and garlic. Sauté the onions and garlic until softened, about 5 minutes.
Make a hole in the center of the onion mix and add the cumin, chili powder, paprika, oregano, cinnamon, and bay leaf. Let sit for 30 seconds, then stir into the onion mix. Add the ground beef, stir to coat with the onions and spices. Cook, stirring often, until the beef just loses its pink color (~3 minutes).
Transfer to a 3-1/2- or 4-quart slow cooker. Stir the beans, chicken stock, and crushed tomatoes into the slow cooker.
Cover and cook on low-heat setting for 10 to 12 hours or on high-heat setting for 5 to 6 hours.
If desired, top individual servings with avocado, shredded cheese, cumin yogurt, and cilantro.
***
It's been raining here again… definitely a chili night.
Tabasco sauce… or sriracha?  Such a though decision.
Beef Chili?  Or bean-only?  Or other?