It's my birthday!!!
Obviously that means presents.
The weekend before my birthday was San Diego's infamous Over the Line tournament (OTL).  Basically, it's 2 days of camping and playing a baseball-ish game in the sunshine and sand at the beach.
There are 3 players on each team.  Your own team member tosses a ball up for you to hit with a wooden bat.  You have to hit the ball in the fair territory to get a hit.  There are no runners, but 3 hits scores a run.
Seeing as how it was our first year playing, my first concern was outfitting us appropriately.  Here's where the present part comes into play – DICK's Sporting Goods sent over a gift card for my birthday!  Ok, maybe not for my birthday… it's was to promote the launch of  in the launch of their newly designed women's department!
Spoiler alert: There's a $25 giveaway at the end of this post.
I am one of the most impatient people on the planet.  If I don't walk into a store and feel like I can easily see the merchandise that's available… I'll walk right back out.  If I feel claustrophobic… I'll walk back out.  If it feels dingy… I'll walk back out.  This was not the case at DICK's.  In fact, Vegas and I spent a solid hour in the store because we were having fun picking out new sportswear!
Everything was displayed so that it was easy to see what was what.  There was even a giant WALL of Nike Pro shorts!  It's amazing I left with only 3 pairs.  Bonus was the huge dressing rooms.  Good thing they were so spacious because we had armfuls of clothing to try on.
We ended up with desperately needed sports bras, tanks tops, beach volleyball booties (much-needed for OTL), and multiple shorts.
Those beach booties and shorts were HUGE this weekend.  The sand was hot and there were a lot of little broken shells – my feel would have been cut up without them!  I love to lift in the Pro sports, but they are useful in the sand too.  They allow for movement but don't leave room for sand to creep into places it's not welcome.  If ya know what I mean. 😉
So how did we do in our fancy attire?  My team made it through 4 games before losing out (OTL is double elimination).  It was Vegas and my first year playing though – next year it's ON!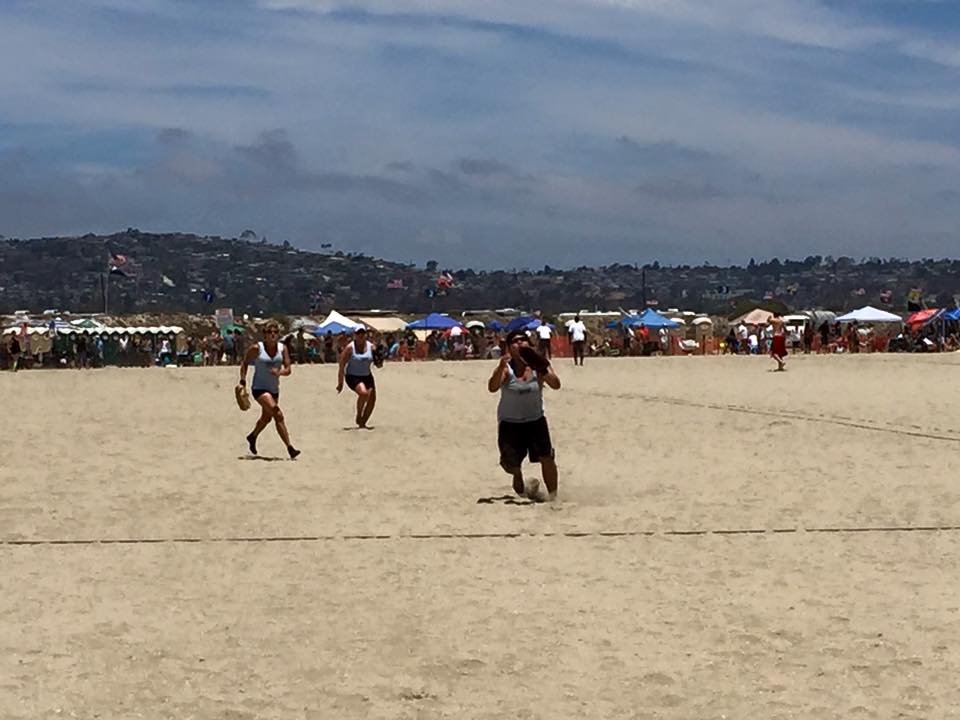 It was the perfect start to birthday week!  We had so much fun the sunshine and having out with friends.  Half of our softball team was out there camping and playing ball.  Check out more of my first "glamping" trip here on Instagram.
Speaking of birthday week… I have a present for YOU!
---
Win a $25 DICK's Gift Card!
Here's a chance for you to have a little shopping fun DICK's Sporting Goods!  Enter to win a $25 gift card you can use in stores or online.
Disclosure: This post is sponsored by Vocalpoint and DICK's Sporting Goods.  While I was compensated, all opinions – as always – are my own.
***
Vegas is taking me on a birthday surprise day trip right now!  I'm wearing one of my new tank tops.
Have you ever heard of OTL?  The best part is reading all the team names…
What is your favorite sporting goods store purchase?