I like to move.
Some call it ADD, some call it energy.
I've been known to make my own standing desk out of empty boxes, but I've always wanted a treadmill desk.  My company isn't likely to spring for that anytime soon, so I took matters into my own hands.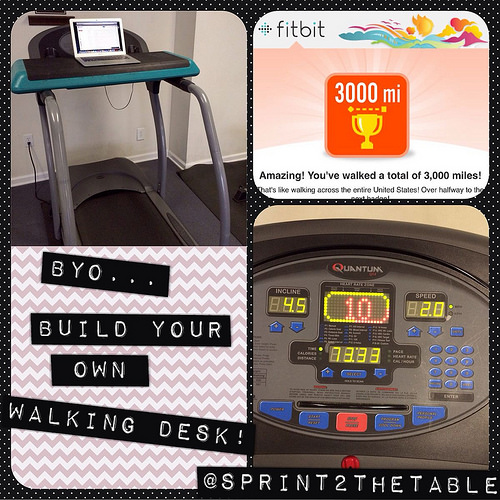 This was in my condo gym on a work-from-home day.  I stacked one of the step up things on top of the treadmill bars and off I went!
I kept the speed super slow and was able to read, talk, and type with no problem.  It actually helped me be more focused!  If only we had a treadmill at the office!!!
____________________________________________________________________________________
Speaking of moving… this WIAW I am in LA.  (California, not Lower Alabama.)  I didn't do an epic food prep like I have in the past since it's a building year… and I'm in Cali.  The food here rocks!  I brought some basics and winged the rest.  It was delish!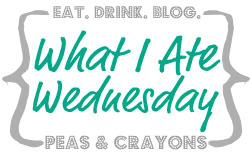 Read on for my eats, and then check out Jenn's blog for everyone else's delicious creations!
____________________________________________________________________________________
Breakfast:
My morning cocktail made it to CA with me!  Sort of – I brought my amines from home but had to skip the ACV due to a lack of grocery/hotel options.  I followed that up with some hotel cereal on top of a mix of coffee and my own protein from home.  This trip I brought RAW Protein (found at WholeFoods).  I always get fresh fruit and peanut butter from the hotel to supplement.
Mid-Morning Snack:
A delicious frittata from an adorable cafe.  Usually they are cut from pre-made pie, but this was freshly made while I waited!  It had red pepper, tomato, spinach, and zucchini.
Lunch:
We happened upon a really cool crepe place, Rockin' Crepes.  The dishes were rock 'n 'roll theme!  I chose the Black Crowes.  It had hummus, cucumber, tomato, red peppers, gets, and a drizzle of black truffle oil.  I added chicken.  We also had a side of fries with beer cheese dip.  #worthit
Afternoon Snacks:
There is an awesome open air market on Tuesday nights in Huntington Beach.  We sampled our way up and down the street – these apples were delicious art:
A beer flight and (unpictured) edamame were also in order.
Dinner:
Epic sushi.  If you're ever in the Irvine area, you MUST TRY Taiko.  Hands down the best hand-roll I've ever had!  I also tried shrimp head for the first time… it was really good (what isn't good tempura fried?), but looking at it was hard.  Toro was also another first.  That might be my new favorite sashimi piece!
***
I'm moving to California.
Do you prefer to stand at work?
What is your favorite sushi item?