She's crafty, and she's just my type…
If you follow me on Twitter or Instagram, you know why this song is stuck in my head.  I did something crafty!
Like everyone else, I am addicted to Pinterest.  One of the first items I "pinned" were chalkboard wine glasses.  I'm not crafty.  When I see something cool, I look for a way to buy it.  Chalkboard wine glasses can be bought, but they are wayyyyy overpriced ($60 for 1 glass and a carafe… nothankyou).  I had no choice but to be crafty.
The whole process was super easy – I followed the instructions from this "pin" to a tee.  All it takes is a spray can of chalkboard paint and 6 wine glasses (which you can find on the cheap at Home Goods or T.J. Maxx).
PSA: You'll notice there are only 5 glasses pictured.  Do not drive around with a box of 6 wine glasses in the back of your car for 2 weeks.  Consider yourself warned.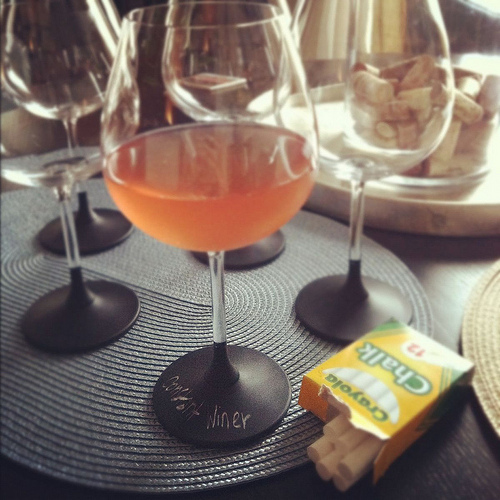 I can't wait for the next wine gathering at my place!
P.S. I swear I wasn't drinking rose in the middle of the day (or ever – blech).  I poured myself of glass of this deliciousness:
My Whole Foods sells growlers of my favorite kombucha – Buchi Fire. 🙂
I love you Whole Foods… it's my wallet that doesn't.
____________________________________________________________________________________
In the continued spirit of DIY, I avoided a typical Chinese New Year takeout celebration yesterday by cooking my own Asian-flavored meal.
Weeks ago I purchased a bag of kelp noodles… and for weeks I've been staring at them in the fridge, unsure of what to do with them.  Last night, in the spirit of the Chinese New Year I busted them out.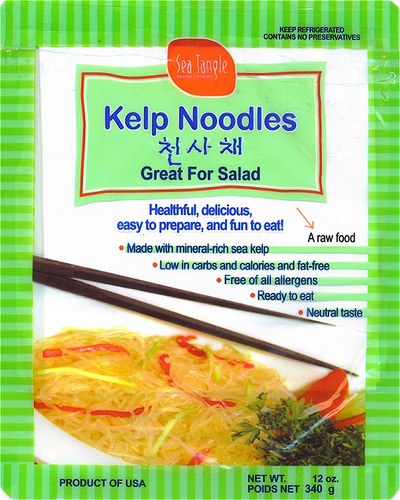 I realize these noodles aren't necessarily Chinese, but kelp feels like it should be Asian.  Sushi > seaweed > kelp.  See the connection?
Any how, I felt I needed to get in the spirit with an Asian-themed new noodle dish.
I love, love the sauté goodness I conjured to go with my kelp noodles – the simple mix was filled with flavor.  As it cooked, the ginger, shallots, and garlic made my kitchen smell better than Chinatown.
The noodles… I'm still unsure.  They were oddly rubbery and crunchy.  I had to use kitchen shears to cut them apart in order to eat.  The texture did grow on me as I ate them, and the taste really was neutral.
Bonus: You can eat the entire package, as 1 serving only contains 6 calories and 1g carbs.  Really – it's only water and kelp.  They are also a RAW food – upon further research I learned you can marinate them in lemon juice to "cook" them and help the texture.
___________________________________________________________________________________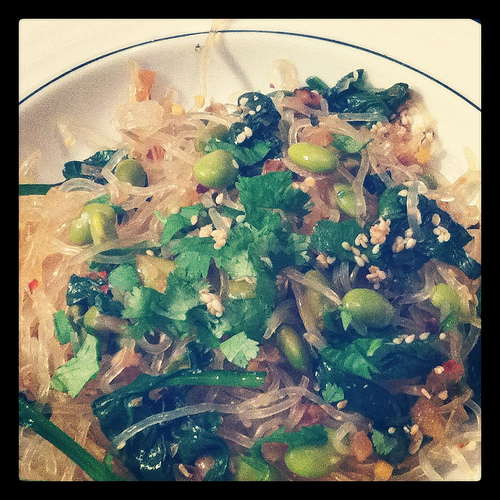 Chinese New Year Noodles
2 tsp sesame seeds
1 tsp sesame oil
1/2 large shallot, minced
1 in piece of fresh ginger, minced
2 garlic cloves, minced
1/2 serrano pepper
1/4 C edamame beans (shelled)
1 tsp soy sauce
1 tsp rice wine vinegar
2 C spinach
1 pkg kelp noodles (or any noodle/rice)
cilantro, for garnish
In a large skillet, toast sesame seeds over medium heat until just browning.  Transfer to plate to cool.
In same skillet, heat sesame oil.  Sauté ginger and shallot for ~5 mins, until shallot becomes translucent and ginger is fragrant.  Add garlic, pepper, and edamame.  Cook until softened and garlic is turning golden (~3-4 mins).
Reduce heat to medium low.  Add soy sauce and vinegar, stirring to combine.  Add spinach and cook until wilted, stirring occasionally (~8-9 mins).
Add kelp noodles (or cooked noodles/rice) to the pan.  Stir well to coat in mixture.  Continue cooking until noodles are warmed through.
Transfer to plates and garnish with toasted sesame seeds and cilantro.
Serves 2.
***
 The real test will be if I do any of the other DIY projects I've pinned.  Oddly, most involve vino…
Have you ever crafted something from Pinetrest (or another website)?
Have you ever tried kelp noodles?  Tofu noodles?