Meatballs are the ultimate winter food.
Too bad it's normally more like spring by now!
With the weather still cold, I prepped a big batch of balls this week.  Rather than going the traditional route, I opted for a mustard-laced turkey version.
These Dijon and thyme balls were full of flavor.  Because I baked them, they were light enough not to put me to sleep after lunch.
Thyme is a herb that I love but rarely think to use.  It retains a fresh flavor even after cooking.  It's pungent but not offensively so.  With the spiciness of Dijon, it made for the perfect turkey meatball mix.
Recipe at the bottom of this post.
__________________________________________________________________________________
This WIAW I missed the California warmth, but was happy to reset a bit after all that dining out!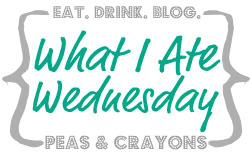 Read on for my eats, and then check out Jenn's blog for everyone else's delicious creations!
__________________________________________________________________________________
Breakfast:
My morning cocktail happened, as always.  Then I moved on to a savory breakfast with a side of sweetness.
I sautéed some no-salt deli turkey with spinach and then used it for an egg white scramble with cumin, garlic, and cayenne.  On the side I had cinnamon-raisin Ezekial bread.  I am not a raisin fan, but bought this on impulse… and I LOVE it!  The raisins aren't the dried out nasty kind and made for a delicious morning dessert.
Mid-Morning Snack:
Cod mid-morning?  Why not?  I at that with a quinoa bake experiment. (More to come on that for Friday's #strangebutgood link up… any guesses?)
Lunch:
Crab salad.  I mixed crab meat with snow peas, nutritional yeast, cayenne, and nutritional yeast and ate it with a pita pocket.  I love crab.
There were some unpictured Tagalongs too (chocolate-peanut butter Girl Scout cookies)… #sorryimnotsorry
Afternoon Snack:
Then came the turkey balls!  I also grilled a bunch of veggies to go with these.  Because I live in a condo, we aren't allowed grills; however, I've been using my grill pan to get an acceptable char for my veggies.
Dinner:
I had a little experiment.  I tried to make my cauliflower crust pizza in a pan… it stuck but I just ate it right out of the dish.  It made for an easy clean up!  Topped with crumbled Dijon Thyme Turkey Meatballs, zucchini, and babaganoush. Topped with #yolkporn and a drizzle of balsamic-fig glaze.
Dessert:
Marshmallow Chocolate Chip Protein Cake.  WIth chocolate protein powder and a healthy serving of Nuttzo (a.k.a the best nut butter ever).
__________________________________________________________________________________

Dijon Thyme Turkey Meatballs
1 pound lean ground turkey breast
2 T oats, loosely ground
1 T fresh thyme
1 T nutritional yeast
2 cloves garlic, minced
1/4 C egg white
1 T Dijon mustard
1/2 tsp pepper
Preheat oven to 350°.  Line baking sheet with parchment paper.
In large bowl, combine all ingredients.  Shape into 1-1/2-inch meatballs.
Arrange balls on baking sheet. Bake 20 minutes or until cooked through.
Makes 5-6 servings.
***
I've actually been cooking this week and have recipes to share.  Shocking! 😉
What's your favorite cold weather food?
Have you fallen victim to Girl Scout cookies this season?  It made for an excellent pre-workout fuel. 😉