I eat a lot of protein.
Oh?  You didn't notice? 😉
My primary source of protein comes from fish and meat, but I do use protein powders.  After yesterday's supplements post, I realized I needed to address protein powder too.
I have started religiously having a serving a whey protein after each workout, and it's really made a difference in muscle development.  My current favorite is Designer Whey.  I received an awesome package from Designer Whey through the Fitfluential Ambassador program to review.  As always, all opinions are my OWN.
Their whey powders are delicious.  I'd never tried a White Chocolate powder before, and this is my new favorite.  It's not too sweet or "fake" tasting.  In addition to the fantastic taste, it blends well.  In my meal 5 today I used it without anything creamy (like Greek yogurt).  It blended in with my carrots without the slightest hint or grit or chalk.  Nutritionally, they are awesome as well.  Low in sugar, low in sodium, and high in protein.  It also contains calcium, vitamin D, and B vitamins.
Next were the bars.  I loved the taste – especially the Peanut Butter Crunch.  A lot.  I do wish they were lower sugar and higher in protein, but appreciate that they don't use a lot of "mystery" sweeteners that you see in SO many lower sugar bars.  I loved it as a quick punch of energy before hitting the gym!
I've been experimenting a lot with the Designer Whey powders in recipes.  I have one today that I'm in LOVE with (see meal 1), and I'm working on a new microwave cake… I just have to figure out how to prevent the microwave explosion.  Tasty, but messy.
As soon as I can quit eating the powders, I'll review the drink mix.  Can I use it with vodka? 😉
---
This WIAW Jenn is going green!  I love my veggies.  Despite being a protein whore, I make sure to have a fruit or veggie at every meal.  The proof is in my eats today!

Check out my 7 veggie-laced, protein-filled meals below, and then click here to head over to Jenn @ Peas and Crayons to get to see how everyone else is green-ing up their food this month!
---
Meal 1:
As always, I began my day with a cocktail (apple cider vinegar, water, Glutamine, and Aminos).
In addition to White Chocolate protein powder, my other latest addiction is whipped cottage cheese.  I'd gotten on the kick a few weeks ago, but forgot about it until I made Monday's Everything Bagel Schmear.  That creation lead me to the solution for the problem I was having with THIS creation.
The problem with the first experiments was the "cream" was more of a sauce.  I had been trying to make it with a mix of protein powder and Greek yogurt, which became too thin when the warm berries were added.  By using whipped cottage cheese, the mixture stayed creamy!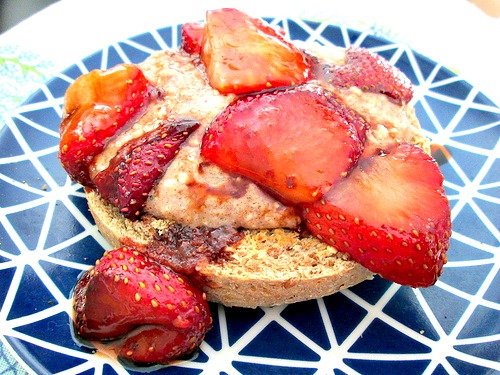 If you've never had strawberries and balsamic, you are missing out.  My balsamic is a thick, aged variety from Italy, but you can reduce a standard balsamic to thicken it and achieve the same syrup-y richness.  That tang with the sweet berries is not to be missed!
I also added chia seeds, cinnamon, fresh nutmeg, and a bit of lemon stevia.  Nutmeg and lemon stevia aren't common ingredients, but if you have them on hand I urge you to use them.  If not, try a ground nutmeg and a couple drops of lemon juice.  It takes the flavors to a whole new level!
Meal 2:
Some call it a rut.  I call it delicious.  More salmon and fruit has become a meal 2 staple.  Last week's curry salmon was so good I did it again this week.  On Sunday night (food prep time) I coat a large piece of salmon with lime juice and curry power, then roast it in the oven for ~12 mins on 375.
Mixed with grapes and raw pepitas (again).
Meal 3:
Lunch is another recipe I cannot wait to share… but I will.  Mostly because I really hate editing pictures, so I've procrastinated too long to share it today.  It's a new, healthy version of the Spaghetti Pie my mom used to make when I was growing up.  I ate it for lunch with a side of cucumber slices.
I took it to Starbucks where I spent the afternoon working.  Shameless.
After lunch I drank my green tea with a little dessert surprise.  They have a new carrot muffin, and the barista brought around samples for the patrons.
It's delicious.  Probably loaded with sugar.
Meal 4:
This snack was also taken in to Starbucks.  Tuna salad mixed with celery, cauliflower, red onion, coconut vinegar, and Brown Beer Hummus.  No one seemed upset by the tuna smell. 

Meal 5:
Another meal on the go.  I had a leg appointment with my trainer before dinner, so I took my whey creation with my to the gym.  372 calories later, I inhaled this.  It's a repeat… but I love it.  Carrot Cake Overnight (Over-afternoon?) Oats:
Carrot Cake Overnight Oats
1 carrot, grated

1 scoop French Vanilla Designer Whey
1/4 C raw oatmeal
5 g creatine
1/2 tsp cinnamon
1/4 tsp ginger
1/8 tsp freshly grated ginger
Water (just enough to mix the powder… maybe 3 T?)
Mix, let soak for at least an hour to allow oats to soften and flavors to meld.  Enjoy!
Meal 6:
After I got home (it's a 40 min drive), I was hungry again.  Leg day leaves me ravenous!
This came together really quickly thanks to my Sunday  meal prep.  This Mexican-ish bowl had a crumbled turkey burger (pre-cooked with Mexican spices), spinach, parsnip "rice," salsa, and an eggplant chip on the side.
Meal 7:
My Greek yogurt addiction is still going strong.  This bowl was the perfect end to the day.  It's hard to believe it was healthy!
I mixed my Greek with cinnamon and peanut flour (purchased from iHerb – use code USO924 for a discount) and a little stevia.  The toppings are banana, cacao nibs, coconut shreds, cocoa powder sauce (cocoa powder + liquid + stevia), and a crumbled Nutty Quinoa Fuel Bar.
---

Balsamic Strawberries & White Chocolate Cream
1 Ezekial english muffin (or other bread)
1/4 C no-salt cottage cheese
1 tsp chia seeds
1 T unsweetened vanilla almond milk
1/2 scoop White Chocolate Designer Whey
1/2 tsp cinnamon
1/4 tsp butter extract
3-4 drops lemon liquid stevia
1/8 tsp freshly grated nutmeg
1/4 C strawberries, sliced
1/2 tsp aged (or reduced) balsamic vinegar
Toast english muffin and set aside on a plate.
In a small blender, mix cottage cheese, chia seeds, and milk until desired level of "smooth" is reached.  Add liquid as needed.
Stir in protein powder, cinnamon, extract, stevia, and nutmeg.
In a small pan, saute strawberries and balsamic until warmed and becoming soft, ~2-3 mins.
Top the toast with protein cream and berries.  Enjoy!
***
The protein count for the day: 157.9g. Other good news: I went for my annual at my Dr. (ladies, you know the one), and I've gained 7 lbs since last year!!!  That's muscle.  Woot!

What is your favorite way to get more greens in your diet?
Do you use protein powder?  What is your favorite?