Define a good weekend.
For me, it means a relaxing 2 days filled with friends and good food.  Throw in a hair cut and some killer workouts and I'm a happy girl.
Confession: I didn't do a good job of eating clean… but I did do an excellent job of eating delicious. 🙂
1. A+ Restaurant Dining, Vegan-Style
A family friend was passing through town and treated me to dinner at Empire State South.  This is one of Hugh Acheson's restaurants.  The Executive Chef, Ryan Smith, was recently nominated for Food & Wine's Best New Chef).
The win happened when I scored a custom vegan meal thanks to the sage advice of Heather and JL, and the talent of Chef Smith.  Knowing ESS to be meat-heavy (their charcuterie is amazing), I called ahead to make reservations and ask if they could accommodate a vegan diet.  They could, and did!  It was better than previous meat-filled meals I've had there!
First, the wine: 2004 Angelo Sassetti "Pertimali" Brunello di Montalcino.
2004 was a great year for Brunello and this was no exception – light and plummy, with a little earthiness on the end.  Perfect with my veggie-based meal!
First custom dish of the night was an app that I couldn't get enough of.  This was a dish of seasonal mushrooms, fried wild rice, pickled sunchokes, roasted and pickled beets over a schmear of peanut puree.
My main was equally good.  There is no way I can remember it all… but it was a roasted brussels dish with farro, mustard seeds, carrot, pea shoots, roasted garlic, and a ramp jam.
2. Dessert Happened (second helpings happened too)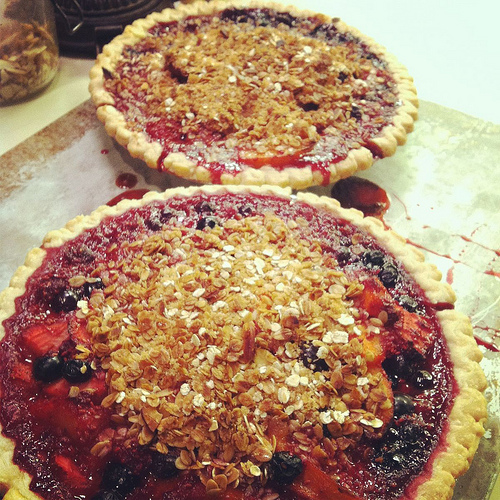 Dinner at mamma's house with mixed company meant 2 berry pies were made – one vegan and one "regular."  Both used a vegan pre-made pie crust, mixed berries, and an oatmeal-granola topping.
My vegan pie had xylitol mixed in to sweeten it, and the other had butter and regular sugar in it.  No one could tell the difference. 🙂
3. Cheap Affordable, Delicious Wine 
This wine was a hit at mom's dinner party.  The Epicuro Aglianico is an el cheapo bottle from Trader Joe's.  Well, originally it's from southern Italy but you know what I mean.   This is the best under $10 bottle of wine (it's $4.99) I've had in recent memory!
4. New Hair
Getting my hair cut/colored is my favorite thing in the world to do.  This is shorter than I've ever had it… I'm still shocked every time I look in the mirror!  Holla to the rockstars at Lava Hair Studio.
5. Romance Rekindled
Don't get too excited.  I'm talking about my love-affair with Dulce Vegan, a local vegan bakery and cafe.  It's on the other side of town… meaning it's a whole 15 minutes away and I'm usually too lazy busy to drive there.
Between CrossFit and softball practice yesterday, I made the trip and indulged in a helluva TLT – tempeh "bacon," arugula, and tomato with chipotle aioli on house-made millet bread.  It was as delicious as it sounds.  Especially that bread – OMG.
________________________________________________________________________________________
CrossFit has been SO much fun.  Totally intimidating, but fun.  I leave workouts starving – an increased appetite must mean I'm working hard!  I've amped up my protein shakes and become religious about eating every 2 hours.  They preach the paleo diet, which I'm not into… I've even been craving MORE carbs since starting.  Good or bad, I'm feeding my body what it wants!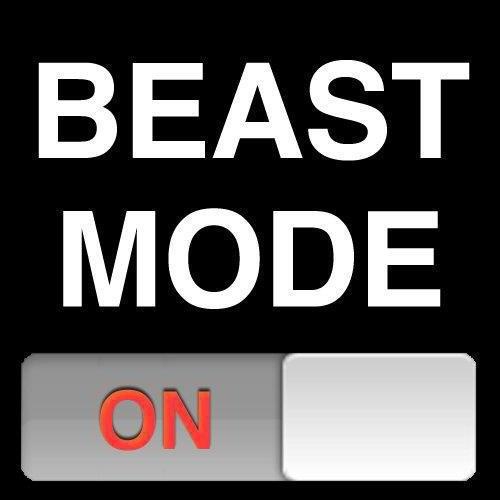 Workout Recap (3/5 – 3/11):
Monday – CrossFit, This Pinterest workout (5x)
Tuesday – CrossFit, This BodyRock, 100 push-ups
Wednesday – CrossFit, This BodyRock (weighted part 2x), 100 push-ups

Thursday –  Yoga, This workout, 100 push-ups

Friday – Tris/Chest, 100 push-ups

Saturday – This BodyRock (with 20 reps on weights)
Sunday – CrossFit, Softball practice, Bike intervals
***
I didn't have to change my bedroom clock for daylight savings time… because I never changed it last fall… 
What is your definition of a good weekend?
Do you crave more carbs depending on the type of exercise you do?