Sometimes you just need a good burger.
I'm not one to deny myself.
The craving has hit me hard toward the end of this prep.  The beef is easy – most grocers sell some form of "super lean" grass-fed ground beef (my veggie friends could use a bean burger or tempeh here).
The bun is a bit harder to replicate… until I remembered my eggplant chips!  They are delicious alone, but they also make for a perfect burger vehicle.
For my eggplant bun I cut the slices a bit thicker so that they were hearty enough to stand up to a festive fall spread.  Festive in color… perhaps a little nontraditional flavor-wise.  Some might call it strange, but I call it good.
During my meal prep each week, I bake a few sweet potatoes.  I mashed up part of one with nutritional yeast, curry powder, and smoked paprika to make a pleasantly sweet, Indian-spiced cheesy spread.
Craving = satisfied.
________________________________________________________________________________________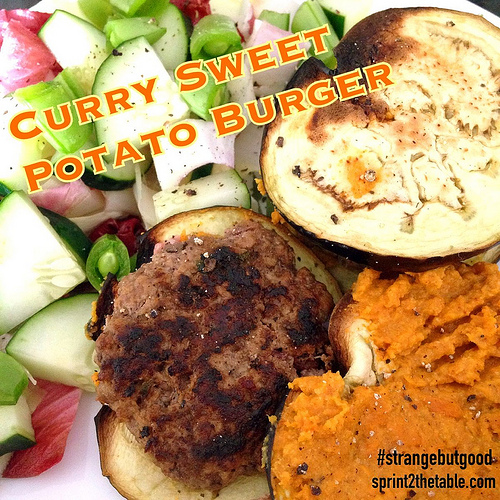 Curry Sweet Potato Burger
Burger patty (or protein of your choosing)
1/4 C sweet potato, mashed
2 T nutritional yeast
1/2 tsp curry powder
Juice of 1/4 lime
Smoked paprika, to taste
Prepare burger and chips.
Meanwhile, prepare your sweet potato spread by mixing sweet potato, nutritional yeast, spices, and lime in a small bowl.  You may need to add water depending on the moisture content of your sweet potato.
Construct your burger and enjoy!
________________________________________________________________________________________
How have you enjoyed making co-workers, friends, or family stare with strange but good creations this week? The link up rules can be found here or by clicking on "Strange But Good" in the menu bar above. In short, I want to see what concoctions have earned you weird looks from co-workers, family and friends! Post your Strange But Good creations, grab the logo below for your blog, and link up here.
Remember to use #strangebutgood in any Tweets and Instagrams of your creations. 🙂

***
I eat a TON of orange food.  How my palms are glowing in the dark yet it beyond me!
What was the best costume you saw this Halloween? 
Are you a curry fan?  Have you ever used it with sweet potato?