I am indecisive.
I'm also impatient – a dangerous combo.
In this instance, I couldn't decide between a sweet or savory pumpkin-based creation for dinner.  Savory pumpkin always seems a bit more strange to me, so I went for it with today's curried pumpkin.
The fact that I stuffed a mushroom with it is odd because I am so impatient that I rarely take time to roast a portobello.  It's a shortcoming – roasted 'shrooms are so good!
The impatient part of me was pleased with the pumpkin sauce – just three ingredients and no blender needed.  I love curry in everything lately.  It's such a great warming flavor for the cooler months.
Don't like curry?  Try a Mexican spice blend or Chinese 5-Spice.  Get creative and make it your own!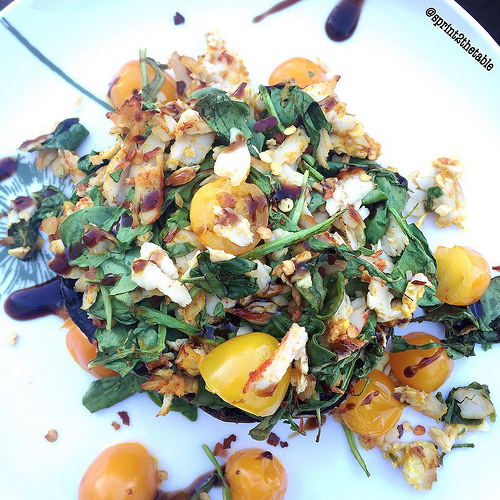 I used shredded no-salt deli turkey as the protein here.  You could really use anything you like.  Try chicken, tuna, or even tempeh or beans to make it vegan!
---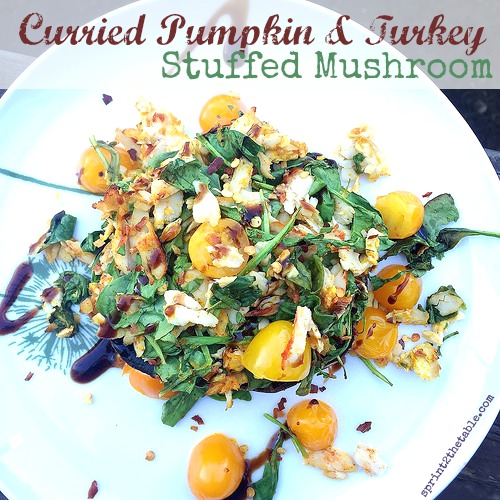 Curried Pumpkin & Turkey Stuffed Mushroom
1 Portobello mushroom
2 T pumpkin puree
1/2 tsp curry powder
1 tsp apple cider vinegar
2 oz salt-free deli turkey, shredded
1/2 spinach
1/4 cherry tomatoes, halved
Preheat oven to 425.
Roast mushroom on a piece of non-stick foil or parchment in oven for ~15 mins, until softened.
Meanwhile, mix together pumpkin, curry, and vinegar (you may add a but more liquid if you prefer a thinner sauce).  Toss turkey, spinach, and tomatoes in the sauce.  
Remove mushroom from oven.  Fill with turkey mixture (it will be overflowing) and return to oven for 5-10 mins.
Plate and top as desired.  I used red pepper flakes and balsamic-fig reduction.
---
How have you enjoyed making co-workers, friends, or family stare with strange but good creations this week?  The link up rules can be found here or by clicking on "Strange But Good" in the menu bar above.  In short, I want to see what concoctions have earned you weird looks from co-workers, family and friends!  Post your Strange But Good creations, grab the logo below for your blog, and link up here.
Remember to use #strangebutgood in any Tweets and Instagrams of your creations. 🙂


***
Even stranger, I made this to fuel my first roller derby practice in… 4 (?) years.  Glutton for punishment…
Americans, have you had savory pumpkin yet?  Non-US people, have you tried it sweet?
Are you indecisive?  Impatient?