Have you ever seen a Carnival Squash?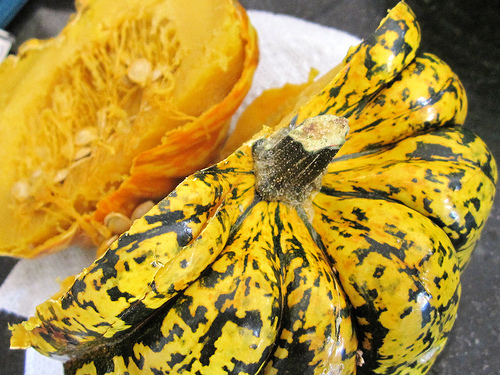 PYT, pretty young thing…
I have to admit that I am shallow.  I chose this squash knowing nothing about the Carnival variety other than it is one attractive squash.  It's pretty… and who DOESN'T like pretty things?  This is one squash you can judge my the cover – it was reminiscent of an Acorn squash, but had the sweetness of a Butternut.
Even better: it can be microwaved and ready to eat in less than 10 minutes. Side note: do I use bold too much?   I feel like I overuse bold… but I am bold.  Hear me roar.
Indian-inspired dishes are a staple in my kitchen, so I made this Carnival a curried affair.  My curry is an extra-hot variety, but you can buy a more mild powder.  I, of course, added extra heat with red pepper flaked across the top.
 Breaking out of my brown food rut, I used red lentils in this curry.  They were fantastic!  I always heard the lighter colored (non-black or green) were mushier, but I left them al dente and added them to the mix in the last few minutes to ensure the bite remained.
The other flavors in this dish really made it pop – the sweetness from the cardamom and the richness of the cinnamon compliment the curry.  Adding a little basil at the end provides a pleasant surprise with every bite.  I really love basil in spicy Asian dishes. 
It is also delish topped with these Cardamom Roasted Seeds.
---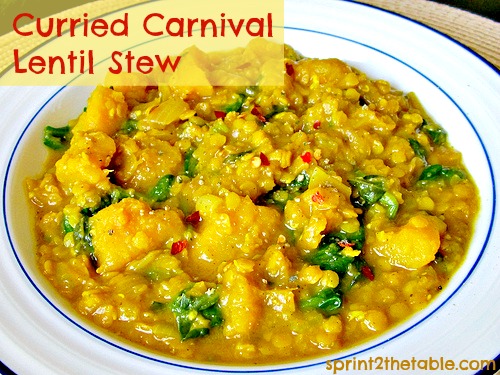 Curried Carnival Lentil Stew
1/2 tsp extra virgin olive oil
1/2 yellow onion, chopped
2 garlic cloves, minced or pressed
2 tsp hot curry powder
1/2 tsp cardamom
1/2 tsp turmeric
1/2 tsp fresh grated ginger
1/4 tsp cinnamon
2 C low sodium vegetable broth
2 tsp apple cider vinegar
1/2 cup red lentils
2.5 C (1 medium) Carnival squash
3/4 C water
2 C spinach
1/4 C basil
S & P, to taste
Stab the squash 3-4 times and cook in microwave 8-10 mins, until soft to touch.  Cut in half and remove guts/seeds.  Separate from skin and dice into ~1/2 in cubes.
Over medium heat in large pot, saute onion in olive oil until turning translucent (3-4 mins).  Add minced garlic and saute for additional 2-3 mins, until fragrant.
Stir in curry, cardamom, turmeric, and cinnamon and cook another 1-2 mins.  Add broth, cider, and lentils and bring to a boil.  
Reduce heat and cook for 7-8 mins. Stir in squash, adding water as needed.  Allow to cook ~5 mins, then add spinach and basil.  
Reduce heat to medium-low, cover, and cook until spinach is wilted (~5 mins).  Salt and pepper, to taste. Makes 2 servings.
***  
Now I have the entire MJ catalog stuck in my head… Thrillllller!
What is your favorite squash?
For those of you who are old enough to have caught the reference, what's your favorite Michael Jackson song?