I pride myself in not being a TV watcher.
Admittedly, I've even been guilty of judging.
I bought my condo 3.5 years ago and never bothered to get cable.  I'm never home and most TV shows seem silly anyway.  Who needs TV when you're out living it up in real-time?
And then I was held captive on a long plane ride from Europe.
House of Cards.  The first 6 episodes were available in-flight.  I was hooked.  I landed and begged someone to share a Netfix account with me so I could finish Season 1… then I happily realized there is a Season 2!  Now I only have 2 episodes to go, and I'm hoarding them like a crack head.  I don't want to run out!
It's so out there, yet so very reflective of our society.  I'm at once shocked, appalled, riveted, and understanding.  This show is a total mind f*ck.  How will I survive until Season 3?!
________________________________________________________________________________________
This WIAW is back to normal.  I'm trying to get back on track with the results from my Alcat test.  I have no regrets from my Swiss vacation gluttony, but my gut took a toll!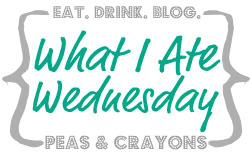 Read on for my eats, and then check out Jenn's blog for everyone else's delicious creations!
________________________________________________________________________________________
Breakfast:
My morning cocktail was followed by a fun oats in a jar creation.  I was gifted this jar of crack cake batter deliciousness from a friend.  If you are looking for something new to try, I 100% recommend You Fresh Naturals.  Be ware – it will become an obsession (no affiliation – it's just awesome).
To my almost-empty jar I added a cinnamon egg white oatmeal mix, cooked quickly in the microwave.  I cooked them in a bowl and transferred them to the jar, swirling in a few chocolate chips and topping it with a chocolate protein muffin creation I need to perfect before sharing.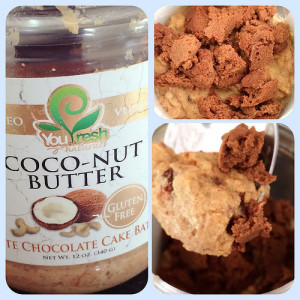 Mid-Morning Snack:
Shrimp salad made with red pepper hummus, onion, yellow bell peppers, and tomato.  The best discovery of the year is that Whole Foods will steam your shimp for you in-store while you shop.  Huge time saver… and it's free!  Obsession-worthy.
Lunch:
Cod seasoned with another new Whole Foods obsession – a Thai Almond Meal seasoning.  It's fabulously flavorful!  Eaten with radish, carrots, and a Korean sweet potato doused in cinnamon.
Afternoon Snack:
I turned my cheese-less Cauliflower Crust into 3 flatbreads for meal prep this week.  It's obsession-worthy as it travels well and you can freeze batches for a quickie meal!
At work I topped it with no-salt deli turkey and tomatoes, and had a side of snow peas.
Dinner:
With my new job, I'm not able to workout during lunch as much.  That fine, except that a late night in the gym means a late dinner.  I got home at 930p and wanted everything and nothing all at once. Does that ever happen to anyone else?
I pulled everything out of the fridge and ended up with a mushroom, turkey, and tempeh egg white scramble, mixed with my Healthy BBQ Sauce.  Side of sliced jicama (a repeat offender on the obsession-radar) doused with cinnamon.  That was plated over some greens… solely because I didn't want a whole plate of brown. 😉
Dessert:
Once again, I continue my obsession with goat milk yogurt.  I (once again) mixed with coconut flour, Growing Naturals Chocolate Rice Protein, cocoa powder, and cinnamon.  Topped with rice whipped cream, peanut flour, and more of the chocolate muffin experiment from breakfast.
The peanut flour is another lasting obsession.  I order mine from iHerb (use discount code USO924 for $5-10 off your order!).
***
But really though.  House of Cards.
Are you a TV person?  What show(s) have you gotten addicted to?  Clearly I need more ideas. 😉
What you obsessing over lately?