Jet lag.  3 out-of-control inboxes.
…and a big smile after a stellar vacation.
I can't wait to share all the fun with you guys, but today it's going to be short and sweet as I play catch up.
Yes, I ate the red meat, but surprisingly more fish (more popular in Chile).  I'm still committed to a plant-based diet at home though.  In fact, this is all I've wanted coming back today:
A chilled summer soup packed with green nutrients.
It was a bowl-licking moment.
____________________________________________________________________________________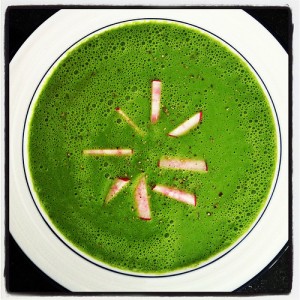 Chilled Cucumber Spinach Soup
1 cucumber
2 C spinach
2-3 celery stalks (don't use if you are using a regular blender)
1/2 jalapeno
1/2 C cilantro
2 T hemp seeds
1 tsp apple cider vinegar
1/2 tsp cumin
1/4 tsp cinnamon
1/4-1/2 C water (adjust to your preference)
S&P, to taste
Optional garnish: radish, cilantro, red pepper flakes, freshly ground pepper
Toss everything in a Vitamix (or regular blender) and blend until smooth.  
Adjust spices and liquid to your preference.
Serves 2.
***
You guys should see my Reader.  I missed you guys and I have a LOT to catch up on!
What do you crave after a decadent vacation?
What was the best thing you ate/did in the past week?