Who's singing the Frozen song?
I refuse to see that movie.
you'd think I'd rather see a movie than actually be frozen.  But no.  I got frozen.  My friend, Tori, heard me complaining about all my injuries (shit falls apart when you get older, y'all!), and offered to hook me up with a trial for Icebox Cryotherapy.  Basically, they freeze you with gasified liquid nitrogen.  It looked like I was standing in a cylinder of dry ice – but it's not as dangerous.
In Tori's words: "You know how when you bang your thumb, blood rushes to it and it gets really hot because your body is trying to fix it? Basically same body response when you do cryo. Your body thinks you're freezing to death, so it sends signals all over and sees what's 'broken' or hurt and focuses on it."  Sounds great, right?! It really is great for recovery; in fact, many professional athletes have been using if for years!
Recovery aside, Cryotherapy has multiple other benefits:
Increased circulation
Reduction in pain & inflammation
Assists in a quicker surgical recovery
Aids in the treatment of Rheumatoid Arthritis and osteoarthritis
Boost immune system
Decreased fatigue
Tighter skin (cellulite, say what?!)
Increased libido (woot!)
Weight loss assistance
So was it that bad?  It was 3 minutes at negative 130 degrees Celsius (-266 Fahrenheit). It wasn't a cake walk… but honestly, I didn't ever think I'd never make it out alive.  I had gloves and booties on (I have Raynaud's, which the owner made sure she looked out for).  The parts that hurt the worst were my legs (which are sore and injured) and my nipples (apparently common), but I recovered right after.  Your core temp doesn't actually change, so you don't freeze to death.
After wards, my body felt SO relaxed, I slept like a little baby that night, and hit a couple PRs in the gym the next day.  I'd like to do it a few more times for my injuries, but it definitely helped with the general soreness and recovery!  If you're in Atlanta or have a facility in your city, I definitely recommend it!
________________________________________________________________________________________
This WIAW was de-lic-ious!!  Food game is on.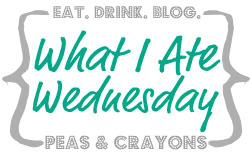 Read on for my eats, and then check out Jenn's blog for everyone else's delicious creations!
________________________________________________________________________________________
Breakfast:
After my morning cocktail, I mixed up my morning sludge while I working a new waffle experiment.  It's not quite perfect yet, but I think one more and it'll be ready to share!
Mid-Morning Snack:
Then I ate the rest of my wine-soaked cedar plank Sizzlefish Salmon with roasted veggies.  So.  Good. 
Lunch:
More Sizzlefish, this time it was sautéed scallops with roasted onions and bell peppers over a tortilla.  I'm obsessed with the Sizzlefish.
Mid-Afternoon Snack(s):
Unpictured Cinnamon Roll Quest Bar and a Ghirardelli dark chocolate.
Dinner:
This dinner was another Garnish & Gather recipe!  I pick these every Monday to cook on Tuesday nights.  It's so convenient to have all the local ingredients all packaged up for a fresh, quick meal I can cook at home.
Tonight may have been the best yet!  It was Banh Mi Burgers with Pickled Veggie Salad and Rooster (Sriracha) Mayo. On a local baguette from H&F Bread Co. Dying of happiness. I fed my baby sis… and for er part she showed up with wine.  That kid was taught well! 😉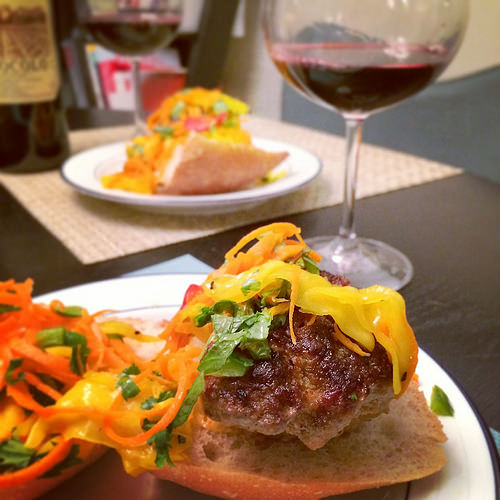 Dessert:
For dessert, I had the delicious chocolate chip cookie from Little Tart Bakeshop.  Garnish & Gather sent with my bag in honor of our "anniversary" (my 4th meal with them).  It was delicious… just a hint of salt in with the dark chunks of chocolate.  #twss
***
I'm so ready for the weekend.  I've been a damn squirrel this week!  I'm blaming the fall air.
Have you ever heard of Cryotherapy?  Do you think I'm nuts?
Have you ever had Bahn Mi sandwiches?  I love getting them in ATL's Asian 'hood!