Who doesn't love a holiday?
Especially one that lends itself to so many inappropriate jokes…
I know Halloween isn't technically a holiday (i.e. we still have to work), but it one of my favorite festive events.  I won't be party-ing it up this year, so I'd like to ask all of you benevolent ghouls to have an extra drink/Reese's pumpkin/costume fun for me.
Not to worry, I plan to taking a nice walk through a neighborhood to scope out the trick-or-treater costumes while trying not to look like a creeper.  Watching all the kids having so much fun in pursuit of a sugar-high is the best part anyway.  Well, second only to knowing I don't have to come home and try to put an over-stimulated child to  bed.  😉
Kat is in the spirit too!  She has some new to share… I think you'll agree that she deserves to celebrate a little extra tonight…
________________________________________________________________________________________
Creating a Life & Creating Fun Recipes
by: Kat
Even when you think you have it all figured out, you still have a chance to change and create.
It just occurred to me recently how much change has happened in my life this year that I don't even really recognize my life (Editor's note: that happened to me a couple of years ago… crazy, isn't it?!  Life is so good.).  With all the changes happening, it is a chance to really think about how I want to create my life, and how I want to see thing unfold.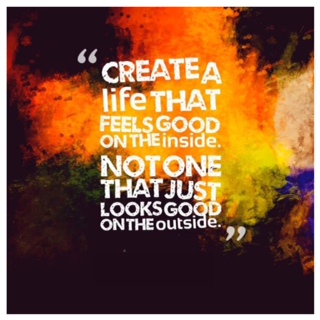 This year, I graduated, leaving the perceived safety of an academic environment, spent a summer barely working while studying for the bar, started a new relationship, our families of animals (3 dogs and 3 cats) have come together in one home (yes, I now have pet hair-I only had two hairless cats for the longest time)…
…and I've OFFICIALLY PASSED the bar, so I can try to stop working just part-time and really practice law.  (Editor's note: SO insanely proud of you.  I can't wait to celebrate your success!)
Now – how do I create my life so that it feels good – so I'm doing work that inspires me, motivates me, and fills me up?  How do I navigate a home-space so different from where I was comfortable for so many years to have an even more comfortable, more happy environment?  I have options, and I'm excited (and nervous!).
All of this change has sent me right back to therapy.  (Editor's note: you're a smart girl – I should have done that when change was busting my balls.)  I have an awesome new creative, holistic therapist helping me use my personality strengths so they can be guiding my new life (instead of letting those not so pretty reactive parts shine through)!
Also, Happy Halloween!  To those of us not handing out candy…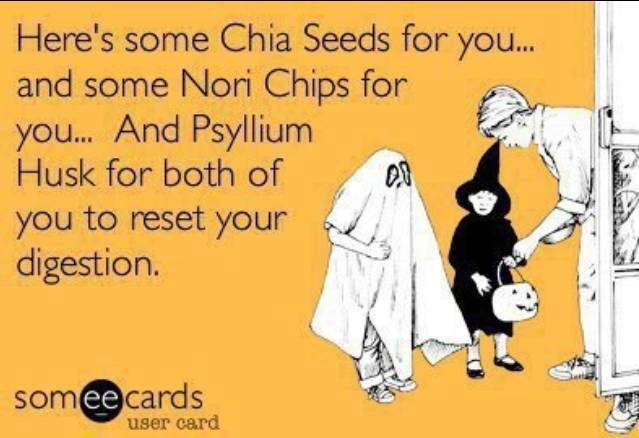 And you can also get creative by being wickedly inappropriate.  (Editor's note: I think it's a boy…)
 _______________________________________________________________________________________ 
Or you can be boring like me and go about your daily life making recipes inspired by your cravings.
Lately, I have been craving EGGS.  You can only eat so many over-easy eggs with toast in one week before you really want something different (Editor's note: blasphemy!).  I saved some sautéed peppers, onions, and mushrooms from a pizza night and used them to make this Pesto Omelette.
What I love about this recipe is that it really creates a great meal for breakfast, lunch, or dinner, and it's loaded with healthy fats, protein, minerals and vitamins.  It's also super fast, and the pesto/drunken goat cheese combo make it super special!
I have a ton of fall recipes I'm getting ready to hone in on and share.  First is my Butternut Squash with Brown Butter Sage Sauce (Editor's note: you needed a taste-tester for that, right???).  This will be happening soon, along with a new surprise squash I'll be getting with my next veggie delivery!  So stay tuned!
_______________________________________________________________________________________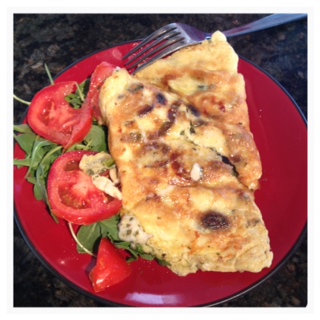 Pesto 
Omelette
2 large organic eggs
2 ½ T coconut milk
2-3 T sautéed veggies
Garlic salt, to taste
2 T pesto
2-3 T drunken goat cheese, sliced
2 T coconut oil
Sliced tomatoes (optional)
Preheat a nonstick pan over med-high heat and add coconut oil. 
Whisk the eggs in a bowl until they fluff up a bit, add the coconut milk and whip a little more (this is important for any fluff). 
Pour the mixture into preheated pan, add garlic salt evenly over the entire mixture.  Stir vigorously with a rubber spatula for 5 seconds, then add the sautéed veggies, cheese, and pesto to one half of the egg mixture. 
Let it cook until you start to see that most of the eggs on the side without the veggies is forming a solid mass.  Lift the pan so that the excess liquid/egg mixture distributes, and then use your spatula to loosen the edges from the pan. 
Shake the pan to loosen the eggs, and slide the spatula under and around the side without the veggies.  Let it cook for another 45 sec – 1:15 on each side.
Plate and serve with sliced tomatoes.
***
The thinkThin bar giveaway winner has been selected!  Check out the original post to see if YOU won this treat.
What are you doing to create your life so that it feels good to you?
What exciting fall recipes or ingredients are you playing with?