I love a rich, creamy tomato comfort-soup.
Is it really only Tuesday?!
I've had a crazy busy week at work, which translates into a super-short blog post.
It's harder to find a simple creamy (vegan) tomato soup in the "winter" months.  I suppose I can't complain since it's been like summer in March here in Georgia.  Do these hotter months also make you a sucker for summer slackiing?
Balmy weather doesn't reduce my craving for tomato soup.  While this simple soup may not be earth-shattering, it was one that proved to be easy and good!  Let's face it – simple comfort soup is sometimes exactly what you're looking for.
This was a last minute edge-of-summer recipe using tomatoes that are at the tipping point of their season – early, thanks again to the warm weather.
My vegan challenge doesn't permit the usual cream/butter/other deliciousness goes into making a creamy soup, which was cause for a little clean-eating improv.  The "cream" in the soup comes from tofu.
This creamy, cream-free recipe will save your summer waistline and provide you with a good way to work in some protein, as well as early-season tomatoes and basil.
---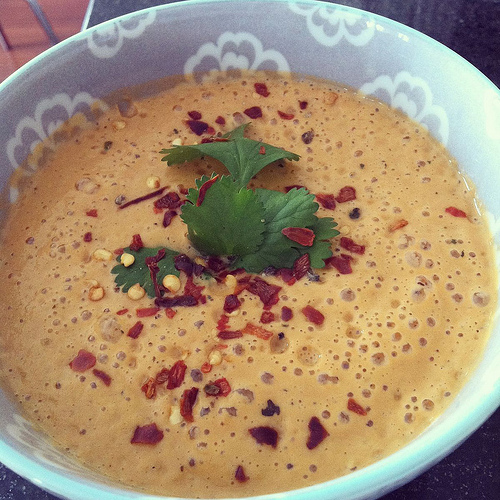 Creamy Tomato Basil Soup
1/2 medium yellow onion, diced (~1/3 C)
4 garlic cloves, minced
2 tsp olive oil (I used Sweetwater Growers' Habanero-infused)
4 medium-sized tomatoes, chopped
10 oz silken tofu (about 3/4 of a block)
1/4 C water (or liquid of choice)
1/2 C fresh basil, loosely packed
1/4 C fresh cilantro
1/2 tsp cumin
1/8 tsp cinnamon
1/2 tsp red pepper flakes (or to taste)
S&P, to taste
If making on a stove top:
Sauté onion and garlic in large soup pot with olive oil until fragrant (~6-7 mins).  Meanwhile, chop up tomatoes, tofu, and herbs.
Add remaining ingredients, bring to a boil, then simmer for 10 mins, allowing flavors to combine.
Remove from heat and blend until smooth with an immersion blender, or by transferring to a blender to mix.
Once blended, taste and adjust seasonings accordingly.
If making in a Vitamix:
Begin by sautéing onion and garlic with the olvie oil in a small pan, or, for a raw soup, skip this step and put directly into the Vitamix.
Place all ingredients in Vitamix.  Select Variable 1.  Turn the machine on and slowly increase speed to 10, then to High.  Blend for 8 mins, or until steam begins to escape from the lid.
Once blended, taste and adjust seasonings accordingly.
Note: You may need to adjust liquid used based on the water in your tomatoes.
Makes ~6 cups.
***
I need to get my shizz is gear this week!
What is your  favorite end-of-the-season (or early season) soup?
 What  veggies are you most looking forward to this spring?