Rules can inspire creativity.
Translation: nobody puts baby in a corner!
One of my favorite things about this particular cleanse is that, while there are parameters, the rules are easy to work within.
For instance, one of the guidelines is to eat more raw veggies than cooked.  I love raw vegetables, but sometimes that can get a bit boring.  Raw soup, on the other hand… that's interesting!  Eating a soup raw may seem strange, but it really is good.  And perfect for this warmer weather!
The cool thing about this chilled soup is the creaminess.  The avocado and hemp seeds lend healthy fats and a smooth, cooling factor that is the perfect compliment to the jalapeño kick.
Red pepper and carrots add a natural sweetness.  It's still early in the season, so I added just a bit of stevia.  I may or may not have added an extra jalapeño in my version… don't worry, that's not in the recipe as written below.
All you need is a blender to make this souper-easy soup.  I used my Vitamix, but any high-speed blender would work.  If you chop up the veggies a little more, I think you could even make it in a Magic Bullet!
---
Creamy Raw Red Pepper Soup
Serves 2-4 servings

adjust servings
Ingredients
1 C warm water
1 medium red pepper
1/2 large avocado
1 medium carrot, chopped
2 T hemp seeds
1 T red onion, chopped
2 cloves garlic
1/2 jalapeño pepper, seeded
1 tsp ground cumin
1/2 teaspoon black pepper
Optional: 3-4 drops lemon liquid Stevia
Instructions
Place all ingredients in a high-speed blender (I used a Vitamix) and process until thick and smooth. Allow to run for 4-5 minutes, until slightly warm.

Makes 4 sides or 2 larger servings.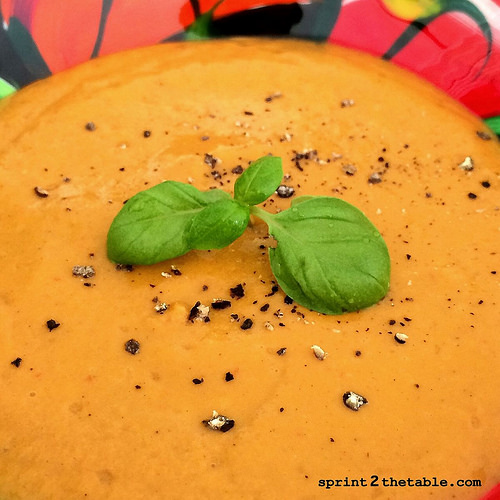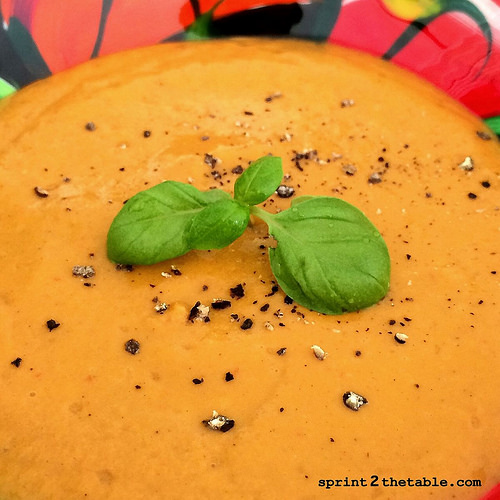 ---
How have you enjoyed making co-workers, friends, or family stare with strange but good creations this week? The link up rules can be found here or by clicking on "Strange But Good" in the menu bar above. In short, I want to see what concoctions have earned you weird looks from co-workers, family, and friends! Post your Strange But Good creations, grab the logo below for your blog, and link up here.
Remember to use #strangebutgood in any Tweets and Instagrams of your creations. 🙂



***
I always feel a little high after eating raw – is that just me?
What inspires (or forces) you to think outside the box in the kitchen?
Are you a raw food fan?