Would you believe I've NEVER had Eggs Benedict?
Sure, I've had a bite of someone else's.  I've never ordered my own though.  At first it was because I was too picky.  Then it was because I was too health-conscious.
Monday night I was craving brinner (breakfast for dinner) but I needed to be responsible and eat some of the crab I  bought over the weekend before I goes bad.  I tweeted about my dilemma and the lovely Heather @ Girly Ever After (check out her blog – this fellow-Atlantan rocks and has PERFECT skin) saved the day by suggesting Eggs Benedict.
I actually had to make this again the next morning because I gobbled it down too fast to write down what I did or take any thing other than the following Instagram pic:
The sauce may sound a little ghetto when compared to the "real" thing.   I'm not going to tell you it's as silky as the yolk-based variety.  However, this creamy, lightened up version put a big (guiltless) Cheshire Cat grin on my face.  (Not tomention it's 1000x easier to make than  Hollandaise.)
A little cayenne heat and lemon tartness was especially good against the rich crab meat.  If you don't have/like/eat crab, you could try it with ham, bacon, tempeh bacon, or even a veggie sausage patty.
This was also my first time poaching an egg.  I don't know why I waited so long – it's really easy!  A few people told me the trick is to add vinegar to the water to prevent breakage.
Another tip is to bring the water to a boil, but then lower it to a rolling boil before adding the egg.  It must work because I had no problems.
Not wanting to overshadow the rich flavors in this dish, I served it with a simple arugula, cilantro, and heirloom tomato salad dressed with lemon juice and black pepper.
Is there anything more fabulous than a runny egg yolk?  I think not.  #yolkporn
I'm really not sure why you're still reading this instead of running sprinting to the kitchen make your own.
---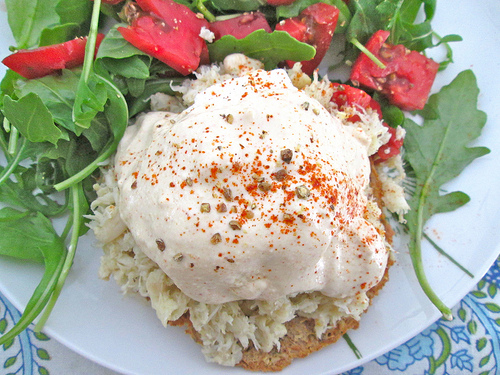 Lightened Up Crab Eggs Benedict
1 egg
1 T apple cider vinegar
1 slice Ezekial bread (or carb of choice) 
3 oz crab meat
2 T Greek yogurt
1 tsp nutritional yeast
1/2 tsp fresh lemon juice
1/4 tsp dry mustard
Pinch of cayenne pepper
Fresh cilantro and cracked black pepper (to garnish)
Fill a small pot with 2 inches of water and vinegar.  Bring water to a boil and reduce heat to a rolling boil.  Crack the egg into a small dish and gently pour into pot.  Simmer for 2-3 mins (will vary depending on how runny you like your yolk).
Meanwhile, toast bread and heat crab meat.
Combine yogurt, dry mustard, nutritional yeast, lemon juice, and cayenne in a small bowl and briefly microwave (~10 secs) to warm.
Place toasted bread on plate with crab on top.  
Carefully remove egg from the water with a slotted spoon, letting excess water drain off.  Place on top of crab; spoon sauce over the top.  Garnish with cilantro and black pepper
Commence feast.
Serves 1, easily multiplied.
***
I can't believe it now, but at one point I was so picky I wouldn't eat eggs, yogurt, or anything green (unless it was drenched in ranch).
Have you ever poached an egg?
What is your favorite lightened up decadent recipe?  Or what would you like to see lightened up?