Welcome New Readers!
I woke up yesterday to an awesome surprise – I made the Food Buzz Top 9 for the first time!!!  Not only that, but I was #2!
If that doesn't make your Monday morning a happy one, I don't know what will!
Thank you to anyone who buzzed my Rosemary Lemon Shortbread Cookies, and to those who left the nicest comments I have ever received.  You guys made my day. 🙂
Inspired by the Buzz, I ended up running 5 miles – 2 miles more than I promised myself I would.
Stats:
Distance – 5 miles
Time – 41:15
Pace – 8:23
---
Equally exciting is a guest post!  Cait @ Beyond Bananas is in San Fran (lucky girl!), and yesterday she allowed me the honor of writing a guest post for her.  Ever the awesome blogger, she even gave my post a fantabulous title: Sprinting to Laura's Table.  (Love it!)
I contributed a Cottage Cheese and Egg Bake recipe that uses garlic scapes (scapes are really cool – click here for more).
Fascinated by my new-found breakfast treat, I decided grab my carton of eggs and experiment with other flavors.
In this version I used fresh tomatoes, spinach, and Herbs de Provence.  The sweet French herbs combined with the floral lavender and classic Italian flavors gave this dish a great "pop."  It left me greedily scraping the sides of my ramekin.
For those who aren't familiar, Herbs de Provence is a mixture of herbs commonly used in France.  You can purchase this mix in your grocer's spice section or make your own from herbs you may already have.  There are a million different versions out there.  Most commonly they consist of: savory, thyme, rosemary, basil, marjoram, fennel seed, and lavender*.


*I just read on Wikipedia that lavender is only used in the bastardized Americanized version.
Speaking of dried herbs… did you know that you aren't supposed to keep them more than 6 months?  It's a shame since many are so costly.  I began buying them at the farmer's market where they are cheaper and sold is (slightly) smaller quantities.  They don't go make-you-sick bad, but they do lose their flavor.
Herbs aside, one of the best things about the recipe is it's ability to conform to your morning routine.  Allow me to explain.
Practical Guide to Making Egg Bake During the Morning Rush:
Stumble out of bed
Start coffee
Allow oven to preheat while showering
Mix ingredients and pour in ramekin
Put in oven to bake
Apply make-up/blow dry hair (if you're a guy, do whatever guys do in the morning)
Remove from oven
Allow to cool while getting dressed
Eat
Run out door without forgetting to turn off oven
---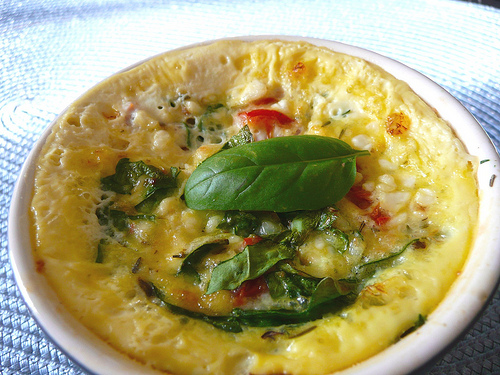 Cottage Cheese and Egg Herb Bake
1/4 C cottage cheese
1 egg
1 egg white
1/2 tsp Herbs de Provence
1/2 medium tomato, diced
1/2 C spinach
S+P, to taste
Preheat oven to 350 degrees.
Beat the eggs and cottage cheese together until well-combined and beginning to fluff.  Add remaining ingredients and beat again to combine.
Pour into a ramekin and bake for 35-40 mins.
Note: You may need to broil for 1-2 mins at the end to finish off the top.  Be sure to watch closely so it doesn't get too browned.
***
I'm seriously still grinning from all of these comments.  Give me a day or so, but I will visit your blogs – love discovering new blogs/allowing my Reader to continue growing out of control! 🙂
Do you eat a hot breakfast on work days?
Are weekend breakfasts different/special treats in your house?