I love me some protein.
Bro.
I also love cookies.  If you can combine protein and cookies, you have a winner.  When Isopure sent over their cookies & cream zero carb powder with 50 grams of 100% pure whey protein isolate I couldn't try it fast enough.  It was perfectly timed too – after being on he road for a week I was ready to get back in the gym!
Having not worked out hard for a week, I was especially thankful for 10,900 mg of BCAA's and 4.6 grams of L-Glutamine included in the whey protein isolate power.  I needed all the help I could get with recovery!
I immediately whipped up a slightly #strangebutgood creation.  It started out normal enough… but then I added some chocolate beet powder*.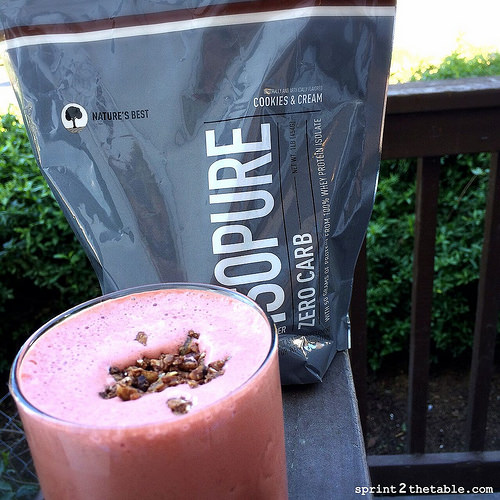 Beet Cookies & Cream Protein Shake
1 serving Cookies & Cream  whey protein isolate
1 scoop Cocoa Cardio*
1/2 tsp cinnamon
Water + ice, to taste
Combine ingredients in a high speed blender and blend until think and creamy like a milk shake!
*I order my Cocoa Cardio from iHerb.  Use discount code USO924 for $5-10 off your order!
In case you like to geek out (and I do), and fun fact about Isopure: the microfiltration process used to create Isopure is so complete that it is the only completely clear milk protein when it is dissolved in water.  I didn't know that was possible!
Speaking of clear… I also really loved the protein drinks they sent.  The Alpine Punch, Apple Melon, Blue Raspberry, and Grape Frost were all good, but the blue raspberry was especially marvelous.
It's the perfect thing after running trails and hills in Balboa Park.  Right after I workout, especially if I'm really hot, I find it hard to choke down solids.  These drinks were a great way to get nutrients replenished without making myself feel sick.
Confession: I love running hills.  I don't know what's wrong with me.
This post is sponsored by FitFluential on behalf of Isopure.

***
I've been running  a lot more here – it's so nice outside and I love learning a city on foot!
Do you like running hills?
 What's your favorite way to refuel after a hot workout?