Don't cry for me, Argentina…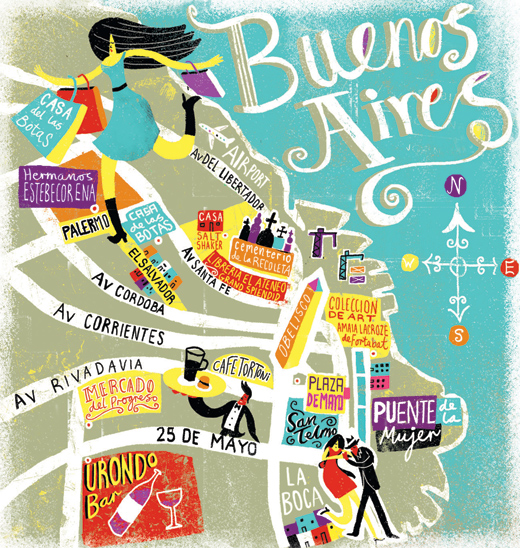 I recently decided on my 2012 international trip and there's no crying here!  Two of my best friends from grad school and I are going to Argentina AND Uruguay!  Leaving just 6 weeks from today!!!
Here's my dilemma: Argentina is known for meat.  I love to travel and try new foods, and I always said that whatever veggie-food thing I have going is out the window when I travel.  No restrictions.  But now I am scared I'll get sick… and meat just doesn't appeal to me like it used it.
I did eat 3 bites of meat at dinner tonight… so far so good.
 ______________________________________________________________________________________
Meat dilemmas aside, Jenn (who called me a genius last night) @ Peas and Crayons is hosting  What I Ate Wednesday this month in the theme of veggies: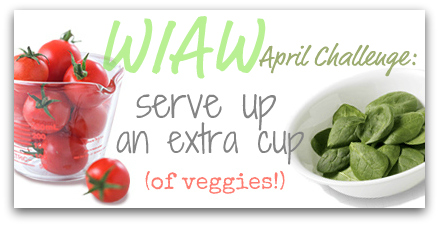 Check out my veggie eats (plus a couple of meats) below; then click here to see what everyone else enjoyed for WIAW.
Breakfast:
This morning I woke up feeling jumpy… in a plyo way.  I bounced out of bed and down to the gym for 60 mins of Plyo with Tony Horton (from P90X).  In case you haven't tried it yet, this plyo DVD with kick your butt.  It left me hot, sweaty, and STARVING.
I ran up to my condo for a tasty Banana-Maple-Ginger Smoothie accompanied by a (vegan) Raw Cookie Dough Ball, compliments of this recipe by Lisa @ Healthful Sense (I always keep a batch in the freezer for a quick snack or smoothie topping).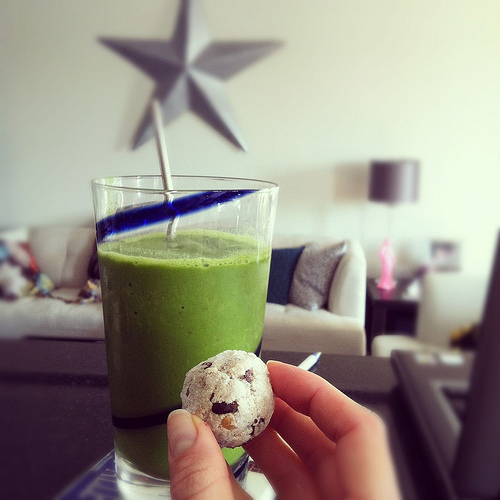 Banana-Maple-Ginger Smoothie
1 small banana
1 C spinach
1 scoop vanilla protein powder
1 tsp maca (optional)
1/2 C unsweetened almond milk
1 T ground flax seed
5-6 drops vanilla liquid Stevia
1/2 in piece of fresh ginger
1/2 tsp cinnamon
1/4 tsp maple extract
Lunch:
Working from home makes me happy because I get to MOVE so much more.  Bring chained to a desk is really hard for me.  In the interest of movement, I walked to one of my favorite spots – MetroFresh – to meet a friend for lunch.
MetroFresh's menu changes daily, but they always offer 5-6 soups, 7-8 salads/sides, and a couple of sandwiches.  They also designate which items are vegan, vegetarian, or gluten-free.  Love that.
Today I had a Swiss Chard and White Bean Stew and a Maple-Citrus Wild Rice Salad with Mushrooms, Feta, Cucumber, Black Wheatberries, and Dried Cranberries.  Finger-lickin' good.
Side note: Did anyone watch Doogie Howser or Party of 5 growing up?  The owner of MetroFresh, Mitchell Anderson, played roles in both hit shows!
Snacks:
My lunch was pretty filling, and I knew I was going out for dinner so I was a little light on the snacks today.  I did enjoy a Kombucha, a banana (topped with a failed attempt at chocolate-peanut butter – the texture was nasty), and a piece of chocolate (to help me feel better after the PB fail).
Dinner:
Apparently is was a day for dining out.  I had dinner with my mom and cousin at a local Indian spot called Cardamom Hill.  This place is amazing – I blogged about it here when they first opened, and they have only gotten better since.
For appetizers we ordered Pork Vindaloo (pork shoulder slow-cooked in a flavorful vinegar sauce with turmeric and cardamom served with a side of appam), Coconut Curry Vegetable Stew, and a Squid special that was cooked in a red chili sauce and served with a side of fried plantains.
I did take a bite of everything… it was the first time I've had pork in months.  It was delicious, but I still couldn't imagine eating a whole order.  The vegetable curry soup was my favorite!
Remembering how delicious it was the first time there, I ordered the Vegetable Platter.  It wasn't quiiiite as good, but that is a preference thing.  They do change-up pieces of the dish, and on my first trip there was more heat incorporated.  I love spicy food. 
From L to R: Avail (lightly steamed vegetables in a shaved coconut sauce), Sambhar (a stew with okra, carrots, and potatoes), stack of sliced warm Beets layered with housemade yogurt and mustard seeds, and seasoned rice.
My favorite was the Avail.  That shaved coconut sauce was perfect – not too sweet or heavy, complimenting the root veggies it was served over.
The winner was my mom's dish (unpictured).  She ordered the Kerala-Style Fried Chicken, served over vegetable pileau (rice with veggies).  Yup, I took another bite of meat… I don't regret it.  This chicken was among the best I've ever tasted.  Don't skip it if you are in the neighborhood (and you eat meat).
Dessert:
Someone once said there is a whole separate part of your stomach for dessert.  They weren't kidding.  I should have been stuffed after all of that… yet I came home and enjoyed a So Delicious coconut ice cream bar.  The bar is dairy-free and contains only 1g of sugar… and you would never be able to tell.
So Delicious, indeed.
***
Another reminder to enter my NuNaturals giveaway – there are 4 chances to win the new NuNaturals Orange and Lemon Liquid Stevias!  Contest ends Thursday at 11:59pm EST.  Click here to enter.
Have you ever been to Argentina, or South America?  Any suggestions?
Have you ever gone back to eating meat?  How did you ease back in to it?