New year, new plan.
Nevermind that we still have a month left in this year.
I need to be more careful what I wish more.  The week before last I mentioned that my trainer hadn't sent my new nutrition plan… but I was headed to vacation and didn't feel like reminding him.  Yesterday I got the plan.  I'm aiming for another figure competition in March, and the bulking has officially begun!
My 7 meals a day are still in place.  The basics are the same: at least 25g protein at each meal,  a fruit (in the morning) or a veggie.  The big difference is the complex carb portions.  I was getting them 4x a day… now I have a serving at EVERY meal.  I am going to be so stuffed!
What are complex carbs?
They have a chemical structure that is made up of three or more sugars, which are rich in fiber, vitamins, and minerals.  These carbs will keep you full longer because they take a little longer to digest, and they don't raise the sugar levels in the blood as quickly as simple carbs do.
Complex carbohydrates are fuel; they contribute significantly to energy production and have a higher nutritional content that simple carbs.
Some examples:
Oatmeal
Cereal (the "healthy," low-sugar varieties)
Wild or brown rice
Ezekial bread
Beans
Lentils
Winter squash
Sweet potato
Bananas
_______________________________________________________________________________________
My new plan and re-focus in eating clean fits perfectly with this month's What I Ate Wednesday theme: good habits.  Yesterday I asked you all to join me in a Kitchen Workout challenge.  Below is how my first challenge day went.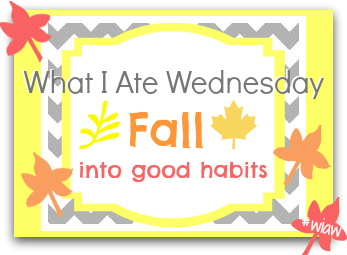 After checking out my crazy-clean bulking day, click here to head over to Jenn @ Peas and Crayons to get to see how everyone else is sticking to their good habits.
_______________________________________________________________________________________
Meal 1:
After the usual morning cocktail (mix of Apple Cider Vinegar, Glutamine, and Fitmixer Aminos) I went for a healthified version of a comfort meal.  A cold, rainy morning can only mean one thing: Grilled PB&J with tofu peanut butter (recipe here).  I love how gooey and warm the inside gets!  Served with a side of raspberries. 
Meal 2:
After perusing Whole Foods, I decided to make my own Mediterranean Salmon Burgers this week rather than buying the frozen stuff.  I'll post the recipe later, but let me assure you these are very good!
For my complex carb, I made a festive salad of edamame with pomegranate and Marcona almonds.  I dressed with with a quick nooch mix:
1 T nutritional yeast
1/2 T coconut vineagar
1/2 T water
1/4 tsp Mediterranean spice blend
1/8 tsp cayenne
Meal 3:
I'm kind of embarrassed.  I'm turning into a creature of habit.  Lunch was swordfish.  Again.  But I really, really like it! I cook it in a grill pan with Italian herbs, pepper, and lemon juice.  Easy and delicious!  Next week I'm making Heather's Mexican creation to shake things up.  Today I ate my grilled steak of the sea with an Ezekial pita and a salad of arugula, cauliflower, and radish sprouts.
Meal 4:
Something dangerous happened.  I discovered that I can handle de-boning a rotisserie chicken much better than touching a raw chicken breast (creeps. me. out.).  The dangerous part is that whole chickens are more expensive.  Whatever.  My sanity is worth it.
I ate my de-boned chicken mixed with red pepper, zucchini, and spinach hummus.  My carb was a pretzels.  Not a good low sodium choice.  I don't have enough complex carb choices on hand this week as I didn't get my new plan until after my weekly grocery run.  So for now I'll enjoy my salty treat. 🙂
Meal 5:
This dinner was fantastic.  I will be sharing the whole recipe later (when I have enough light to take better pics), but for now I'll just say that it's a Mexican-Sweet Potato Pie layered with spinach and chicken (I also discovered ground chicken is easier to deal with than chicken breasts).  It could easily be made vegan with tempeh or TVP… which I may try next time around!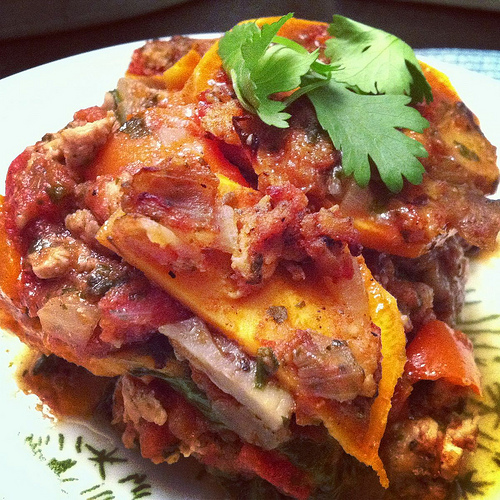 The pie was shared with my friend, Kenny, who came by to say hello and talk clean eating.  Kenny has some specific goals for fitness and nutrition, so we strategized a bit.  His "homework" is to write his own guidelines.  I also roped him into doing a few quest posts about it.  *evil grin*
He calls me his "food sponsor."  I kind of like it.
Meal 6:
Before vacation I made Alexandra's Spunky Monkey Pumpkin Pie into muffins and left before I could eat them all.  Good thing they freeze really well!  I enjoyed one tonight atop an old favorite: Carrot Cake Batter.  Made with whipped cottage cheese instead of Greek yogurt.  I almost forgot how good it is!
Meal 7:
I failed.  I ate dinner late and skipped meal 7.  All those carbs and I think I'm getting a cold… I couldn't bring ,myself to eat another bite.  Like when I first started with the 7 meals a day, this is going to take some adjusting!
***
The protein count for the day: 170.2g.  I'm back at it!
Are you on board with the #KitchenWorkout?  How did you keep it clean today?
What is your favorite complex carb?