I'm on the wagon.
Seriously. 9 days sober.
It's finally time to get back on the stage.  I took a year off from competing to grow and it paid off well.  I put on about 15 pounds (20 at my highest)… and a decent amount of that is muscle.  Looking back at pictures from a couple of years ago, I can't believe I was that tiny!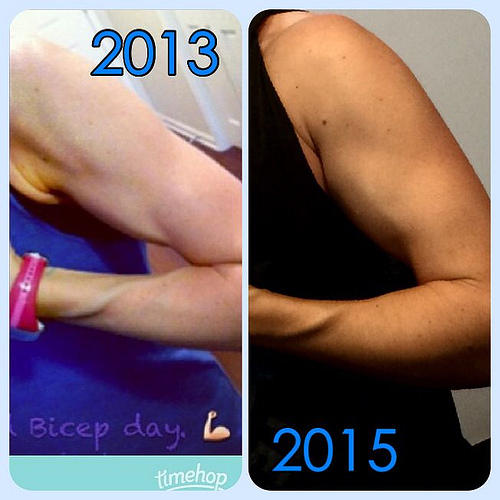 I was hoping to be able to do Physique, but I'm not big enough yet so I'm staying with Figure.  Maybe next year…
My next show will be at the end of March, so I'm 10 weeks out.  Playtime is over.  Time to diet down and cut the fluff.  Having "bulked" with reckless abandon over the holidays I'm actually looking forward to it.  Please remind me I said this in a couple of weeks.
What I'm doing is a combo of macros and clean eating.  I try to hit certain macros, but I'm not doing it with Pop-Tarts.  Good, old fashioned lean proteins, veggies, sweet potatoes, and whole grains.
---
This WIAW is on the wagon, but I don't think it's boring.  Like I've said before, I can't stick to the competition diet without a little spice.  I tried to list all the flavored I used below so you get a better idea of how I do it.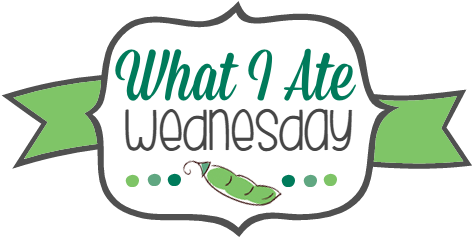 Read on for my eats, and then check out Jenn's blog for everyone else's delicious creations!
---
Meal 1:
The usual my morning cocktail, followed by my morning sludge.
Breakfast was simple – Mediterranean-spiced egg white scramble and Ezekial toast with coconut oil and cinnamon.  The coconut oil and cinnamon was my attempt at revamping the buttery-sugary cinnamon toast my mom made when I was a kid.  It's wasn't too bad, actually!  Coconut oil makes everything taste like dessert.
Meal 2:
I added some Thai spice to my Sizzlefish cod and sautéed bell peppers, mushrooms, shallots, and garlic.  Side of sweet potato for "dessert."  
To cook the cod, I just place it on foil, season, and bake at 350 for 8-10 mins.  The foil is necessary; it makes clean up extremely easy.  I hate doing dishes.
Meal 3:
No-salt deli turkey with nutritional yeast, mustard, and Herbs de Provence.  Lots of hot sauce (real sriracha is better… I shouldn't have strayed).  Tossed with sugar peas.  Side of kabocha squash.
Meal 4:
This is my favorite meal – peanut butter!  Usually I do rice cakes, but today I had it on quinoa crisps.  With kombucha green tea.
Meal 5:
More Sizzlefish, but this one was salmon.  My freezer supply of fish has really saved the day this week since I didn't get back from Vegas until really late Sunday night.  This fish was baked with lemon, pepper, and thyme.  Eaten with a sweet potato-carob mash .  The mash is just sweet potato, carob powder, cinnamon, and couple drops of vanilla liquid stevia.
I ate in my car.  With my pinky out 'cause I'm a f@$&ing lady. 
Meal 6:
It's still far enough out to have a little red-velvety dessert.  I've also been under my macros all week since I'm still sick.
Greek yogurt mixed with chocolate rice protein powder, Cocoa Cardio* (chocolate-beet powder), cinnamon, and a little water. Topped homemade popcorn and some trashy sugar-free chocolate syrup.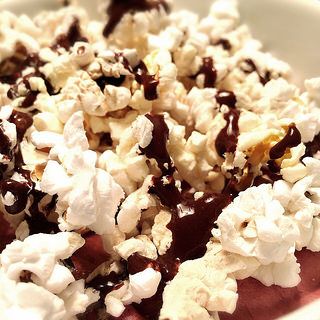 *I order Cocoa Cardio from iHerb.  Use discount code USO924 for $5-10 off your order!
***
Re-reading this post, it seems like this would take a lot of time… I swear it doesn't once you get the hang of it!
What are your favorite ways to season food?
Is anyone else a little relieved to start eating cleaner post-holiday?