I don't even bring a camera when I travel anymore.
Disclosure: The following post is sponsored by Fitfluential LLC on behalf of Verizon Wireless.
When I got my first smart phone, it changed my world.  I've never liked having to carry multiple devices or go to more than one source for tasks.
Verizon offered me the chance to upgrade from my iPhone 5 to a 5s and I pounced on the opportunity.  From the solid, light-weight of the metal-casing to the fingerprint-reading lock, I am impressed.  I also love the new iOS7 system.  It offers iTunes Radio, which is like Pandora but better because you can tag songs as favorites to remember to purchase later.  I've wished for this feature on the radio SO many times!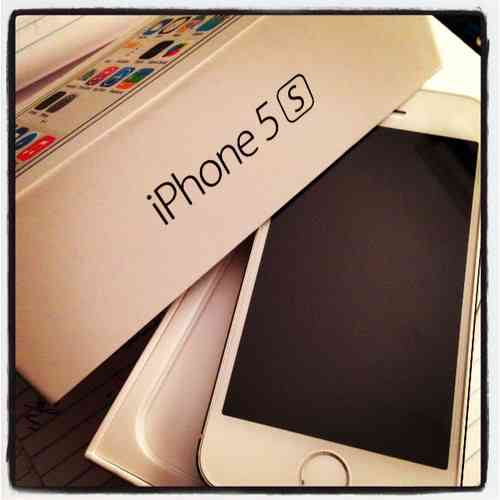 The light weight and the radio features allow me to travel light on a plane or the gym – just grab the phone and my in-flight entertainment or energy-inducing jams are there.  I love being able shake up my music songs – my playlist was getting OLD after all this competition training.
Since I spent the weekend with Heather in Colorado for our competition, I joined her for a final workout.  Radio up and headphones in, I killed the last back/tri workout I'll do for 2 weeks (it's REST time!).  It was SO much fun to be able to do it with a friend, and to shamelessly ask gym employees to take iPhone pics for us.
Best of all is the super-fast Verizon 4G LTE service.  I'm extremely impatient, so being able to over-share instantaneously via Instagram, Facebook, and Twitter is a must.  I did just that alllll weekend long from Colorado!
I'm drafting this on a flight home and the internet is painfully slow, so the full recap will have to wait.  In the meantime, here's the iPhone-powered Cliff's Notes:
Heather and I didn't get top 5, but we had a blast.  AND we got to cheer Lisa, who placed 4th in Bikini Class C.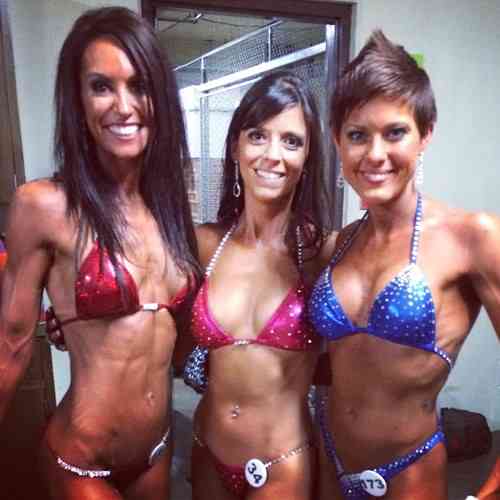 We celebrated in style at one of Denver's best restaurants, Fruition.  Kait joined us too – it was so great to meet her for the first time.  I ordered pasta carbonara with hand-made cavatalli, pork belly and a 6 minute egg (I ordered that solely for the #yolkporn) and duck confit pierogi with caramelized brussels, kumquat marmalade, and roasted apple pan jus.
The food was great, the service was perfect, and the company couldn't have been better… but I'm still amazed I didn't fall asleep in my (unpictured) dessert.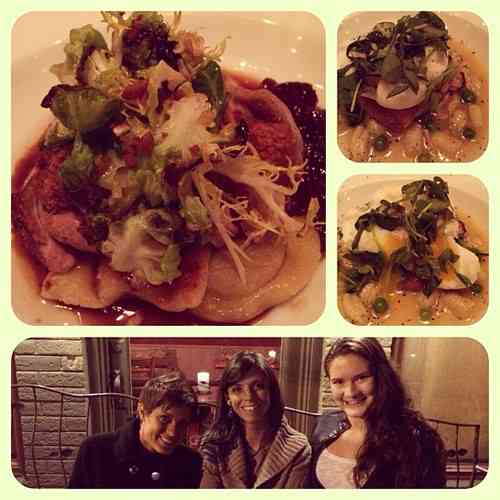 Sunday was a beautiful morning – not a cloud in the sky!  Heather, Kirk (her husband) and I slept in and headed out for coffee and a hike.
We headed back to meet Lauren and Greg (her husband) for brunch.  We sipped on a Kirk-and-Heather whiskey barrel-aged homebrew (out-of-this-world good!) and shoveled a cheese plate in our mouths while Kirk prepared the meal  The smoked salmon eggs benedict was one of the best I've had!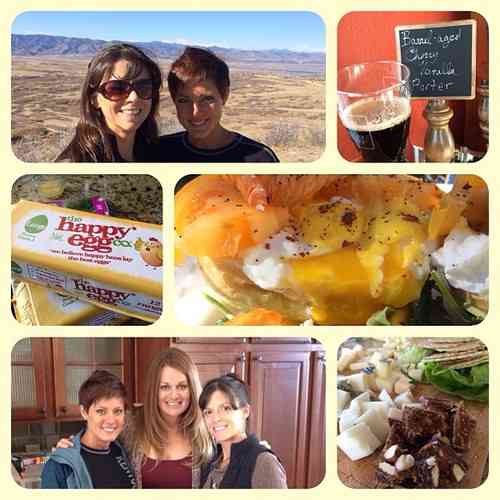 I'm sad to leave, but made a ton of good memories… and rekindled my desire to MOVE to Denver!  It was all pretty marvelous.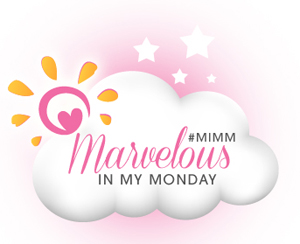 ***
I am so grateful for Heather and Kirk putting up with me me up for the long weekend, and to everyone who commented/tweeted good luck messages.  It all made the weekend that much more special.  Thank you! <3
Are you an iPhone or Droid lover?  What are your favorite apps?  I've become addicted to LINE camera.
Do you like to hike?  That's one of the reasons I want to live in Denver!