House guests are my favorite.
Well, some guests…
This weekend I had the best guests possible – two of my favorite blogger friends!  Heather and Sarah started out as internet friends, but we become fast "real" friends after meeting in person at food-related conferences (yet another reason you should attend the Blend Retreat!).
I was so excited to spend the weekend showing them more things I love about my city!  Our first stop was to Atlanta's "ethnic" food strip: Buford Highway.  We dined on Vietnamese food at Chateau deSaigon.  We have some sort of shrimp patty wrapped around sugar cane sticks, a sweet and sour tamarind soup, shaken beef, and burnt rice.  The rice was my favorite, but the other tow said it reminded them of burnt popcorn.  Probably why I liked it…
We headed back to my house to chat and get ready for bed.  I planned a gym day for us the next morning and we needed rest.  We also needed dessert fuel.
A bowl of Halo Top Ice Cream (LOVE this protein-laced treat!) topped with Heather's delicious balls.
The next morning we hit the gym.  I love getting to bring friends to House of Payne.  Sarena even came!  They all hung like champs through a killer Glute Camp and then a ridiculous shoulder workout with Jesse.  I could barely turn the steering wheel after that one!
We paused for pics before heading back to Buford Highway to buy them out of kabocha.  And then we went to Whole Foods.  😉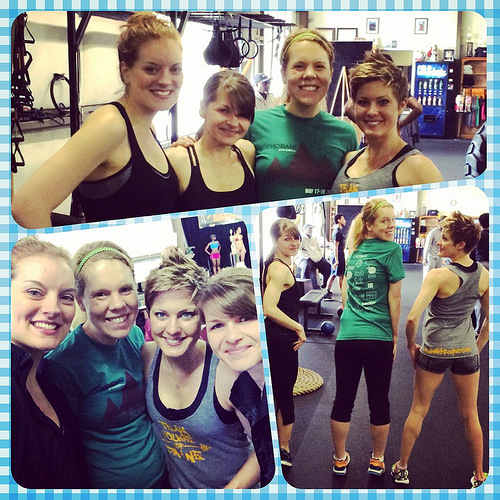 I had big plans for us to walk to dinner, but the weather wasn't cooperating.  The evening turned out well despite the weather.  Sarena and Tony (her hubby and my partner-in-crime) met up again for a drink and dinner AND we got to meet Sarah's beaux.
First up was Brick Store Pub.  This place is the most epic beer bar in Atlanta.  Their beer menu's length rivals wine lists in fine dining establishments.  To top it off, they even have a separate Belgium beer bar upstairs!  After sampling half of the beers on tap (it was a very thorough decision-making process), we settled in with our selections and had some good laughs while deciding on dinner.
Dinner happened late.  It was a crowded Saturday night and we had a bit of a wait… but we made the best of it with wine, cheeses, and a charcuterie.  Troopers, we are.
Despite the wait, the crew at no. 246 made it a great experience.  The meal was incredible and the service was even better.  If you're in the Atlanta-area and looking for good Italian, I definitely recommend it.  I think Heather got all the food pics.  I was too busy stuffing my face.
After a late night and maybe one too many libations, we got a slow start.  #sorryimnotsorry
It was a gorgeous sunny day.  I was sad to say good bye to my friends, but I cheered myself up playing the first softball game of the season and taking a leisurely jog.  Weekends filled with laughter, friends, and views like the one below remind me why Atlanta is so marvelous.
***
This weekend flew by!  I wish I could keep Heather, Sarah, and Sarena.
Have you ever had Vietnamese food?  What's your favorite dish?
Where do you take out-of-town quests?