Jen's WIAW is becoming my favorite weekly feature.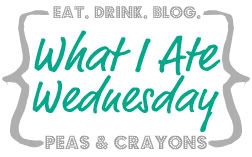 I get SO many great ideas reading other people's posts!  Head over Peas & Crayons to check them out.
Breakfast
I was fortunate enough to receive samples of the new So Delicious Greek-style yogurt.  The flavors include blueberry, raspberry, chocolate, and plain.  Made with coconut milk, the Greek-sytle yogurt is VEGAN.
The nutritional information overall is good.  The fiber contect is awesome – 8g!  For those who prefer flavored yogurt, it only has 11g of sugar.  That's a lot for my taste, but it is pretty low compared to others on the market.  It also have a ton of Calcium, Vitamin D, Vitamin B12, and Magnesium.
Admittedly, I was a bit disappointed with protein.  One of the reasons I love Greek yogurt so much is the high protein content.  This coconut version only contains 2g.
I tried the blueberry version first.  While I did like it… it was very different than Greek yogurt.  The texture wasn't as creamy and it didn't have the tartness.
Recognizing that this may be a plus for some of you (especially if you don't like/have never had Greek yogurt), I like the "real" thing better.
Had I tried it expecting a traditional yogurt, I would have been happier.  I think it's better than "regular" yogurt!  (Disclaimer: I don't like regular yogurt.)
I gave it some more "oomph" with my new love: Peanut Flour.  Why didn't you guys beat me over the head to order this sooner?!  It's life-changing!!!
It's incredible.  Just add a little liquid and salt and you have a protein and fiber-rich peanut butter substance with less fat.  Did I mention it's also gluten-free?!  I cannot wait to make pancakes and cookies with this.
I'm not sharing – order your own here: Protein Peanut Flour (woo hoo for this hometown Georgia company!)
PBJ Vegan Yogurt Deliciousness
2 T Peanut flour
2 T So Delicious unsweetened vanilla coconut milk
Pinch of salt
1 container So Delicious Blueberry Greek-style yogurt
In small bowl, mix together first 3 ingredients to form a peanut butter-like substance.  Swirl in yogurt.  Inhale bowl of deliciousness.
Lunch
Moroccan Carrot Salad is even better a day or 2 later!  I made some extra so I could eat it through0ut the week and I thoroughly enjoyed it in a wrap today.  I used a Rudi's spelt tortilla and stuffed it with hummus, carrot salad, cucumber, celery, spinach, and green pepper.
With lots of water throughout the day in my Georgia Tech glass.  (16 days until the beginning of the GT football season!!!)
Insert 4 mile, music-less run here.  Silly Shuffle was out of juice. 🙁
Do you see that sweat?!  It was so flipping hot.  No music.  630pm.  I think I ran fast just to get 'er done.
I fantasized thought about dinner the WHOLE way.
Dinner
More carrots!  This time with Shirataki tofu noodles and peanut sauce (yes, more peanut flour!).
Tomorrow you get more details on this!  This post is getting loooong… it was a fantastic throw-together-meal.  You should check back.  Everybody's doing it.
Snacks
I cannot believe I FORGOT to take a pic of my snack today.
Pinkberry yogurt.  Sheer deliciousness.  I got the watermelon (only in stores until August 19th!) with mango and toasted almonds on top.
I also sampled the Salted Caramel.  It was good, but I prefer yogurts in fruity flavors.  "Dessert" flavors (like chocolate and caramel) are reserved for ice cream treats.  Clearly I don't mind a fruity tart!  (That's what she said.)
My nighttime snack doubled as dessert – a chocolate-peanut butter protein shake.  With spinach, of course.
Almost forgot the pic.  Lucky me – I was chatting with the famous Jen while drinking it and remembered just in time.
In my shake:
1 scoop chocolate casein protein powder
1/2 C spinach (I ran out!)
1/2 C unsweetened vanilla almond milk
1 T crunchy peanut butter
1/2 tsp vanilla
1/4 tsp cinnamon
Pinch of guar gum (helps to make the texture more shake-like)
Ice + Water, to taste
***
I have dinner plans tonight and it's making the day dragggggg.
Do you have dessert preferences in terms of what you like fruity vs. chocolate-y?
What is the best thing you've eaten so far this week?