These 3-Ingredient Coconut Macaroons are the simplest way to satisfy your sweet tooth for the holidays.  This delicious, quick and easy recipe is ready in just minutes!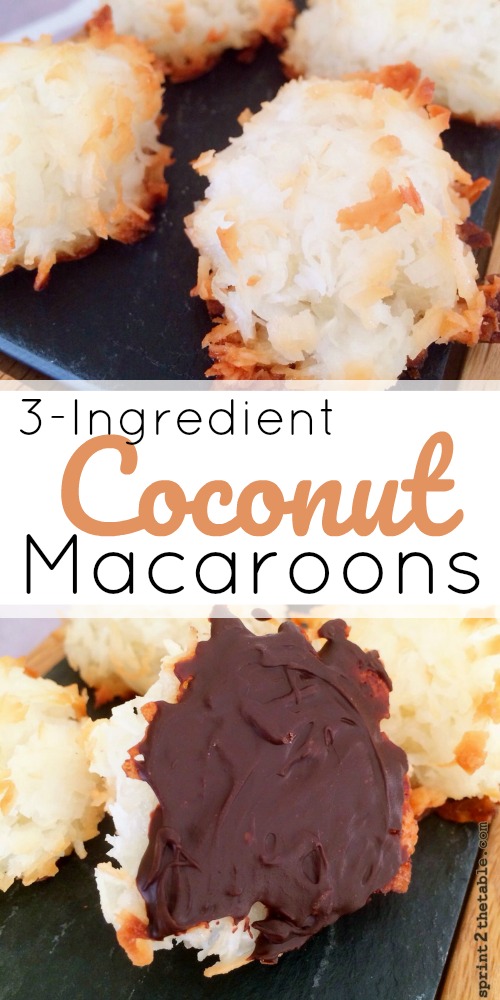 These coconut macaroons are the most requested Christmas cookie I make.  Ironic, since I don't love coconut.  But if you DO like coconut, you'll love these.  *cough cough… Vegas*
If you don't, you'll still eat a couple because they really are good.  Especially after I had the brilliant idea to dip them in chocolate.
They technically have 4 ingredients, but I refuse to count vanilla.
When you form balls, you'll feel like they aren't sticking together enough.  Don't be scared.  Just roll them together as best you can.  The sugar will melt and bind with the egg as it bakes – just be sure to let the cookies cool before you touch them.
I've made these for a couple of years sans chocolate.  I have no idea why.  This year I melted chocolate, added some bourbon extract (yes, I put booze in everything), and painted the bottoms.
If you do this, place them in the fridge to harden before you serve them.  Unless you want to lick melted chocolate off of your fingers, which may not be the worst idea.
---
3-Ingredient Coconut Macaroons
20 cookies
adjust servings
Ingredients
3

C sweetened flaked coconut

1

C granulated sugar

5

egg whites

1.5

tsp vanilla extract

Melting chocolate (optional)
Instructions
Preheat oven to 350 degrees. Line a large baking sheet with parchment paper.
Place all ingredients in a medium bowl and mix with (clean) hands until the ingredients are completely combined.
Place tablespoon sized dollops of batter onto a baking sheet making sure cookies are at least an inch apart. They will feel loose, but don't worry. They will bind as the sugar melts during cooking.
Bake, one sheet at a time, for 10-15 minutes or until edges are browned. Let cool for 10 minutes.
Dip in melting chocolate, if using. Store up to 1 week in the fridge.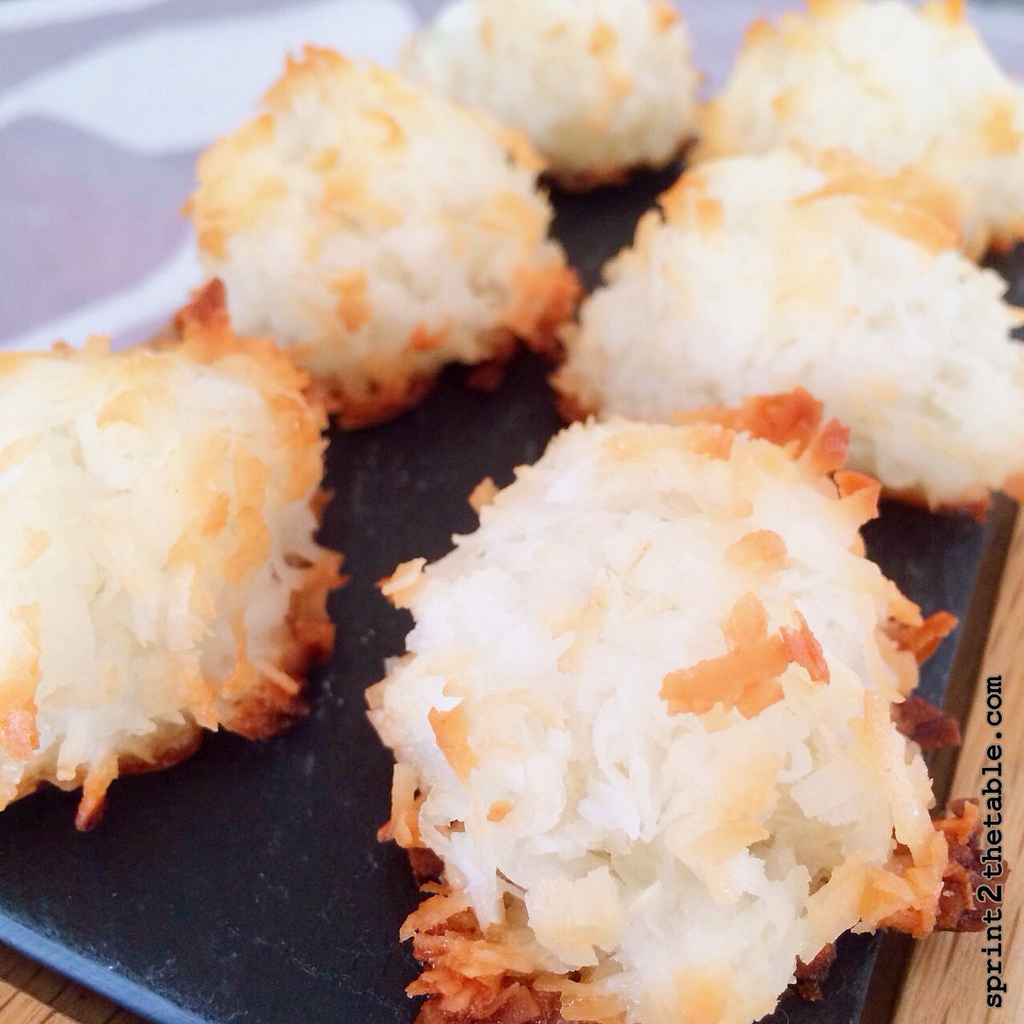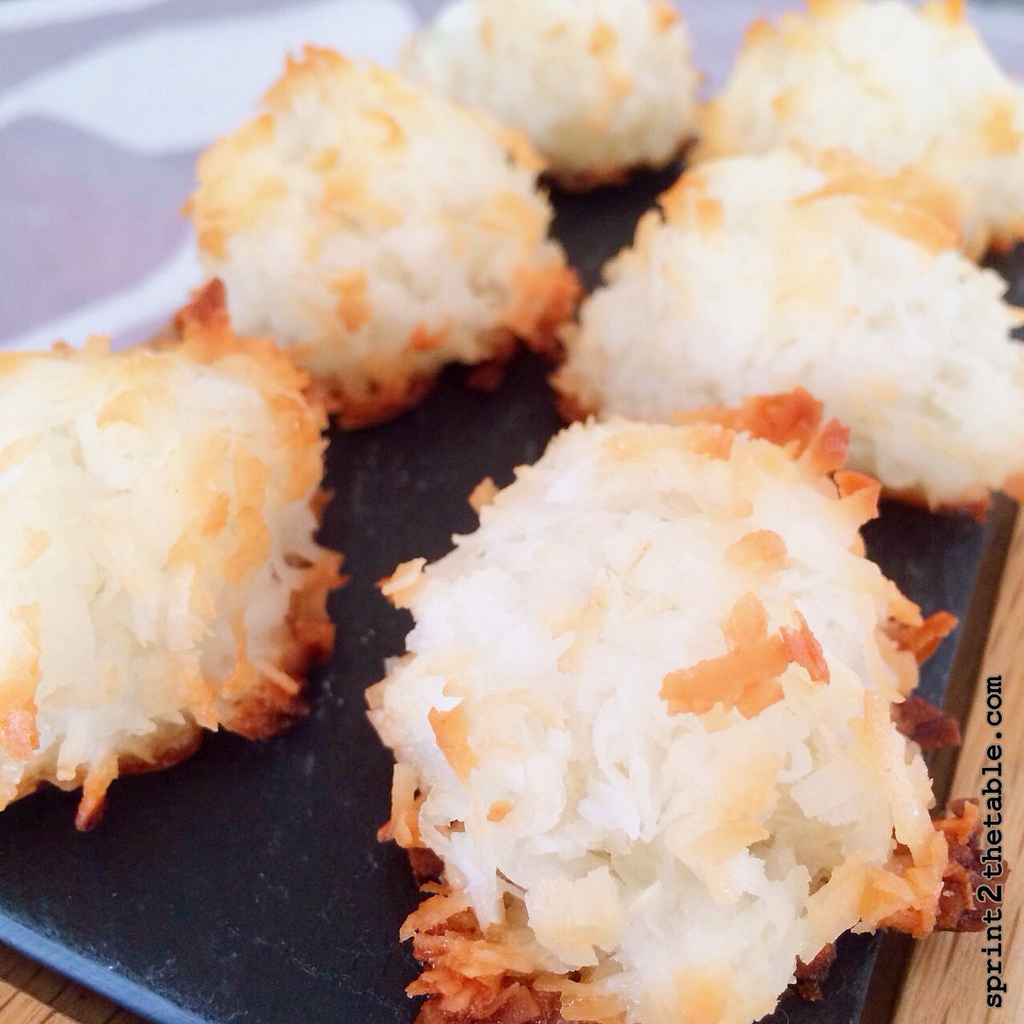 ***
I may not blog again until after Christmas… resting and enjoying the season is a glorious thing.  Happy Holidays!
What are your favorite Christmas Cookies?
Do you like coconut or chocolate better?  Both?