No one likes a complainer.
Especially me.
I'm making an exception.  It's COLD.  This arctic tundra has got to go.  I live in the South.  I should never see this:
Ice in my shower is something else I should never have to see.  I left my faucet dripping just like the newsman said because we hit a record low of 6 degrees in Atlanta.  When I woke up, I was rewarded with an ice-lined tub.
Try motivating to shower for work when faced with this:
__________________________________________________________________________________
This WIAW I am FINALLY back on track.  I had the biggest meal prep in weeks on Sunday and felt ready to get back to the "real" world of having a routine.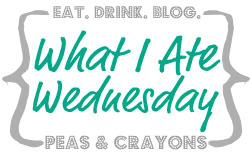 Read on for my eats, and then check out Jenn's blog for everyone else's delicious creations!
__________________________________________________________________________________
Breakfast:
Step 1: Apple cider morning cocktail.

Step 2: Something warm. A baked oatmeal muffin cut in half and grilled with a little butter, cinnamon egg whites, and blackberries.
The baked oatmeal was a new version of my Sweet Potato Baked Oatmeal.  I used pumpkin puree instead of sweet potato, and subbed 2 scoops of vanilla protein powder for a cup of the oats.  The protein powder was sweet enough, so I didn't use anything additional.  I'll be making these again!
Mid-Morning Snack:
Chicken, sugar peas, kabocha, and hummus.  The hummus was the "healthy omegas" thing Whole Foods makes.  It has olive oil and walnuts and is really, really good.
Lunch:
My culinary ethnicity is more diverse than my genes (and my jeans – I wear the same 2 pairs over and over).  I adore Indian food.  As part of this week's food prep I made a coconut-curry chicken.
It was surprisingly good!  I love the sweetness of the coconut milk with the spiced-up curry.  Just enough of a flavor add to enhance rather than overwhelm.  It was delicious and warming, especially with a quick saute of Skinny Noodles shirataki noodles, roasted tomatoes, cauliflower, and kale.
I wish I'd taken better pictures, but I'm sharing the recipe at the bottom of this post anyway.
Mid-Afternoon Snack:
I go through phases with different fishes.  Right now I'm having a torrid affair with Turbot.  It looks like tilapia, but it is much for flavorful.  It's rich and mild at the same time.  I put it on top of a kale salad tossed with Greek yogurt blue cheese dressing and eggplant chips.
Dinner:
Dinner was leftovers from a few days ago.  I forgot I made a chili-esque bean thing and shoved the leftovers in the back of the fridge.  It was perfect after a very cold drive home.  Ever more perfect was the avocado and sriracha on top.
Dessert:
Cold days call for warm cake.  I made my 150 Calorie Chocolate Cake recipe and topped it with cocoa-roasted kabocha, peanut flour sauce (I get mine on iHerb – use discount code USO924 for $5-10 off your order), rice whipped cream (farmer's market find!), and cacao nibs.
Do I need to tell you how awesome this was?!
__________________________________________________________________________________

Coconut Curried Chicken
1 lb boneless chicken breast
1/2 C Greek yogurt
Juice from 1/2 lemon
1/4 C coconut milk
2 cloves minced garlic
1 T grated ginger
1 T dried cilantro (or 2 T fresh)
2 tsp curry powder (I use salt-free)
1/2 tsp cumin
1/2 paprika (optional, depending on the heat of your curry)
Cut the chicken into large cubes and set side.
Place the marinade ingredients in a large bowl and stir to combine.  Add in the chicken and allow to marinate in the refrigerator for at least 2 hours (or overnight).
Preheat oven to 375.  Place chicken on grill pan and bake for 15-20 mins, until they reach 170 degrees.  
Note: If you have a grill, these could also be skewered and grilled.
***
On a serious note, I do hope everyone is safe and warm.  Hearing it's -40 wind chill in places makes me hurt for you.  And to those people at my office still taking your smoke breaks… I admire your dedication. 😉
How cold is it where you are?
How diverse are your culinary genes?