How in the world was I exhausted at 10pm last night?
I'm a night person!  Then I remembered I left the house at 730am to play in a softball tournament and only came home long enough to shower and shovel one of these in my mouth.
My team didn't win the tournament, but the game we lost was one of the most memorable I've had.  We went into overtime and lost… but the adrenaline and the plays made by my team were over the top.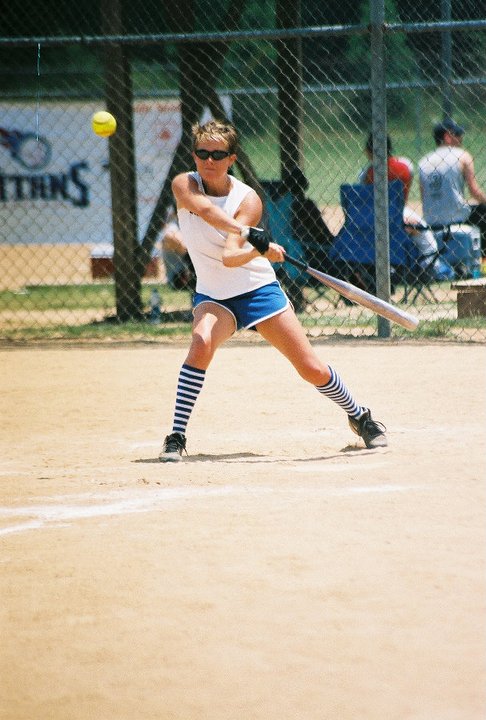 We were down by 5 with 2 outs.  One girls got hit in the nose with the ball, bled a lot, and then came back into the game to bat so we didn't have to take an out for her spot in the line up… and she got a great hit!  Sadly, we still lost by 1. 🙁
In keeping with my new weekly recap tradition, here's was last week looked like:
Workout Recap (7/4-7/9)
Monday – Peachtree Road Race – 10K – 51:08 mins
Tuesday – Yoga for Runners, stationary bike 30 mins, 84 push-ups
Wednesday – Biceps/Back, 5K run, 84 push-ups

Thursday – Intervals (2 mile treadmill, 1 mile elliptical), 84 push-ups
Friday – Tris/Chest, P90X Ab Ripper X, 84 push-ups
Saturday – 5 mile run (in 40 mins!!!)
Sunday – Softball tournament, 84 push-ups

_____________________________________________________________________________
NuNaturals was nice enough to send me some goodies to test out.
The package came with recipes, but I've had my eye on these Coconut Banana Chocolate Chip Cookies from Gracie @ Girl Meets Life.
It's not often something so good for you tastes so decadent.
These are gluten-free and vegan.  Added bonus is that they are low-sugar.  If you omitted the chocolate chips, they would be sugar-free (except from the banana) – you could do that and thrown in come walnuts for banana bread cookies.
NuNaturals Pure Liquid Vanilla Stevia drops worked like a charm.  My cookies were appropriately sweet and I didn't notice an aftertaste.
Coconut flour has been a recent addition to my pantry.  I'm loving it.  You have to be careful as it has a different feel than "regular" flour, but it adds a smooth, almost silky texture to baked goods.
Some benefits of coconut flour:
Good source of fiber – At 58%

insoluble

fiber, it has the highest percentage found in any flour
Guilt-free baking (nearly… the other ingredients are your business 😉 ) – Insoluble fiber means your body doesn't digest it (translation: your body can't derive calories from it); these fibers basically magic eraser their way through you intestines doing what fiber should do to keep your digestive system healthy
Gluten-free and hypoallergenic – Many people without a serious gluten allergy and moving towards a low-gluten diet.  Subbing coconut for some of your regular flour is another way to cut down on gluten intake.  For those that do have an allergy, you can use this with rice flour to improve textures.
Be warned that coconut flour is very dry and doesn't bond well.  Remedy this by adding binders like bananas or eggs to your batter.  This can also be accounted for by using subbing in place of just 1/4 to 1/2 with a "regular flour."
Keeping that in mind… welcome to cookies so silky and light you won't be able to stop eating them.  Which is fine, as they are pure doughy deliciousness at only 86 calories a pop.
_________________________________________________________________________________
Coconut Banana Chocolate Chip Cookies
3/4 cup coconut flour
1/4 teaspoon baking powder
1/4 teaspoon salt
1 medium banana, well-mashed
1/2 T coconut oil
1/4 tsp vanilla extract
1/4 tsp butter extract
1 C unsweetened coconut milk (So Delicious-style)
1/3 C dark chocolate chips
Preheat oven to 350 degrees.  Line baking sheet with parchment paper.  
In large bowl, combine dry ingredients.  Set aside.  
In medium bowl, whisk together wet ingredients.  Slowly add the wet mixture to the dry, stirring as you go.  Fold in chocolate chips.
Scoop out 2 T of dough on lined baking sheet, pressing down lightly.
Bake for 25 mins, until cookies begin to brown.  Allow to cool completely (they are crumbly!).
Makes 11 cookies.
Approximate nutritional info: 86 calories, 4.2g fat, 11.1g carbohydrates, 3.8g fiber, 4.9g sugar, 2.1g protein.
***
Important Announcement: it's my BIRTHDAY WEEK!!!!  Wooot!
What is new to your kitchen as of late?