This is what I came home to:
Apparently my hot water heater went bad while I was at work and leaked all over my floor and down the wall of the unit below mine.  Lovely.
Soooo… I was going to have a recipe for you today, but that will have to wait for tomorrow.
Jenn @ Peas and Crayons is making me smile through my check-writing sadness with her What I Ate Wednesday.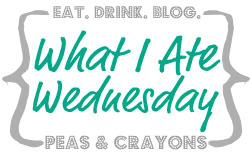 Check out my eats below; then click here to see what everyone else enjoyed for WIAW.
 _______________________________________________________________________________________
Breakfast:
I made a smoothie.  It was green…
The flavor was Strawberry-Basil.  I wouldn't recommend it.  In fact, I didn't even take a pic.  Last week's Banana-Maple-Ginger was much better: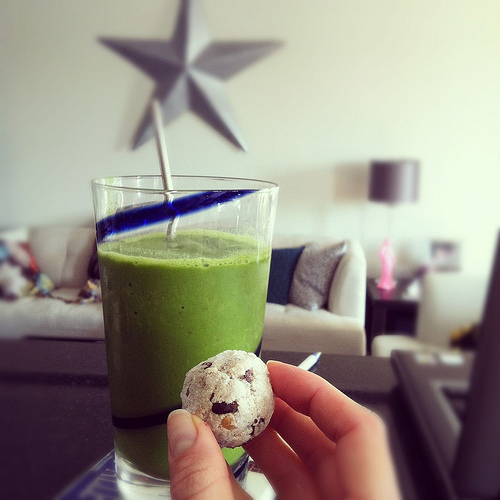 Lunch:
Clearly I'm addicted to collard green wraps… but this week's was different!  I used a Mexican-inspired hummus in it!  That hummus is the recipe that was coming today but will instead come tomorrow.  The flood took away my picture-taking light.
My co-workers and I took out lunch outside.  They appeared skeptical of my "wrap," but I offered a bite and it was met with a reasonable amount of approval. 🙂
Snacks:
I have discovered I like to eat constantly throughout the day.  I snacked it up all afternoon.  Unpictured are some cashews, pineapple, and my daily kombucha.
Pictures below is cottage cheese with nuts, apple, lavar, and some rice cakes.
Dinner:
I had a fancier plan, but the flood changed it… however, this lentil salad wasn't bad for a late dinner in a hurry!
In the mix was French green lentils, pepper jack Daiya cheese, broccoli sprouts, beets, shallots, celery, olive oil, lemon juice, basil, and S&P.  Translation: I scavenged my fridge.
Dessert:
This was seriously the highlight of my day.  The picture doesn't look like much, but let me assure you… this was hard-core deliciousness.  It tasted like one of my favorite childhood cereals – Cocoa Krispies.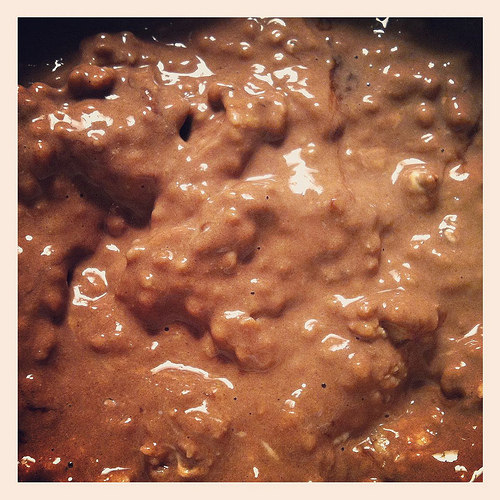 Cocoa Krispies Protein Pudding
1 scoop vanilla protein powder
1 T chia seeds
1 T carob powder
1/4 C cereal
3/4 C unsweetened vanilla almond milk
6-7 drops vanilla stevia
1/4 tsp cinnamon
Pinch of salt
Mix together all ingredients in a bowl, pressing down slightly to break up cereal a bit.  Place in fridge for 15-20 minutes to allow liquid to soak in.
Remove from fridge, stir, and devour.
***
Thank you all so much for the comments about my tattoo yesterday.  It is a really special piece to me. 🙂
Who do you call when things break at your house?  I had a moment of panic wondering what my next move should be!
What was your favorite childhood cereal? 
***
Don't forget – click here to enter to win May's healthy snack box in the NatureBox giveaway!