Sometimes I am oblivious.
Ok, a lot of the time…
I'm not one to get too riled up over political issues.  At least not in the "the world is going to hell in a handbasket!" way.  I DO get fired up over discrimination and stupid political moves.  When Coca-Cola's Super Bowl ad aired, it didn't cross my mind that it was controversial.  I actually tweeted that it was too long and boring.  My attention span only wants short, funny ads, dammit!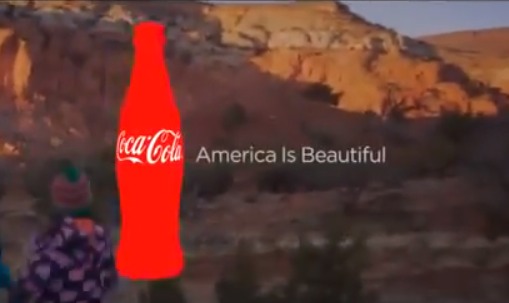 So why were people fired up?  They thought it was offensive that "America the Beautiful" was sung in different languages, featured many cultures, and *gasp* included a gay couple.
Really?!  Last I checked the English language didn't originate in America.  Next year they should air the song being sung in a Native American language with all dark-skinned people.
I'm proud of my hometown's company for embracing our melting pot country.  Even if it was a boring commercial.
---
This WIAW was decidedly uncontroversial.  Someone at work even told me my fish smelled good.  And she was sincere!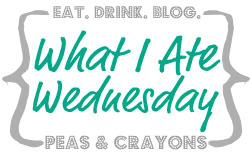 Read on for my eats, and then check out Jenn's blog for everyone else's delicious creations!
---
Breakfast:
The usual apple cider morning cocktail was followed by a new-to-me oatmeal.  I got Purely Elizabeth Ancient Grain Oatmeal as part of a deal when I ordered more Nuttzo a couple of weeks ago.  I will definitely be buying more! I use it to make cinnamon-vanilla egg white oats and topped it with blueberries and Nuttzo.
Mid-Morning Snack:
This week I prepped a big batch of Chili Nutty Tofu.  I followed my original recipe, except I used sriracha and made a peanut flour sauce rather than the Valencia PB.  It was awesome with an Asian-inspired Napa cabbage, mushroom, and red bell pepper stir-fry (also a part of Sunday's food prep).
Lunch:
Rotisserie chicken, carrots, and celery dressed with homemade BBQ sauce.  My "dessert" was a Korean sweet potato topped with cinnamon.  Pretty food tastes better, no?
Mid-Afternoon Snack:
Cod with a side of asparagus, zucchini, and parsley mixed with my wasabi-blue cheese dressing.
Dinner:
Trout has become a new staple thanks to SizzleFish.  I broiled it for 7 mins with pepper and lemon juice.  Meanwhile, I sautéed Napa cabbage and mushrooms in the juice from a jar of kimchi.  Quick and easy!
Of course, I needed something sweet, so I made a pre-dessert dessert of my favorite cocoa-roasted kabocha topped with peanut flour sauce (I get my peanut flour on iHerb – use discount code USO924 for $5-10 off your order) and cacao nibs.
It was so good that I didn't remember a pic until I was almost done.  #sorryimnotsorry
Dessert:
I stopped on my way home from work for a little treat.  The Cookies & Cream Quest bar.  I can't believe I had the restraint to wait until almost midnight to eat this.
Mine was broiled for about a minute with the intent of using it to scoop up a Zucchini Batter Protein bowl.  The bowl was forgotten based on the favor of the bar.  Best.  Flavor.  Yet.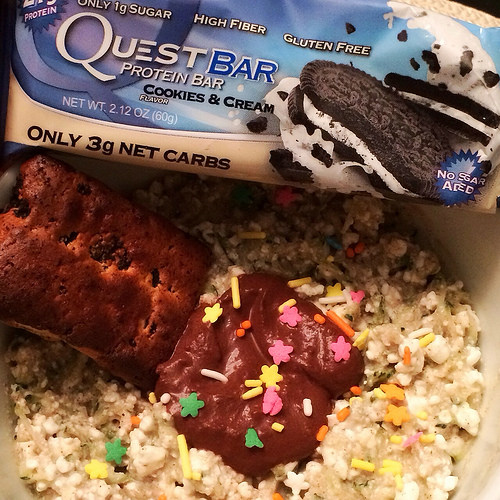 (Don't worry – I still finished the zucchini bowl.)
***
I am going back for a case of those bars.
Did you have any reaction to Coke's Super Bowl ad?
Are you a Quest bar fan?  What's your favorite flavor?