There is a new addition in my family.
Hang with me and you'll see what the addition is and why I went for it…
Friday night we had another cleanse buddies dinner.  My friend Kathleen decided to begin the cleanse on Friday, so Mallory and I had a great time re-hashing our experiences with her.  (Click here for the "rules" and post #1.)
My first experience doing this cleanse was in November of 2010.  It was HARD.  My eating habits were not clean – I ate too many burgers, drank too much booze, and had a sugar addiction.  Needless to say, the first few days were a shock to my body.  I was tried, cold, and grouchy.  And constipated.
This time around I didn't have as difficult a time.  My eating habits had remained fairly clean since that first cleanse; however, I noticed some old habits beginning to creep in and wanted to give my body a little reminder of how good clean feels.
Some observations:
Caffeine wasn't as hard as I thought to give up.  My friend, Mallory, who also cleansed noted that after day 4 she actually had

MORE

energy without her previous 5-6 caffeinated beverages a day habit.
My overall energy level was excellent.  I

slept better

and the circles under my eyes lightened.
Digestively speaking… I've always struggled with "

regularity

."  That was all better by day 3 of the cleanse.
At the risk of TMI, I must warn you to beware of gas – all of those greens are

potent

.  It's healthy, but others around you may not appreciate that. 😉
My daily exercise didn't change, and there wasn't any difference with the amount of effort I was able to exert.  In fact, I

increased my weight

toward then end of week 2.  Popeye was on to something!
Creatively this cleanse has been a win.  Tighter food parameters force you to

think outside of the box

, which has resulted in some of the best meals I've had in a while.
Weight loss was NOT my goal.  I maintained my weight throughout the cleanse.  Again, my eating habits didn't drastically change and I made an effort to have an extra protein shake or chia pudding every day.  My cleanse buddy's eating habits changed pretty drastically… she lost

10 lbs

!!!  Congrats, my bestie!
Hunger was never a problem.  People were always asking "aren't you starving?"  Nope.  You would be shocked how filling veggies can be.  I actually was forcing myself to eat more some days!  I also planned ahead (see tips below) to make sure I was never caught without a food option.
The most common question I've been asked is surrounding how time-consuming making all of this food is.  The short answer is that yes, it takes more time.
The longer answer is that it isn't that hard if you PLAN.  I have a full-time job and am perpetually running late – I'm not someone who has hours to spend on cooking during the week.  My cleanse-buddy has a full-time job, a 7 month old baby, and a husband that travels all week.  If we can eat clean, you can too!
Here are some ways to make clean eating easier, whether you are cleansing or simply trying to eat better.
Preparation tips:
Bookmark/pin/note recipes you like and write down your weekly menu.  This way when you go to make your grocery list and/or prepare meals, you can do so quickly and not worry about scrounging through the fridge to see what you could throw together.
Reserve time to prepare food.  On Sunday nights I make a big pot of soup, roast veggies (squash, beets, eggplant, etc), pre-cook wild rice and/or lentils, and pre-cut veggies.
Always keep snacks on hand.  If you are anything like me, when you don't have anything to eat you go into "panic" mode and have the urge to grab whatever is nearby.  Don't let that happen!  Keep veggie sticks, fresh fruit, and other healthy snack items on hand so you never have to worry.
Don't be afraid to get creative.  Creative doesn't mean difficult (these roasted tomatoes looked impressive, but were incredibly easy), but it does mean you won't get bored with your food and abandon clean eating.  There's no need to eat a salad every meal.
Prepare extra food.  Leftovers make great work-bag lunches and are easy to grab when you end up getting home later than you intended.
Get a good blender.  Smoothies are fast and easy, especially in the morning as you're rushing to get ready for work.  They are also an easy way to get extra protein by adding a scoop of a good (low-sugar) protein powder, and an extra serving of veggies add a cup of spinach (the only evidence is the color).  I love my Magic Bullet because it makes the drink right in the cup… I also love my new toy.
A HUGE bonus to the cleanse was cost savings.  My pre-cleanse spending habits cost me about $300 more each week than I spent on the cleanse.  That means I've saved $900 in 3 weeks.
My bad influence friend Kathleen suggested that I take that some of that money and use it on something to help me maintain a healthy lifestyle.
________________________________________________________________________________________
Aaaaaand that brings me to the new addition.
I got a VITAMIX!!! I've had it for 2 days and it has already changed my life.  They are pricy…. but I think it's going to be worth every penny.
Saturday night I celebrated with Sweet Potato Ice Cream.
Sunday morning I celebrated with a thick Carrot-Mango-Ginger Smoothie.  I've never had such a smooth, delicious breakfast.  I'll be adding ginger to everything I can now; it added a great zing without overshadowing the sweetness from the carrot and the mango.
Check out the recipe at the bottom of this post.  I'm dying of happiness.
________________________________________________________________________________________
This week was a little ADD in terms of workouts.  I didn't have a clear focus of what I wanted to do and have (once again) been slacking on cardio.  I find it really hard to do without being able to run!
I DID do my final BodyRock fit test.  Extreme soreness had me waiting a couple of days, and clearly I didn't stick to the 30 days exactly.  Each move is done for 50 seconds, with a 10 second rest in between.  I didn't really except to see much more progress… but I did make a little more!  Funny thing is that I'm getting worse at burpees.  I blame the push-ups leading in to them.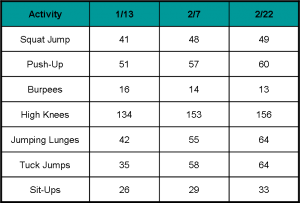 There were a couple of fun new workouts this week.  Atlanta Fitness Diva gym contacted me asking if I'd like to try a workout.  Of course I would!  That took place Thursday and kicked my butt.  Literally.  We focused on glutes and I am STILL sore.  They are a but pricey to join, but I really enjoyed the small-group circuits we did.
The other new addition was the GAINfitness app.  Cait @ Beyond Bananas posted about it last week.  This app will let you tell it time, equipment available, and what you want to focus on and then put together a workout for you.  All you do it hit "start" and it walks you through with a timer for rest periods!  Check out  Cait's post for a more thorough explanation.
Workout Recap (2/20 – 2/26)
 _______________________________________________________________________________________

Carrot-Mango-Ginger Smoothie
1 medium carrot
1/4 large mango
1-in piece of fresh ginger
1/2 C unsweetened coconut milk (or other liquid)
1 tsp maca (optional)
1 scoop vanilla protein powder
1 capful vanilla extract
6-7 drops liquid stevia
Ice, to taste (I used a LOT)
Place everything in blender and mix to combine.
Top as desired (I sprinkled some flax and cinnamon), and enjoy!
***
Sunday I was honored to make the FoodBuzz Top 9 for my Vegan Goat Cheese Stuffed Roasted Tomatoes.  Thank you for the Buzz, and welcome new friends! 🙂
Also, it's time for the February edition of Spicie Foodie's Your Best Recipe.  Click the badge for more info on joining, and be sure to check back when recipes are posted on March 1st!
Do you have a Vitamix?  Please share recipes! 🙂
Do you have any tips for eating well?