It is time I clean up my act.
Let's be real – it's beyond time.
It's generally pretty easy for me to keep my diet in check during the week.  The weekends… it's another story.  Since I'm not competing this year I haven't been following any real nutrition plan.  Of course, I took that to the extreme.  

What I know about myself is that I love to indulge.  I also know that when that starts happening too much, I feel like crap.  It affects me physically and mentally.  I've been struggling lately, and I know it's time to reign it in.
For a few years now I've been doing my own version of a cleanse… it's really more of a jump start though.  Basically, it's eating super clean and eliminating common allergens like eggs, dairy, nuts, and gluten.  The first 10 days is meatless.  The last 11 days include chicken and deep sea fish.
I'm only through Day 1, but here's my first reactions:
Not taking pre-workout is hard
I'm going to need to buy a lot more veggies
Some of the dishes I made when doing this previously are really good – I'm excited to bring them back
Fruit can make a fun ice cream dessert
Good lord, I miss meat
---
This WIAW is my first on the 21 clean(se).  I'm still working out the best foods to bring and when to time protein and carbs to get the energy I need.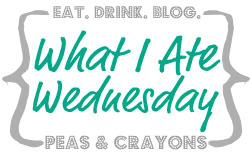 Read on for my eats, and then check out Jenn's blog for everyone else's delicious creations!
---
Breakfast:
My morning cocktail had to be modified.  The Aminos I usually use aren't really clean, so I modified by using ACV and juice from half a lemon.  It wasn't too bad.
Cleanse meal #1 was chia pudding.  It's been a long time since I've made a chia pudding, but I used to eat them all the time.  Today's was a berry theme, with my favorite pea protein for added stay-power.  I served myself in a martini glass… 2 cocktails in one morning! 😉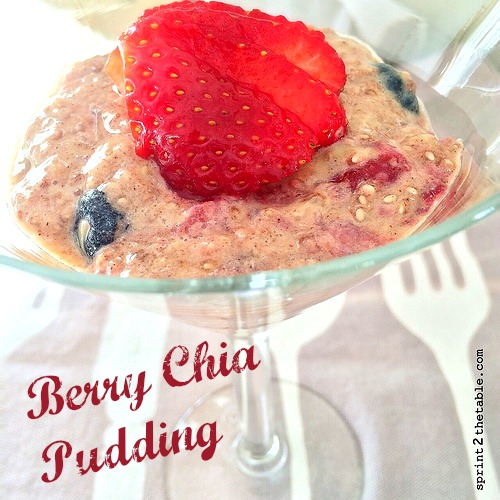 Berry Chia Pudding
Mashed berries, to taste
1 T chia seeds
1/3 C unsweetened coconut milk
1/2 tsp vanilla
1/2 tsp cinnamon
1/4 tsp ground ginger
In a small bowl, mash berries until they are a chunky puree.  Stir in remaining ingredients.  Cover and refrigerate overnight (or at least 2-3 hours).
In the morning, uncover and stir.  Add additional liquid or sweetener as needed.
Mid-Morning Snack:
This happened in two parts.  My new pre-workout was dates stuffed with tahini.  It was delicious, if not a little messy.  It was slow to get going on my workout, but I felt better once I got into it.
Post-workout I made sure to get my protein and carbs in.  Can't lose my gains!
This is my Liquid Sweet Potato Pie made with a date instead of Stevia (Stevia is permitted, but I'm trying to limit it), no extract, and – knowing I have a lot of greens coming my way – I left out the spinach.
Lunch:
Salad of epic proportions and a creamy red pepper soup.  See what I mean about the greens?
Afternoon Snack:
Roasted veggies from my trusty Tupperware.  Brussels, shiitakes, broccoli, and eggplant with coconut oil, cumin, and cayenne.  Coconut oil is a very, very good idea when roasting things.  Why do I always forget to use it?
Dinner:
I was starving.  Not gonna lie.  I forgot my quinoa at home, so I missed my delicious, filling carbs.  The better to fuel with when I got home!
Sautés are a quick and easy hanger cure.  I tossed some red pepper in a pan to soften while I washed and chopped kale.  Then, I added the kale and some pico de gallo to the pan, cooking until the leaves were just beginning to wilt.  Lastly, I mixed in the pre-cooked quinoa and a bit of lime juice to warm.  Toss it all in a bowl and top with avocado and freshly ground pepper.
Dessert:
Super clean, #strangebutgood dessert.  I made protein ice cream by mashing together half a banana, some avocado, pea protein, cinnamon, and unsweetened coconut milk.  I froze it for a couple of hours, then blended it in my Vitamix.  Topped with cinnamon-honey coconut flour fluff and cacao nibs.
Color = questionable.  Taste = good!
***
Day 1 done.  20 to go.
Have you ever needed to clean up your act?
What is your favorite pre-workout?  Do you keep it clean?